University of Indianapolis men's lacrosse senior attacker Drew Billig is now the leader in points for a career in program history as a Greyhound, according to UIndy Athletics. Having the opportunity to break this record, he credits his teammates and support system at UIndy.
"Right away when I was a freshman, the older guys were telling me some of the things that they thought I could do. At the time, I was like, 'Yeah, right. No way I can be an All-American…,'" Billig said. "But I think honestly, the seniors my freshman year, some of the older guys, put into my eyes about what I could accomplish. Obviously, my teammates over the years have driven me to be where I am today. A lot of the credit goes to them."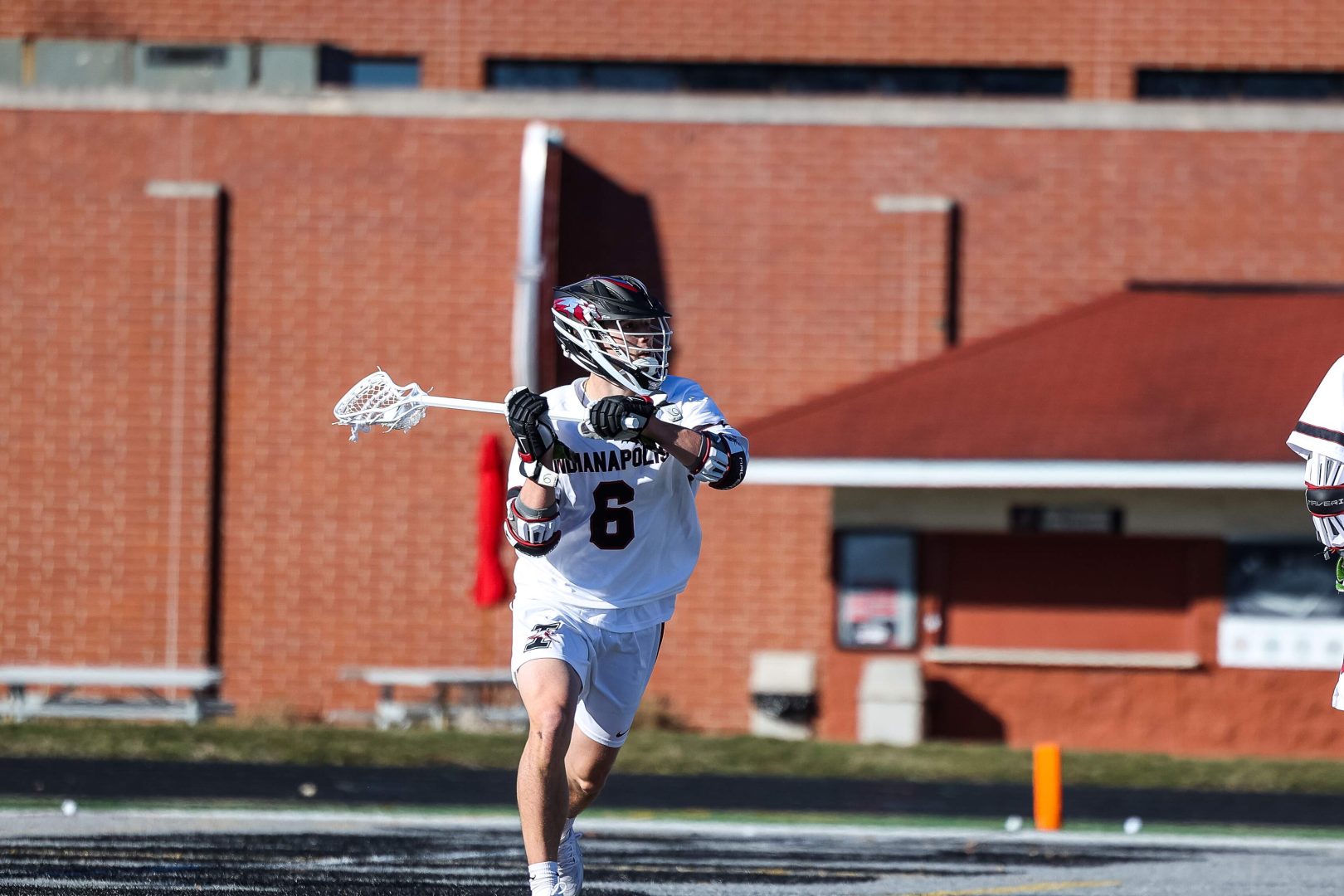 According to Head Coach Greg Stocks, the team had high hopes for Billig from the beginning of his career. Billig can into the team and made an instant impact, Stocks said.
"He came in and started immediately as a freshman on the team that went to the [NCAA] Final Four. It was pretty baffling, he was the second leading scorer as a freshman," Stocks said. "He scored an overtime winner in the NCAA tournament as a freshman. So, the trajectory of him being able to do this was definitely there."
According to Billig, he was in a game when they announced he had broken the points record, but he knew he was close to breaking it. Billig said the team was looking to mount a comeback when it was announced.
"I knew I was close. But then I scored against Lemoine [University], and they said it over the [public address] system. The crowd cheered, and [I] got a couple fist bumps from my teammates, which is really awesome…," Billig said. "It was kind of bittersweet, because we were down big in the game and we were trying to make a comeback."
According to Stocks, Billig is a quiet leader for his team. Stocks said that up until his senior year he was more of the quiet one of the group, but as captain he took on a more vocal role.
"He's one of those guys that does everything right," Stocks said. "He kind of leads by his actions with the effort that he puts in and always doing the right thing. The rest of the guys fall in line and follow his leadership."
Billig said that growing up and throughout his career playing lacrosse, he never thought he would be in the record books in college. He said he was just hoping to see the field.
"[Breaking a record] did not really cross my mind growing up, I wanted to go somewhere and play college lacrosse where I thought I had a chance of playing right away," Billig said. "My big motivator has just been always hopefully seeing the field and contributing wherever I can whether it's on the field or whether I'm on the end of the bench rooting on the guys. I did not see this coming at all."
According to UIndy Athletics, Billig has other accomplishments to his name, such as two time All-GLVC first team, three time Academic All-GLVC and 2022 United States Intercollegiate Lacrosse Association (USILA)/Nike All-America Third Team. According to Billig, this record shows that all the hard work has paid off for him and his teammates.
"Over the years doing extra practice outside of just our scheduled time, extra film with the coaches or with the older guys, whatever it may be, it's really cool to see it all pay off…," Billig said. "I don't think I deserve all the credit because a lot of it is my teammates doing the dirty work behind the scenes during games getting ground balls, finishing off goals, setting me up for goals. I get the spotlight, which I'm not always comfortable with, but a lot of the credit does go to my teammates and my coaches as well."
According to Stocks, it has been a pleasure to coach Billig, and he expects a successful season and future for him. Stocks said that Billig is a great person on and off-the-field, he works hard and he has earned it. Billig said that what he has most enjoyed during his time here at UIndy is his teammates.
"Just being around all the guys, this is cliche, but these guys are my brothers," Billig said. "I love these guys to death. I would do anything for them. And they would do anything for me and I know that."