The University of Indianapolis men's and women's swimming and diving teams competed at the 2023 Great Lakes Valley Conference Championships from Feb. 7-11, according to UIndy Athletics. The women's team placed first, while the men's team placed second to Drury University, according to UIndy Athletics.
Graduate student and women's butterfly and freestyle swimmer Johanna Buys said that in her five years at UIndy, the team had been drawing closer to the GLVC title. This marked the first time in history the women's team has claimed the GLVC title, according to UIndy Athletics.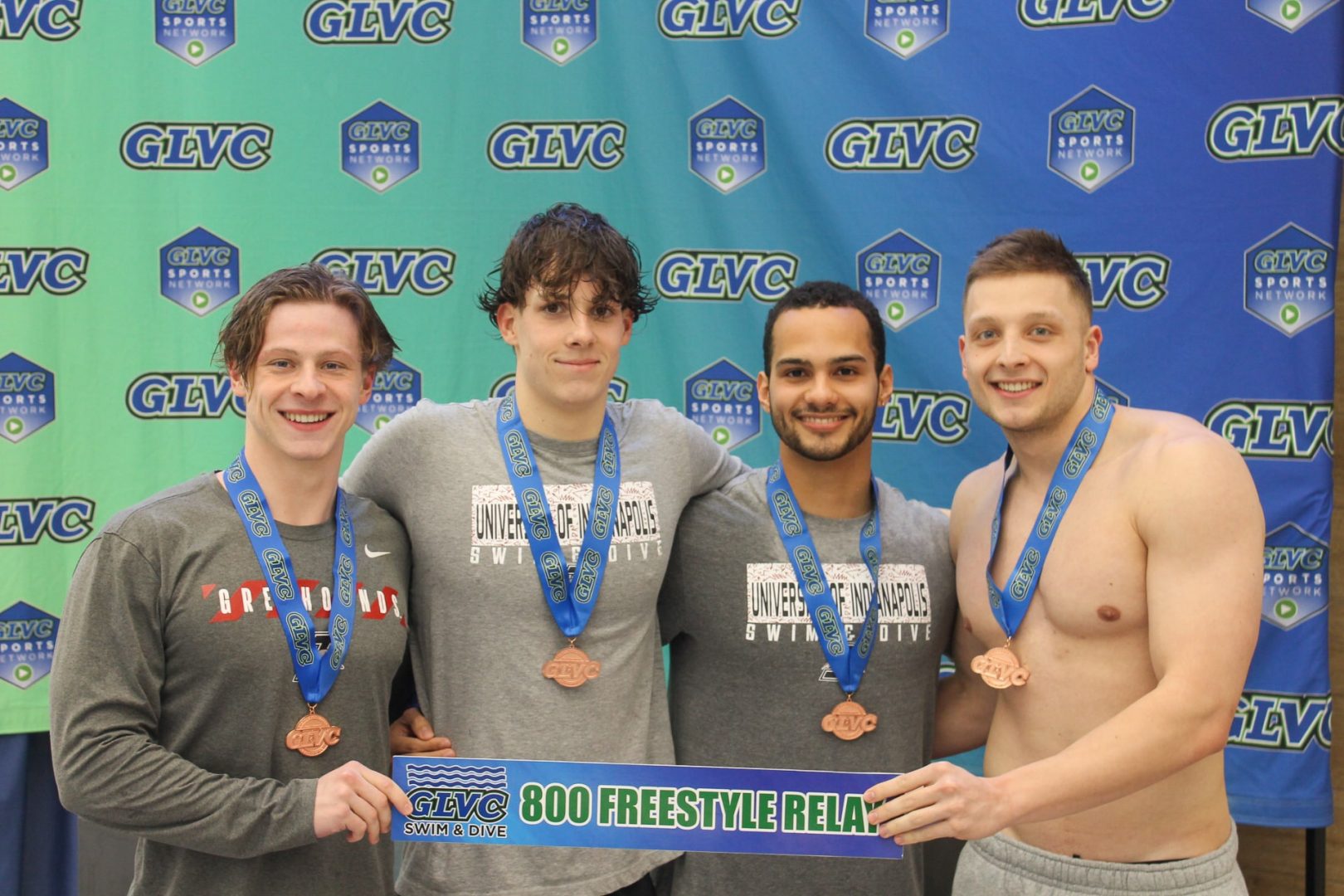 "We have been close for two years in the past that I've been here," Buys said. "This is my fifth year now and we had never won before… I'm very happy that we finally got it and made UIndy history."
According to Buys, winning the GLVC championship is a sign of things to come at the end of the team's season. Buys said the win helped build the team's connection with one another.
"I'd say we became more like a family rather than just people on the same team," Buys said. "We became a lot closer with each other and I think that helps us [to do] better on our relays and better on our team support which sets us up for better things in the pool as well."
UIndy Swimming and Diving Head Coach Brent Noble said the women's team's win highlights how they can uphold high expectations.
"The caliber of students, athletes and teammates is higher. The expectations are higher. The expectations they have for each other are higher," Noble said. "Everything continues to press forward, which is what they want. They want to come here and be a part of something that is going to push them to be their best."
According to Noble, the men's and women's sides are strong, but have learned that they will need to continue to push and redefine their standards toward the end of the season.
"I think both sides have realized that we need to redefine 'good.' We've had swims over the past few years that were good swims, but now the bar is higher," said Noble. "It's taken a minute to realize we have the capability of setting the bar ourselves."
Graduate student and men's butterfly/freestyle swimmer Serge Ahadzhanian said that the team has the potential to win the NCAA championship, but will need to have a strong mentality.
"This team really has big potential to win the nationals and it's a mental state," said Ahadzhanian. "We have to be there and just support and cheer for each other."
According to Ahadzhanian, if the men's team continues to stay consistent, they will have a shot to win nationals.
"We have one month left," Ahadzhanian said. "If we do the right thing in the water and outside the water, it's all going to happen."
Buys said winning nationals would be a highlight for both her swim career and for others. She said winning it with this team this year would be special.
According to Noble, the women's side winning the GLVC championship sends a message of what the team needs to expect for the end of the season.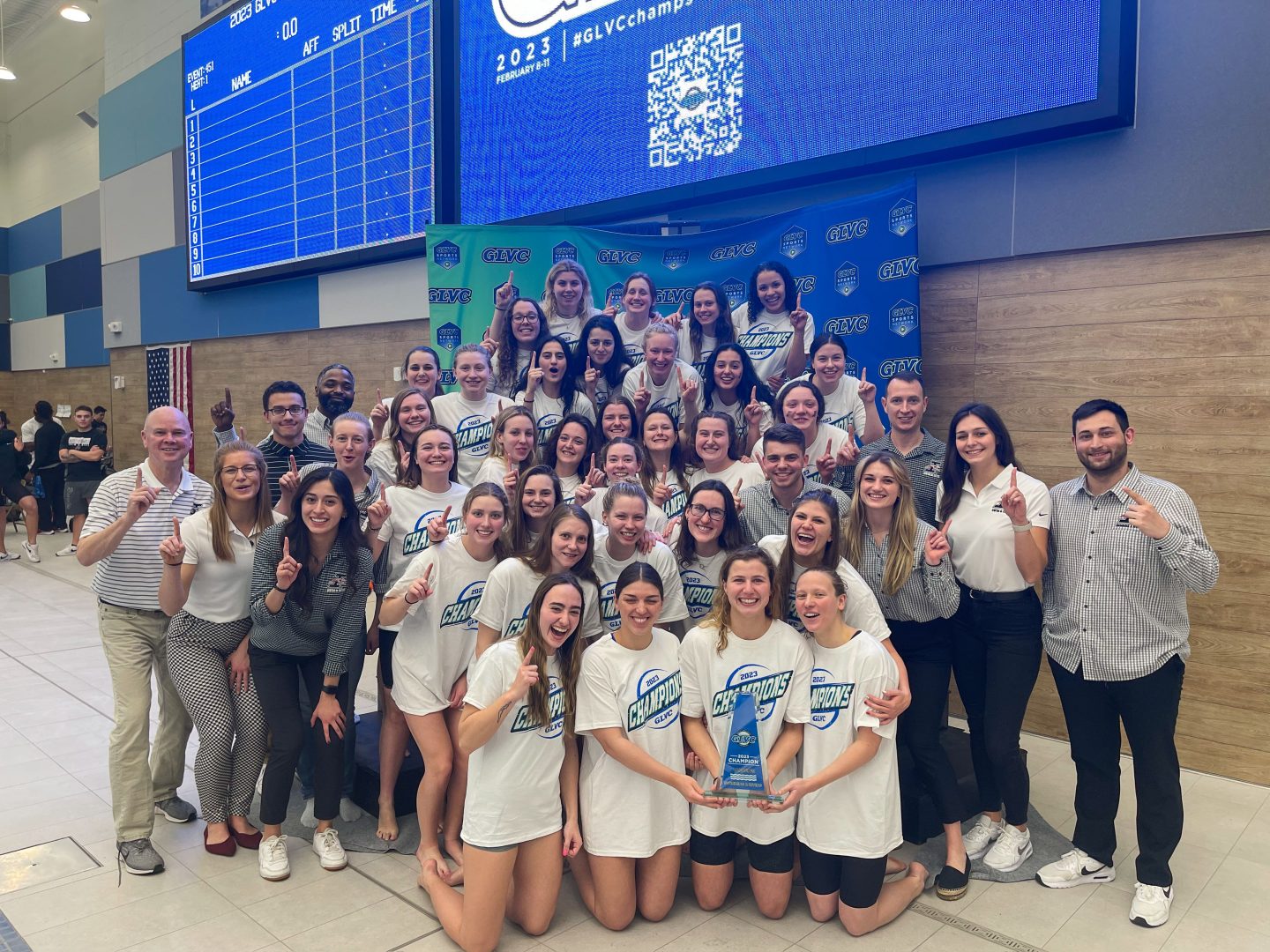 "We've got to be really committed to this process over this next month so we can do the things that we really hope to do," Noble said.
Buys said that although it is the end of her swim career at UIndy, she is excited for nationals.
"It's the end of my swim career in the U.S." Buys said. "I have tried to avoid thinking about it because I get emotional when I do. But I'm very excited to do it and I have no regrets staying a fifth year… Especially considering how
well we're seeded this year compared to the other teams. Right now, we're probably top three but I know when we compete at nationals, we're all there together and supporting each other we're gonna want more than a second place or a third place."