The University of Indianapolis' student-run literary magazine Etchings, received First Place with Special Merit from the American Scholastic Press Association competition as well as Most Outstanding College Literary Art Magazine for schools with enrollment of 2,500 or more for 2022 according to UIndy360. The ASPA invites colleges and universities nationwide annually to submit publications for review to compete in multiple categories based on enrollment as well as advice on publication development and improvement.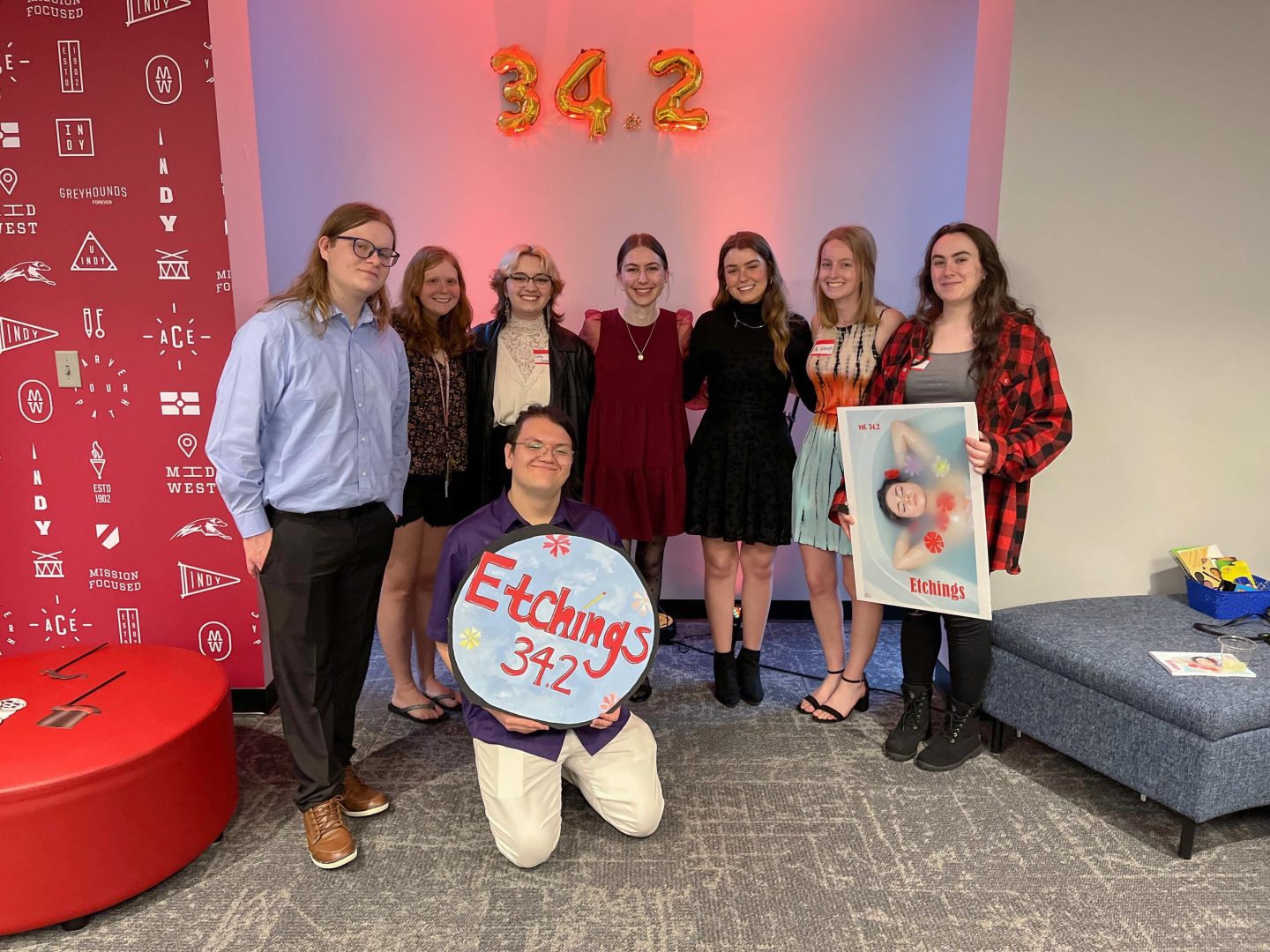 For the 2022 contest, Etchings submitted its issues 34.1 and 34.2 which are comprised of the publications from the fall 2021 issue, and winter 2022 according to junior Professional Writing and Creative Writing major and Submissions Editor for issues 34.1 and 34.2 Emma Knaack. The magazine is a compilation of submissions of literary and art work from UIndy students, staff, faculty and alumni Knaack said, and once submissions come in for the magazine, the Etchings staff votes on the pieces they feel are good for publication and discuss with members their thoughts on why or why not submissions should be included.
"We discuss the votes and so a lot of times, about half of the pieces will have kind of unanimous decisions. And so whether that be you a majority voting yes and majority voting no those pieces kind of automatically get in or out of the magazine," Knaack said. "But we do offer the ability for editors to comment on those pieces. So if there's a piece they're really passionate about, they have the opportunity to talk about that piece during class."
According to senior English and Secondary Education major and Design Editor for issues 34.1 and 34.2 Ali Viewegh, initiatives to expand outreach for magazine submissions were a focal point for issue 34.1. The Etchings staff looked to reach people outside of the English department.
"We were trying to have a larger outreach to say, 'Hey, anyone and everyone please come submit to us,''' Viewegh said. "And I think that really paid off because I know a piece of feedback that we got from other things that we submit to is them noticing that 'Hey, you have a much more diverse group of people being accepted to the magazine now.'"
With the magazine receiving Special Merit in the first place category, a distinction that recognizes special and outstanding design and content according to the ASPA website. Contest entries are judged on a 100 point rubric according to Associate Professor of English and Co-Advisor of Etchings Liz Whiteacre. The judges are anonymous, Whiteacre said, and submissions are judged on a variety of criteria from industry professionals across the country.
"They have different categories like first place, where all of the literary magazines who submit across the country who achieve that score on the rubric earn first place," Whiteacre said. "A first place with honors means that you're a standout among that category of recipients."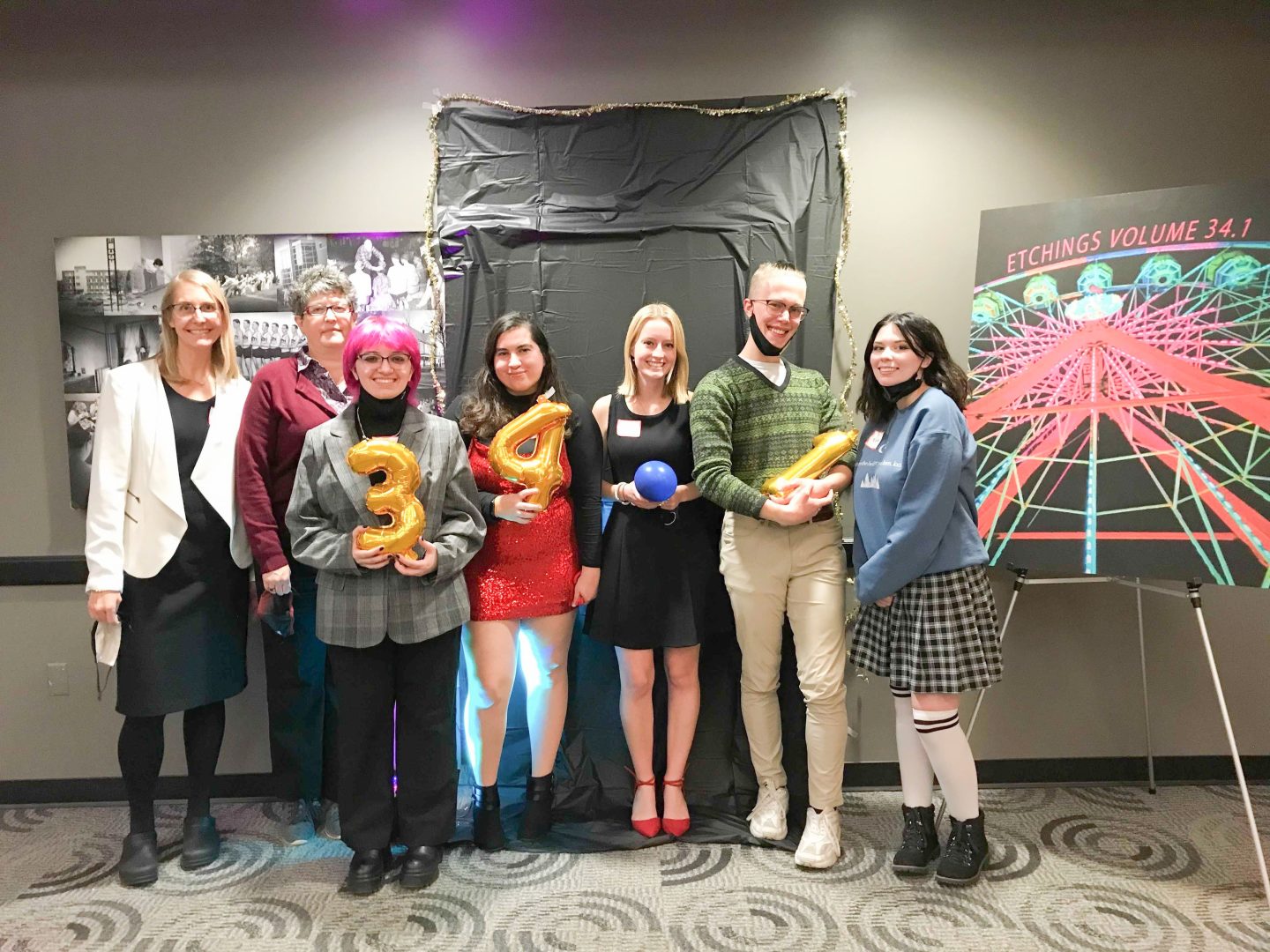 According to Whiteacre, receiving recognition on a national scale with associations like ASPA and superlatives like Most Outstanding College Literary Art Magazine display the work done not only for the annual submissions but also for the time put in by students before that in the years before the current publications. Whiteacre said since students from all over the university can submit to the magazine, awards makes the recognition for the magazine's work an opportunity for people to know more about the publication.
"It's exciting for the students to not just have those two issues to be recognized, but that success is built upon a really strong foundation that students have been building for a number of years. We've made a lot of innovative changes to the magazine," Whiteacre said. "Students have been diligent about getting the word out and making people feel included and invited to participate as contributors. And [they] have been very open to new voices and new styles within poetry, prose, musical composition and the arts. So I think what this means to the campus community is not only do we have a lot of talented, creative people, but also we have kind of carrying curators of that through the production of the magazine each year."