The University of Indianapolis has moved its mentorship initiative for Ningbo Tech University students to an on campus, in-person program after two years. Director of Global Education Ghina Sadek said the goal of the mentorship program is to connect students at UIndy with NTU students to create a sense of community and belonging.
The mentorship program was created in 2021 by Instructor of English Kristine Newton in collaboration with Sadek. According to Newton, COVID-19 protocols and travel restrictions have made it so NTU students have been unable to study on UIndy's campus since the 2020-2021 school year. Newton said that NTU students expressed their disappointment with being unable to forge connections with UIndy students, as that was the reason the mentorship program was created.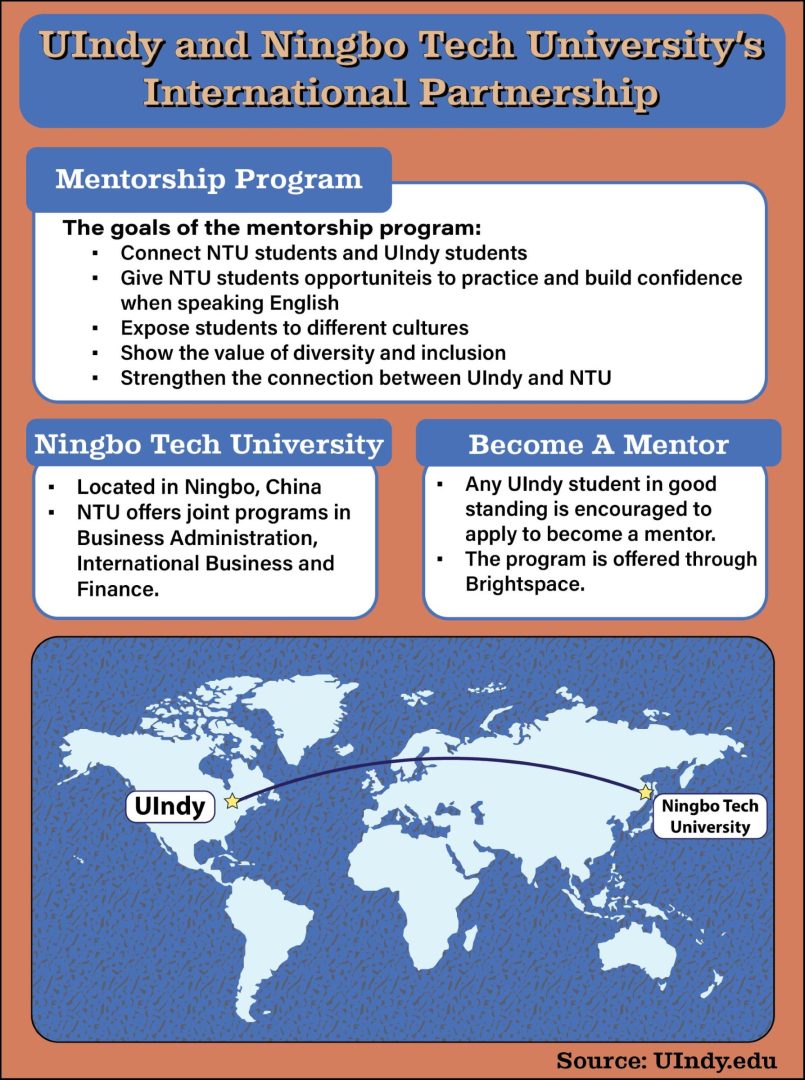 "The purpose of the UIndy-NTU mentorship program is to engage students who normally wouldn't engage," Newton said. "You have students, especially the Chinese students, who are engaging with other UIndy students who are outside their cohort, their culture and they are able to network, make new friends and build relationships."
Sadek said the Center of Global Engagement has always wanted to create something like the partnership between UIndy and NTU. According to Sadek, the pandemic changed the way the partnership functioned, so UIndy had to learn how to be more proficient when connecting students and staff virtually.
"[Dr. Newton] and I set this up together, but she's taken it and run with it and made it a really, really great program," Sadek said. "It really came from when she was teaching virtually to a large group of Ningbo Tech students who were in China and she was here and then she decided part of her class she was going to do this mentorship program where her NTU students would be connected with a U.S. student and strategically build out a very intentional mentorship program through that."
According to the Center for Global Engagement's page on UIndy's website, the mentorship program is open to freshmen, sophomores, juniors and seniors for the role of both a mentor and mentee. According to the website, the mentors and mentees will meet online for at least an hour each month during the semester to discuss various topics. They will also meet in person for different activities on campus. The program consists of 96 mentees and up to 48 mentors, and all training, applications, surveys and check-ins for the mentors are conducted online through Brightspace. Mentors and mentees will receive a certificate at the end of the semester after completion of the program.
Sadek said UIndy has had a long-standing relationship with NTU, beginning in 2004. She said that the NTU students are pursuing a dual-degree program, and that they will graduate with a degree from their home university and from UIndy.
"In recent years, it's become a three-plus-one, which means that they spend their first three years studying in Ningbo, China and at Ningbo Tech, and then their last year they are here on the University of Indianapolis campus," Sadek said.
Sadek said UIndy also sends faculty to NTU to teach students there, starting in students' second semester. According to the Ningbo Tech University website, the joint academic degree program focuses on the areas of International Economics and Trade, Finance and English Language studies. The NTU website also said that the Sino-American program is fully licensed and awards a certified bachelors degree that is recognized by both the Chinese and American governments. 
Newton encouraged students of all disciplines to contact her regarding participating in the program. She said around August, at the beginning of the fall semester, the program will begin recruiting efforts for new mentees.
"It's a really great program," Newton said. "This is our second year launching it and we've had some excellent results. The students love it, the mentors love it and it's just going to keep growing so I would love to expand this program even further."