Doug Haugh is in a unique role within his first year of being part of the University of Indianapolis' athletics, serving as a graduate assistant for strength and conditioning while competing as the long snapper of the football field for the Greyhounds. After graduating from Valparaiso University, Haugh joined UIndy's football team after word spread that he was a long snapper with a year left of eligibility. Eventually, football Head Coach Chris Keevers reached out to Haugh in hopes of adding him to the program.
"We're [strength and conditioning] working [with] the football team during camp, and then it [led to] talking to guys [players], asking them what they play, where they're from; they're asking me the same thing, kind of where I came from," Haugh said. "Word kind of got around, [which] eventually gets back to Coach Keevers, that I was a long snapper…; I'm in that hallway with the coach's offices, walking by, he [Keevers] finds me [and] pulls me in basically… [saying], 'We were looking for a long snapper [and] heard you could do it. Let's talk .' And so I ended up meeting later that day."
According to Keevers, this is an unlikely situation that he has not seen since he began coaching at UIndy where a graduate assistant for strength and conditioning is also competing on the athletic side. Even though Haugh is doing both, Keevers said that Haugh was the right person for the job.
"… We knew right away, and he [Haugh] can sling it back there," Keevers said. "He's got some grit, he's got an ability, he's got [a] skill set that a lot of people don't have, so he's really helped our football team."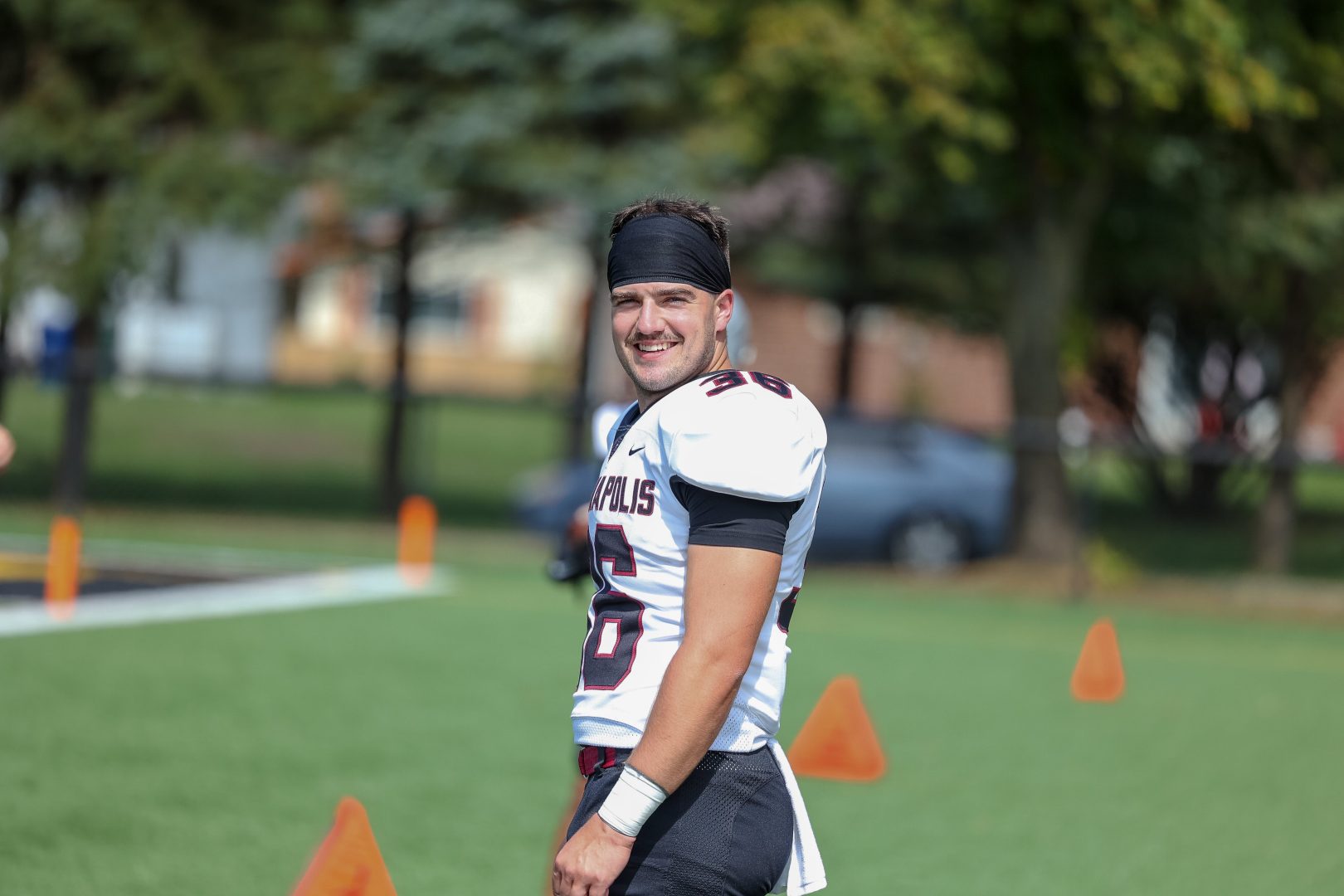 Haugh played as both a long snapper and a running back, adding to his experience on the football field, according to UIndy Athletics. On top of his experience, Keevers said Haugh has the characteristics to succeed with this team.
"Along with that skill set is a great work ethic, and then adding the fact that he's a very likable person," Keevers said. "… He wins an award and people go nuts because everybody likes Doug; he's just a good person."
Since stepping into the locker room, Haugh said that he felt welcomed by the team right away. Keevers had talked to his seniors on the team before this decision to bring in Haugh which helped with the transition, according to Haugh.
"Knowing that they [seniors] were okay with it was great…, and even throughout the year, they made the transition really easy," Haugh said. "When they're in here, I'm a coach here, [so] I definitely feel like [a coach]. I don't feel like I'm one of the players," Haugh said. "But at the same time, as soon as I kind of transition over and I'm in the locker and on the field, they take me in like I'm just one of the guys."
While being on the team, Haugh has enjoyed being part of a successful program and year. The Greyhounds have put together a successful season, having won the Great Lakes Valley Conference (GLVC) championship, according to UIndy Athletics.
"If you don't have one [a long snapper], you can't win, you're gonna get [a] punt blocked and usually lose the game," Keevers said. "… And so we've just got creative and lucky enough to find him [Haugh] and to make it happen."
Haugh said he works with the swimming and diving and tennis teams while in the weight room. In the future, Haugh is progressing towards a career in teaching or coaching. Similarly, Haugh said being around the game so much, since his dad is a highschool football coach, was an opportunity to come back to play a game he has played his whole life.
"I thought I was okay with moving on and had no real second thoughts about it [football] going into the summer, and getting hired here thinking [of] starting that coaching journey," Haugh said. "Once I realized it was a possibility, I started to think back on all those good moments you had in college and high school, all that stuff starts to come back a little bit, then you realize you got the chance to kind of do it all again with a new group. And that does seem really fun [something] that you'd be really excited [about].