The University of Indianapolis cross country team's season is picking up pace shortly before the Great Lakes Valley Conference (GLVC) Championships in Lebanon, Illinois. Due to a meet cancellation in Shelbyville, IN, UIndy has had three meets prior to the conference championship. Despite this abnormality, the Hounds are ready to compete, according to cross country Head Coach Brad Robinson.
"We're just trying to build on the momentum each week, focus on things that we can control," Robinson said. "We're not getting caught up in what other teams are running, [and] we're challenging ourselves to be better than the week before."
Building momentum is exactly what the program's plan has been, according to Robinson. In their last meet, the men's side finished 19th out of 48 teams, and the women's team finished 15th out of 44 teams, according to UIndy Athletics.
Since Robinson has taken over the Cross Country program at UIndy, he has led the women's side to their first conference championship since 1992. Along with his success as a coach, he was also an athlete at UIndy who was named GLVC All Conference in cross country and track according to UIndy Athletics.
"Collectively, we're trying to keep athletes at this point of the season healthy, making sure mentally we're ready to go and trusting the process we've put ourselves into…," Robinson said. "The guys have probably struggled a little bit more just because we've hit a few more injuries unfortunately to our top group of guys. Some aches and pains that have flared up to guys that are key top 5 runners that would help in score."
Considering the men's side of this cross country team has dealt with some of their top guys going down, Robinson said he hopes to get them back from injury soon.
Graduate student Nyc Sigmon has been a part of many cross country teams, and he has finished in the top 20 in the GLVC championships, according to UIndy Athletics. For this year, the goals for Sigmon and the men's roster is to compete for top three, Sigmon said. With two nationally noticed teams at the top of the GLVC such as Illinois Springfield and Lewis, the team is hoping the top struggle or UIndy can maintain third.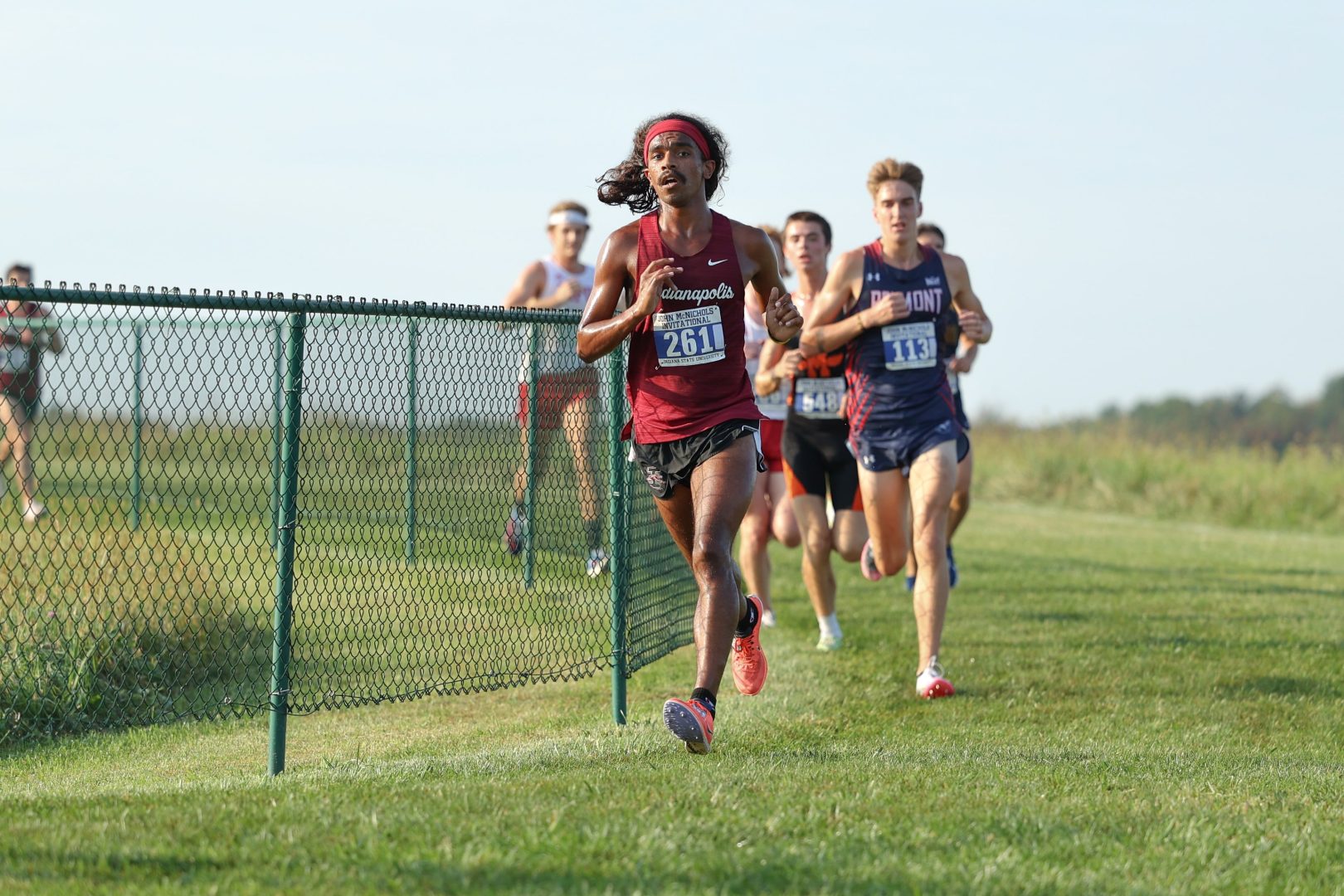 "We're definitely going for third… If they have a bad day, we'll go for them… but Illinois Springfield and Lewis are pretty good, top two," Sigmon said. "But we're trying to hold off Drury and Missouri S&T for third."
On the women's side, the situation involves Lewis and Southwest Baptist being nationally ranked programs.
Graduate student Melissa Spencer has been a runner for the women's side since 2018. She was also a part of the last UIndy cross country team to win a GLVC title in 2018 her freshman year, according to UIndy Athletics. Spencer said the formula to success as a team is to stay together the whole race. She said they want to use each other to compete more.
"Right now we're hoping to stay packed up as much as we can in the race, because we think working together is a really good way to be successful," Spencer said. "So that's what we're focusing on is packing up in workouts and in races, runs in general."
Despite the absence of Spencer in their last meet, UIndy's top three runners finished within 10 seconds of each other. This had not happened this year according to the results of previous meets this season on UIndy Athletics.
"[We're] really focusing on working together and hopefully we can come out with a win," Spencer said. "We'll see, but the goal is to stay in the top three. I think the past couple years we've been [in the top five] so kind of getting back into that top three position would be great."