Competing for the Intercollegiate Tennis Association (ITA) Midwest Regional, the University of Indianapolis men's and women's tennis teams both played in the ITA, advancing a men's doubles team and a women's doubles team to the ITA Cup for Division II in Rome, Georgia, according to UIndy Athletics. On Sept. 19, UIndy crowned its first regional champions: senior Tom Zeuch and sophomore Edgar Destouet according to UIndy Athletics.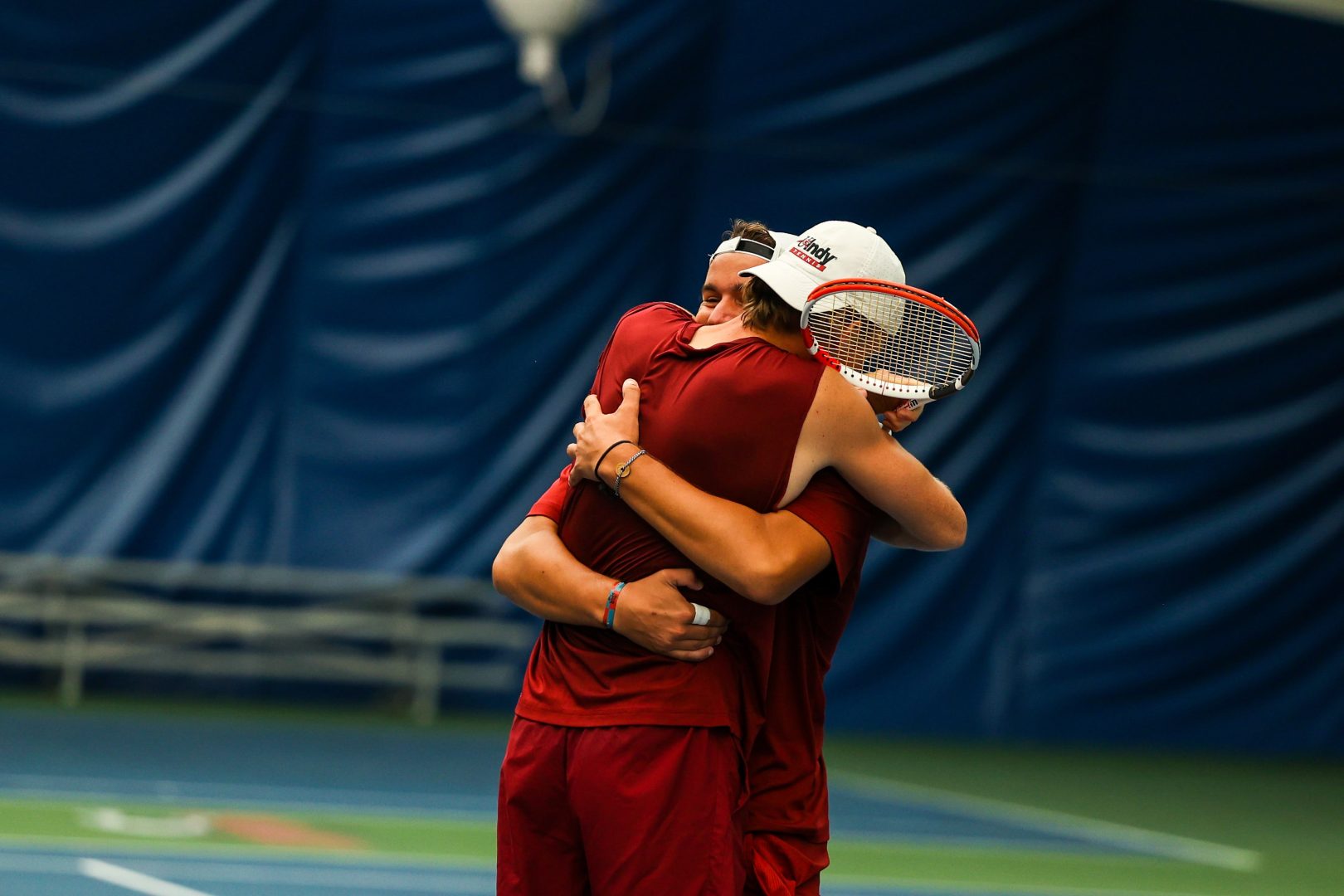 "I think it [the feeling] was just joy, actually, because at the end of the day, I hate losing. "I hate losing more than winning, so we were just super excited to have this good one," Zeuch said. "And after that match point, it was a little bit of relief because it's a long tournament. It's three days you play like four or five matches every day, so it was pretty tough physically, so it was a lot of joy when we won that tournament."
The majority of the matches that the Greyhounds competed in were held at Center Grove and Clark Pleasant schools facilities before being moved for the final day indoors at the UIndy Tennis Center, Director of Tennis Malik Tabet said he shared his thanks to Center Grove schools for allowing the team to use their facilities. With the home court advantage, the duo was also successful because of their ability to make smart decisions, Tabet said.
"[Destouet and Edgar] complement each other…," Tabet said. "They are able to re-adjust into any situation that is given to them. They play some very good [high] IQ tennis, and that's what makes them good."
Additionally, the lady Greyhounds tasted victory, but this one was a regional championship in the ITA for the women's tennis team, according to UIndy Athletics. The winners were graduate assistant Anna Novikova and senior Sofia Sharonova, claiming victory in the ITA Midwest Regional on Sept. 26, according to UIndy Athletics.
"I was so excited after the final," Novikova said. "It wasn't my first final and regionals, but I was most excited for Sofia, my doubles partner. I really want her to go to nationals… especially [with] both of us playing our last seasons, so I think it will be a good experience for both of us."
The women's side competed in Grand Rapids, Michigan where they were victorious, according to UIndy Athletics. Tabet said that both players compliment each other well.
"They [Novikova and Sharonova] are using their strengths," Tabet said. "Novi[kova] is a hard hitter, [Sharonova] is a touch player, so they do complement each other really well."
In addition to the winners, sophomore sports management Lea Cakarevich was undefeated through two days, but fell short in the final, according to UIndy Athletics. Meanwhile, Cakarevich put in a bid to be in the ITA Cup with her teammates and was just announced a spot to compete.
"I proved myself I could play and play very well against those players," Cakarevich said. So, it keeps me motivated to improve even more in practice."
As a whole, the competition was some of the best in the nation, according to Tabet. Additionally, the tournament was an opportunity for the players to compete against the best possible players, especially coming up in the final in Georgia, Tabet said.
"You're competing against the best players in the country [and] you have about four matches against potentially top 10 players in the country, Tabet said. "So, the competition is extremely high."
For the doubles teams, if they win the ITA Cup for Division II as a small school they will advance to the Super Bowl, where they will play the best from the National Association of Intercollegiate Athletics (NAIA), Division III and Junior College (JUCO), according to Tabet. If they win there, they will compete in the ITA Nationals with Division I schools Tabet said.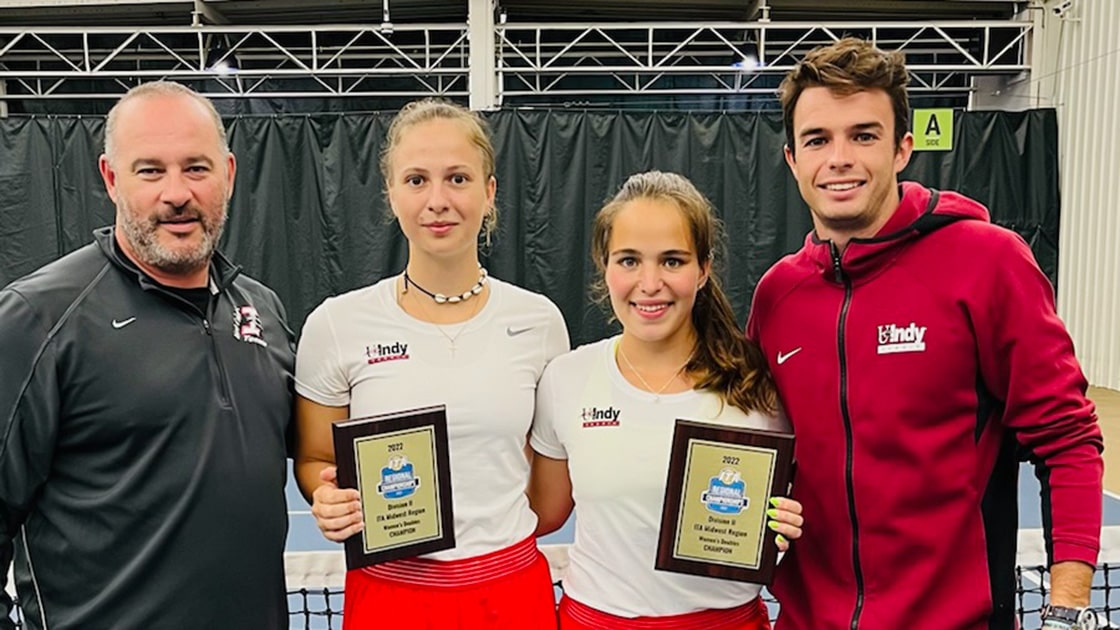 Cakarevich, Novikova and Zeuch all have one thing in common which is their joy for the game, according to Cakarevich, Novikova and Zeuch. Novikova said she likes the feeling of the match from the moment she steps onto the court.
"I like [the] feeling [of being] on the tennis court," Novikova said. "You feel so free there…; everything depends on you but also on your opponent. And I feel that every point is different and you can create a lot of things on the tennis court."
Both doubles teams felt strongly about their wins; both Novikova and Zeuch said their wins could not have been done without their partner.
"I'm really proud of [Sharonova], she played amazing, especially in the final I was the one who was tight… when I was trying not to show her this, but she just got the game in her hands," Novikova said. "And she was guiding
the team, especially at the
beginning of the match, and I'm really happy that we're so focused on the final that [will] also show a really good level of tennis."
The fall season for tennis typically comprises this tournament before the spring when their regular season goes into full force. Zeuch said that
the tournament is more individual with having large impacts on a players rankings.
"[The tournament] has [a] huge impact on our rankings, so if you play decent in these tournaments, you get better rankings, which will kind of put a little bit of fear to the different schools knowing, 'Okay, those guys [are] beating a lot of schools,
beating a lot of opponents…,'" Zeuch said. "So coming into the spring, it obviously gives you [a]
confidence [and] a little bit of reassurance too."
The 2023 spring season for Tennis will begin soon allowing for the tournament to be a way to see what needs to be worked on, according to Tabet.
This allows for the team to figure out who is playing where ,Tabet said.
"We're starting to build on preparing for spring, these tournaments that we've played kind of give me a map of what I want to produce in the rest of the season, until January," Tabet said. So, for me watching them play, I pick up on a lot of things that we need to improve to better our tennis, and that's kind
of what we work on throughout the fall season."
The Greyhounds will compete in Georgia in October, according to Tabet. Additionally, Zeuch said the final holds a lot of importance.
"The biggest thing is probably competing at the highest level of Division II tennis," Zeuch said. "You go to Georgia, you play the best school in the country; doing that with my friend Eddie is definitely something I look forward to. And also [showing everyone] a school to let everybody know how good actually UIndy tennis is,
and how good we can be."