The stereotype that college students can only afford to eat ramen was one that I never thought would apply to me. At the beginning of this past summer, I was excited to live independently from school and provide for myself. I had just finished freshman year, and I was proud that I came out of that transition from high school to college alive. I was officially an "adult." I was not expecting to face some of the worst inflation to hit this country in our lifetimes thus far.
In order to understand inflation, it's important to consider something like the Consumer Price Index (CPI). According to the U.S. Department of Agriculture (USDA), the CPI is "a measure of economy-wide inflation." This index is used to quantify inflation over an entire economy. For example, as of July 2022, the CPI of the United States increased 8.3% from what it was in July 2021. In terms of food prices, the CPI for groceries increased by 13.5%, and the CPI for food bought away from home (such as restaurants) increased by 8%. All of these numbers boil down to one truth: inflation has significantly spiked in the past year. As a student just entering adulthood and a whole new world of financial responsibility, that world does not seem so friendly when a loaf of bread costs double what it did a year ago.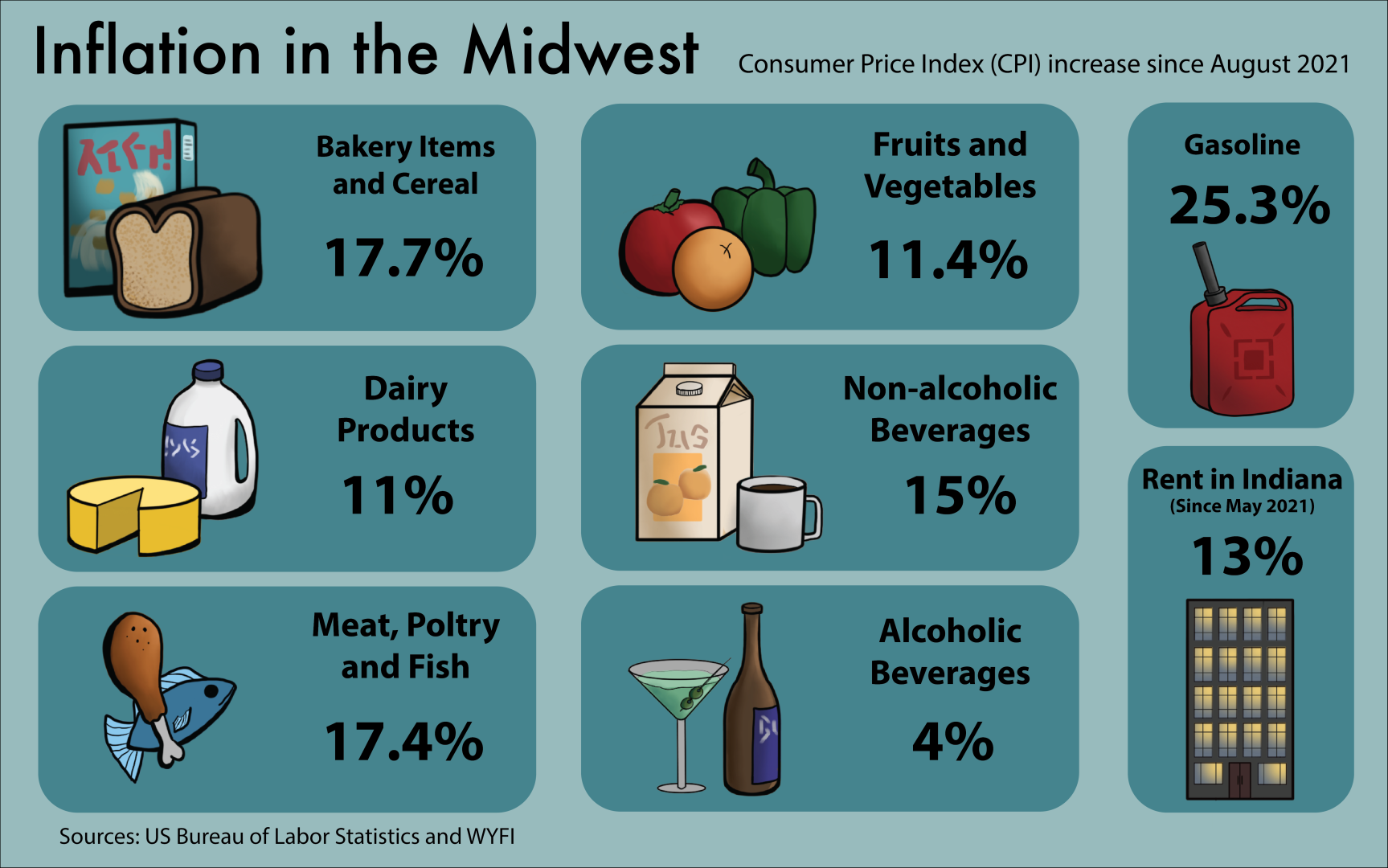 I remember having to strictly budget what I bought from grocery stores in order to be able to afford to eat the whole week. I threw myself into cooking meals instead of relying on more convenient (and more expensive) frozen options. This worked for a while until I went home to see my family. During the week I was vacationing, I had lost a week's worth of pay from my summer job. This crippled my ability to purchase groceries on a consistent basis, and I quickly had to sacrifice the quality and quantity of my meals so my bank account balance would not plummet to an anxiety-inducing low. Home-cooked meals turned into microwavable, frozen meals, and those soon turned into the classic college student meal: instant cup noodles. They were cheap, plentiful and filling for what I could afford.
Beyond grocery receipts and meal planning, what stood out to me was the toll this situation had taken on my mental health. Not being able to provide for yourself financially brings feelings of shame and a lot of negative self-talk as a consequence of that. I developed anxiety around finances and still struggle today with the amount of money it costs to stock up my dorm room. I was lucky enough to not have to pay rent for where I lived off-campus this summer, and I cannot imagine having to juggle the spikes in rent (up to 13% this year in Indiana, according to news station WYFI) along with food costs.
I would also like to note that although I did not drive during the summer, gas prices skyrocketed during the past year as well. The U.S. Bureau of Labor Statistics reported that the CPI of all types of gasoline increased by 25.6% in the past year. I saw gas prices hit five dollars a gallon just right around the corner from campus, and I know I could not have financially survived the summer for as long as I did had I been forced to pay for gas on top of food expenses.
After all of this, the beginning of a new semester where I had a meal plan and no need for transportation around campus was something I welcomed. I was very lucky compared to many other students who have more expenses than I did; we as students collectively suffered the consequences of inflation.