The University of Indianapolis women's basketball team is heading into the 2022-2023 preseason by welcoming its 10th head coach in the program's history: Coach Marc Mitchell. According to Vice President for Intercollegiate Athletics Scott Young, Mitchell's previous experience and success as a head coach is what set him apart from other applicants for the position.
"We went through the list of applicants and then also just kind of reached out to some individuals we know in the profession, and he immediately kind of rose to the top of being one of our top candidates," Young said.
Before coming to Indianapolis, Mitchell was hired as the head basketball coach in 2009 at Division III Fairleigh Dickinson-Florham University (FDU), where he led the team for nine seasons, including a perfect 33-0 national championship season in 2013-2014, where he was also named Division III Coach of the Year, according to UIndy Athletics.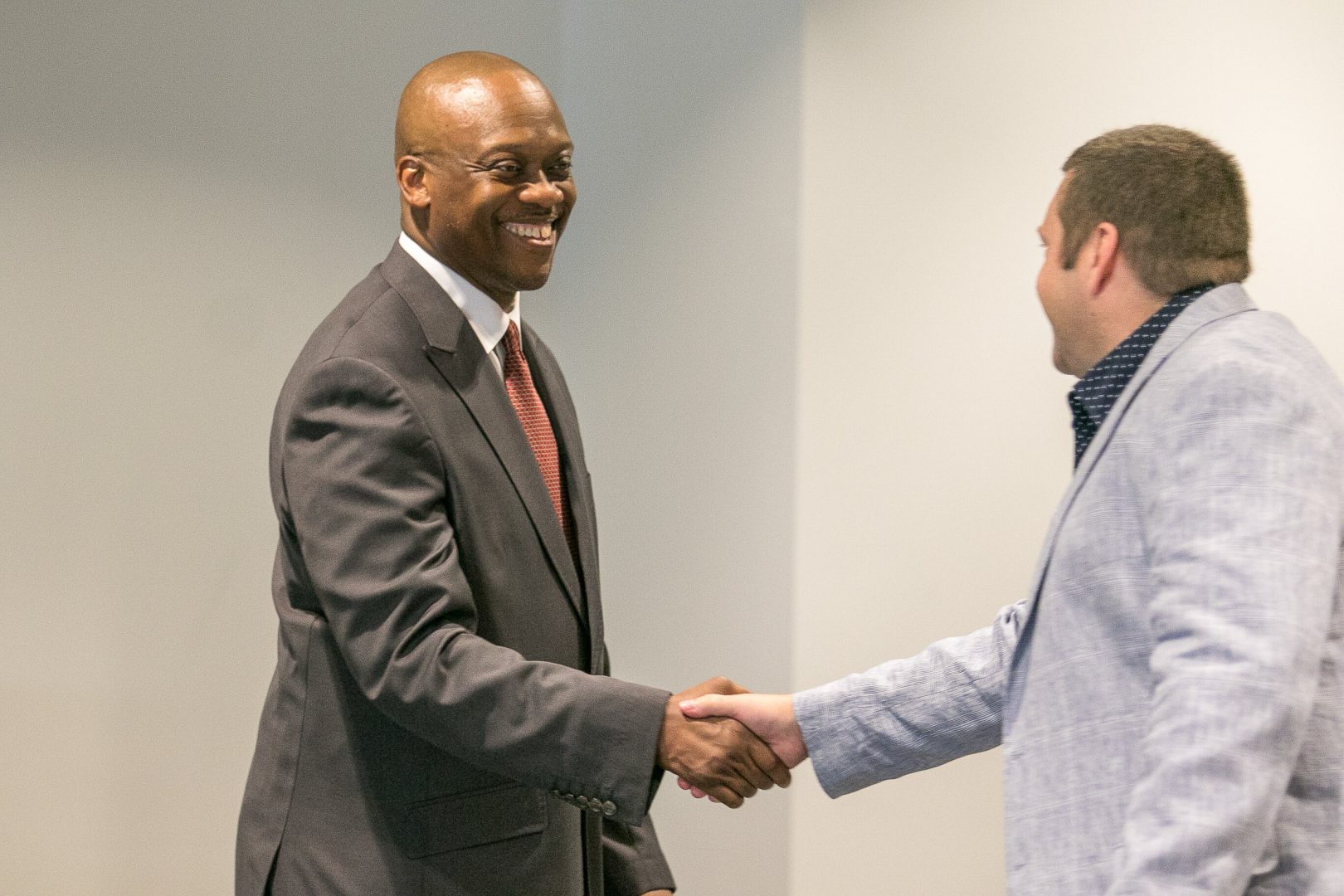 Following his departure from FDU, Mitchell moved to New Jersey after being appointed the head coach at Division I St. Peter's University, where he led the Peacocks to their best season on-record in the conference in over a decade. According to UIndy Athletics, during the Peacock's 2020-2021 season, Mitchell coached the team to their first winning conference season since 2008-2009 and was named the Metro Atlantic Athletic Conference Coach of the Year. Moving forward, Mitchell said that coming to UIndy seemed like a great opportunity for him.
"After speaking with my agent and then speaking with our Athletic Director here, Scott Young, it just seemed like a really good fit for me and I was just really excited about the opportunity…," Mitchell said. "[It's] very, very supportive here, and [they] have a winning mindset. So that's what really drew me to UIndy."
The Greyhounds are coming off of a season where they finished with a record of 10-17 overall and a conference record of 7-11, according to UIndy Athletics. Mitchell said he plans to implement a distinct culture within the women's program.
"I just want us to, on a daily basis, be better today than we were yesterday, and that's physically, it's mentally [and] emotionally," Mitchell said. "Our level of determination has to increase incrementally daily, and we want to be going in an upward trajectory from September to March."
Young said that he is thrilled for Mitchell's first season at UIndy because of the anticipation from the student-athletes themselves.
"Seeing the excitement of the student athletes and seeing the work that they're putting in here over the summer and getting ready to be back on campus full-time here in the fall and get ready for the season [is exciting]," Young said.
Mitchell said that he has met with the entire team and is in constant contact with all of his new players as he gets to know them.
"They [the team is] a tremendous, wonderful group of young women to be around," Mitchell said. "[They are] very attentive, [and] they listen…. They like to crack jokes, like I do, so it's been really refreshing for me to be here with them."
According to Mitchell, the Greyhounds will have 10 players returning for the 2022-2023 season, as well as three transfer students brought in by Mitchell, two incoming freshmen and another transfer-student that signed with the Greyhounds prior to Mitchell's arrival; ultimately making for a sixteen-player-roster for the team. As a coach with one national championship to his name, Mitchell has similar hopes for the future of the UIndy Women's Basketball Program.
"The ultimate prize is to win a national championship, and… [the] support here at UIndy, with the facilities here at UIndy, with the resources here at UIndy, with the beautiful campus here at UIndy, I think we can recruit those type of players to come here, and I think ultimately that I think that's a realistic possibility," Mitchell said.
As for this season, Mitchell wants the UIndy community to support the team. He said that encouragement from the community is an important part of the team's success.
"What I would like to do is kind of galvanize the UIndy community, particularly the student body, to come out and support and kind of enjoy watching these young women that we have on this roster…," Mitchell said. "Come out and support them and just show some love."