Former Indianapolis Public Safety Officer Troy Riggs was hired by the University of Indianapolis in November of 2021, according to UIndy's website, to review the Public Safety Model of the university. As part of this safety plan, several new features and programs have been added to the university.
According to UIndy's website, Riggs conducted almost 60 interviews with various members of the campus community. The university found a few initiatives that were deemed to be critical, according to the website, and these were implemented immediately. One of the initiatives was Grady's Safety Walk, a 24-hour phone line that allows students, faculty and staff to call a volunteer escort for traveling across campus. Vice President for Student and Campus Affairs and Dean of Students Kory Vitangeli said this program was implemented as a result of the feedback heard from the community.
" … One of the sources of feedback we heard is that individuals wanted it to be easier to have direct contact with the police to get an escort if they wanted to be escorted somewhere across campus, without having to go through dispatch," Vitangeli said. "So we [created] Grady's Safety Walk program. And we hired a group of students who are working with the campus police. They'll eventually become police cadets to serve in those roles. So we are excited to have that kick off."
Vitangeli said that the traffic stop program was also a result of feedback university police heard from student groups. In addition, the self-defense classes were expanded as a result of the feedback received, Vitangeli said. University President Robert Manuel said some aspects of the safety plan were enhancements to existing programs, while others were implemented due to community feedback.
"Part of them were added because the students, the faculty and the staff expressed interest in them being additions to the public safety efforts that we have at the university," Manuel said. "And part of them were pieces of the public safety strategy that we identified as being necessary for … expansion of campus that we've been having…. And as we've welcomed people back post the relative isolation of COVID[-19], we recognize it as being necessary to a re-engagement of the campus on being back together on campus."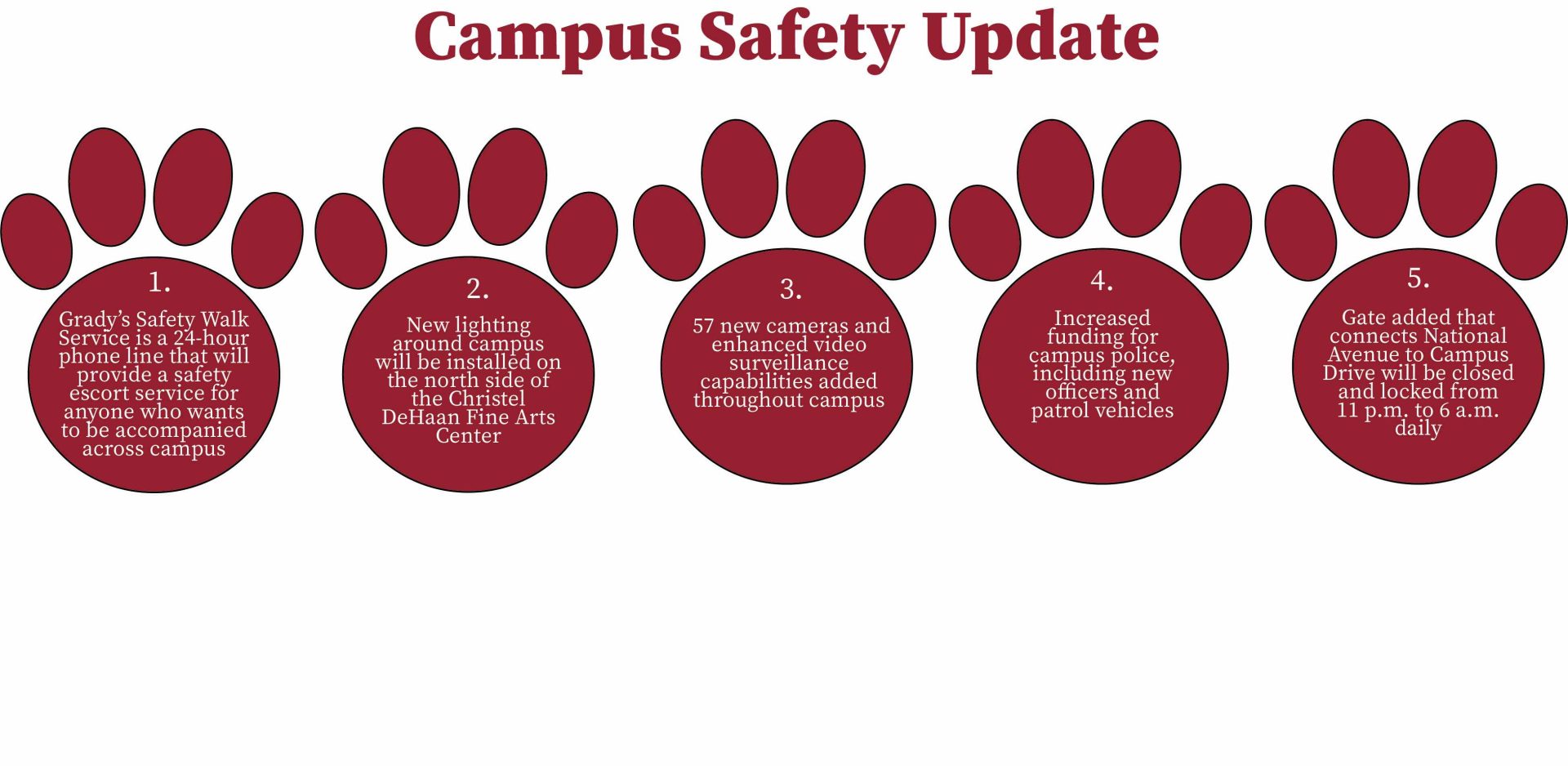 Fixtures that were deemed to be critical have also been added to campus, according to Manuel. New lighting has been put into areas around campus, including around residence halls and 57 new cameras have been installed around campus, Manuel said. The university also reduced campus traffic by closing the street between the Sease Wing of Krannert Memorial Library and Christel DeHaan Fine Arts Center and has approved the addition of a gate on a parking lot behind East Hall to reduce late-night access off of National Ave., according to UIndy's website. This gate will be added in late April of this year, according to the website.
According to Manuel, they are currently in the progress of redesigning the Public Safety Office. He said that in addition to this redesign, the search for a new Director of Public Safety will begin in the future.
"… The idea now is we'll work with [UIndy Police] Chief [David] Selby, with student affairs, with [Vice President and Chief Inclusion and Equity Officer] Amber Smith, out of the Equity [and] Inclusion Office, to put together a team of people to start thinking about how we put the notification out that we would be looking for that kind of a person and figure out how we run the search," Manuel said. "That likely takes about a couple months to welcome people to campus, interview them, figure out what the fit is and then hire that person. So I'm imagining that would take place between now, graduation, now and a little bit past graduation."
The goals of the new Division of Public Safety include reviewing the communication capabilities of the University Police Department, reviewing the infrastructure of the university and creating educational training programs for the university, according to UIndy's website. Manuel said that once the new division has been put together, the new Director of Public Safety would be responsible for creating the next set of goals and Public Safety Plan for the university.
Manuel said he hopes that the new Director of Public Safety will help engage the students, faculty and staff of UIndy. He said that the plan is organic and will continue to change as the environment changes.
"It's not a thing that we would create, put on a shelf and then we're done. Much like the curriculum or the student life of the place or everything we do at the university is very organic. It's meant to kind of live and as the environment changes, we make sure that we're aware of how the environment reacts and how we make our changes to fit that," Manuel said. "So the concept of public safety will change over time. And what we've done is create a new organizational reality for public safety, that we'll be able to adapt to the changes in our environment as we see them coming."