National Signing Day was on Feb. 2, and colleges across Indiana made their future student-athletes known to the public. There will be first time student-athletes joining a collegiate sports team, while seasoned athletes made the choice to play for another college for the upcoming academic school year.
The University of Indianapolis football team has already handpicked the incoming 2023 football class, UIndy Head Football Coach Chris Keevers said. Keevers and UIndy Football Assistant Coach and Offensive Coordinator Brad Wilson both have spent time evaluating and seeking out potential players, and through the long process of going to football camps and reviewing many applications, they have been able to bring in 43 new players to the program, according to UIndy Athletics. Keevers said he is excited about the future of the team.
"We had more options and got better players …," Keevers said. "We got some really good players in Indiana, Indianapolis, Chicago and Ohio, and we finished up with two big ones in Ohio late and closed out the recruiting class. We're looking for our fit, good students, good workers, guys who are going to build the culture and we never vary from there. We went out and got a bunch of UIndy guys that we think fit, and we got a bunch of good players; we're excited about it."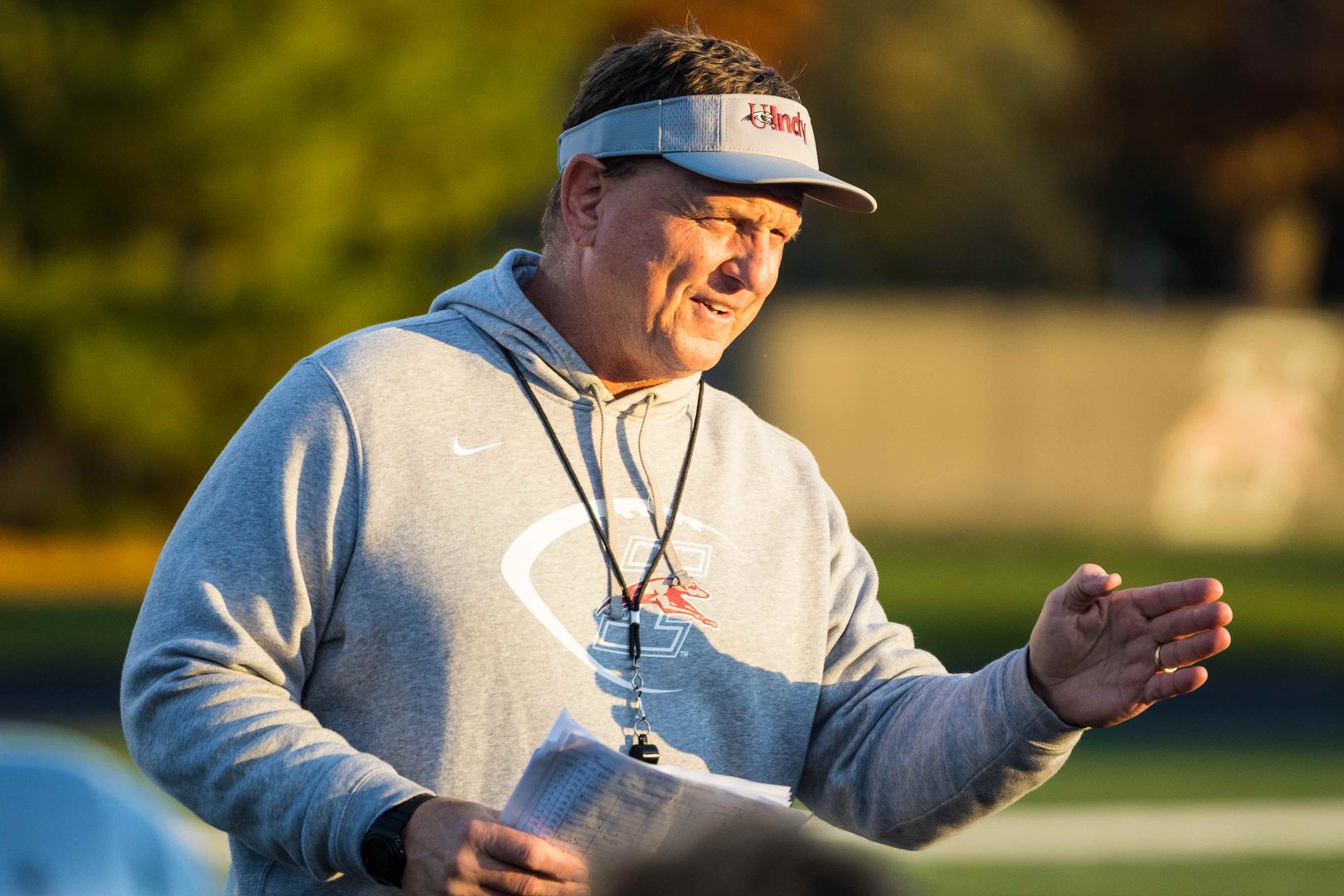 Alongside the new freshmen entering the program, the team has also brought in two transfer students, senior quarterback Bryce Jefferson and senior wide receiver Steven Towns Jr., who both have previous success at the collegiate level. Keevers said Jefferson is a Division I transfer from Illinois State University, and Towns Jr. is from McKendree University in Illinois.
"We kind of adjust to the quarterbacks and we do what they can do. At this level, we're not really going to say 'Hey, this is what we do' We have some things we like to do, but we're going to fit it around what our quarterback can do," Keevers said. "If he can drop back and throw a deep, we'll throw it deep. We'll adjust our style of play to whoever's the starting quarterback. I think Bryce Jefferson is a really good athlete. I'm very impressed with his work ethic."
Jefferson is coming back home to play, as he was a former Indiana high school student at Decatur High School, according to Illinois State University Athletics. In his time at Illinois State, he played in 19 games, amassing 1,318 passing yards and seven passing touchdowns. Keevers said Jefferson has caught his eye due to his past performances at Illinois State University. 
"I think Jefferson is glad to be home; I think that's the reason why we got him. I think he wanted to play in front of his family and be back in Indianapolis and be back home for his last couple of years," Keevers said. "I think that's one of the main reasons why he came. Since we were able to get a guy from Illinois State, it's a win-win because it's always good to get a local guy since they bring fans," Keevers said.
Towns Jr. is a GLVC standout and his plays have not gone unnoticed, resulting in him earning Football Offensive Player of the Week last season, as well as being selected as 2021 All-GLVC second team last season, according to the GLVC. McKendree and UIndy have gone head-to-head in football and now Towns Jr. will be competing against the team he was once playing for. Keevers said he has seen the way Towns Jr. has performed and knows that he has skills.
"He has the ability to have a huge effect. He's worked real hard right now. He's doing everything right," Keevers said. "We've been really happy with him. He's a neat kid. He's a grown man and he's a really good person. We'll see about spring practice and see how he does with what we're doing, but we've watched him play for three years and he's played really well against us."
Wilson was also a part of the recruiting process and saw the countless hours it took to find players, as this year there are 11 senior linemen graduating, and most of the new freshman class will be expected to fill big shoes. Wilson said choosing who would fill in those shoes was going to be difficult.
"Some were not even starters, so you're replacing that with a bunch of 18, 19-year-old young kids, and we just felt like we needed that refresher and kind of reloaded that group so there was a challenge," Wilson said. "That's part of the business, that's part of the job is to try to add what you feel is the best situation and the best players and the best people into the program that can help you take that next step forward."
Similar to most coaches in the recruiting process, Keevers said he had to watch film and look at how well a student-athlete performed in high school games to be recruited at the collegiate level. Keevers said recruits are determined by how well-rounded they are on the field and in the classroom. The upcoming UIndy football players were selected among the best of the best but even then, Keevers said they are hard to predict.
"The guys you think are going to be the best aren't and the guys you think will be okay are really pretty good. You just never know," Keevers said. "I think some of those young receivers will play, some of the young offensive linemen may play, and you may have a defensive end play. We got the transfer quarterback and receiver and we're going to have a real nice battle for the quarterback spot. I think there are going to be about seven or eight guys who will play from this recruiting group," Keevers said.