During the Fall 2021-2022 semester, University of Indianapolis religious services for students and staff were moved into University Chapel, according to an article from The Reflector. This new chapel is meant to replace McCleary Chapel, which was located in Schwitzer Student Center, and was considered the hub for all religious traditions and services on campus, according to UIndy's website. The new location is meant to provide a space for students of all religions.  
Sophomore social work major Eli Kellerman said they are a part of the Jewish community on campus and was a Resident Assistant Chaplain last semester. RA Chaplains serve as spiritual mentors, mediators and referral agents for residents who are in need of additional support and want to seek faith-based practices to help inform their decisions, according to the University of Indianapolis Residence Life website. Kellerman said the impact of these services moving into the chapel is negative, and there is no non-denominational space for students. They said it was weird to have to celebrate Hanukkah in a church. 
"I feel like whenever there are complaints about not having enough religious diversity or religious resources, 'Oh just talk to Interfaith' or 'Oh just talk to the chaplains,'" Kellerman said. " … Even in a point of position under employment, I didn't really feel like there was a whole lot that was being done; it was kind of up to the individual, which I think is great in some cases, but it really shows that there is a lack of infrastructure and support."
Student Body Director and junior communication and psychology major Bhumibol Shakya is another non-Christian student at UIndy. Shakya identifies with Theravada Buddhism and is an RA Chaplain as well, and he said the move has not impacted him as much.
"I don't feel like going to chapel literally affects my religion because it's not something that stops me from going there," Shakya said. "The staff members are basically the people that help me out a lot, like Dr. [Jeremiah] Gibbs and Rev. Ari [Arionne Williams], help me a lot, so in one way or another the chapel does not impact me that much with my religion."
University Chaplain and Assistant Professor of Philosophy and Religion Jeremiah Gibbs said the new University Chapel has meant that they have a lot more space there, but not as many people coming due to COVID-19 challenges, among other things.
"I think the first thing is that the students who are really involved with our office now have access to the community space, a space that's really dedicated for them to engage in group conversation and have their meetings there and that kind of thing," Gibbs said. "In the old chapel, there was social space in Schwitzer [Student Center], but there wasn't any space that was sort of their space to be able to meet, so I think that has been one of the biggest differences."
Kellerman said they are only given a small room on the first floor that only fits one person. They said it is not adequate, not accessible and not advertised.
"I think we should have a space for students of any religion, kind of what we had with the prayer room, outside of the chapel," Kellerman said. "Because I mean, I'm just Jewish and I'm uncomfortable in that space, but I couldn't imagine what a Muslim or Buddhist would feel in that space. I feel like we should have a space where no one religion is centered, but it's safe for everyone to go to; so the prayer room was a great example …, it's just we lack resources, period."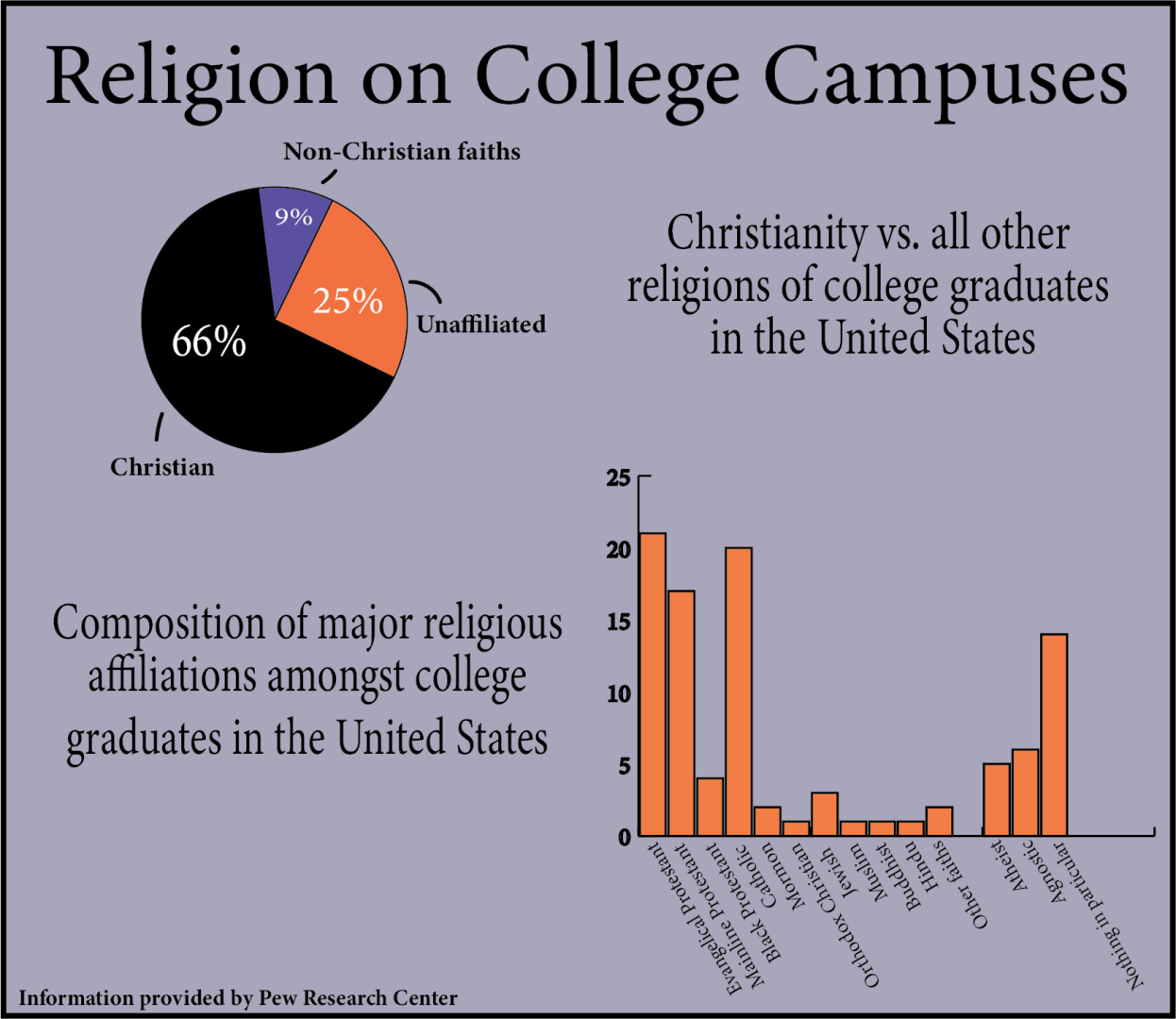 Shakya said that as a Buddhist, he has been welcome to many places he has gone to outside of the space they are given. He said his spirituality has not impacted him wherever he goes.
"Being a person of different religion, I think the university is very diverse and it has supported me even though I'm different," Shakya said. "There has never been a day when somebody has come to me and been like, 'Hey you have a different religion, you're not welcome here' or something."
Sometimes non-Christian religious students will find some encouragement in the Interfaith engagement, Gibbs said, but the reality is the Interfaith engagement does not include everyone's religion or beliefs. It is still challenging for a lot of them because most people are looking for somebody who has some similarities and similar experiences, he said.
"I think the hardest part for those folks is that in every circle that they are in, they are going to be a minority, a pretty significant minority," Gibbs said. "When we start talking about students of any particular religious tradition, in some cases most of those students and in some cases four or five students that are from that tradition. Oftentimes, folks who are from non-Christian religions will really struggle to connect with people from their own tradition."
While UIndy is diverse, there is not a lot of consideration for other religious holidays, Kellerman said. They said they were not allowed off of work and had to reason with professors to miss class for the three Jewish holidays in the month of September: Rosh Hashanah, Yom Kippur and Sukkot.
"I have had a lot of experiences where people have told me that I'm the first Jewish person that they've met and the only Jewish person they know, and that's really weird because I live in a place back home where there's a very thriving Jewish population, so it's very weird to be the only one," Kellerman said. " … I just don't think there's a lot of awareness because the Jewish population is so small, just like the non-Christian population's tiny."
Gibbs said the university has a lot of programming and opportunities for students to engage in their religious tradition. He said UIndy is doing the most it can do and that it has a lot more opportunities than there are students engaging in them all the time.
"Students have to take some initiative themselves and actually go out and engage with many opportunities on campus, one of the student organizations or the chaplain programs," Gibbs said. "There's so many opportunities on campus, but you have to be able to take a step, which sometimes is uncomfortable, but you have to take a step out and actually begin to engage."
Shakya said one thing the university can do is start an education system on different kinds of faith to educate people on different kinds of religions. He said his advice to anyone looking into religion is to find something they feel happy about.
"I believe that you find your identity or yourself just by delving into more stuff like religion because religion becomes a part of who you are, so if you delve into something and if it makes you happy, just follow that religion and pathway to gaining what you want to gain," Shakya said.