The University of Indianapolis men's swim and dive team is Great Lakes Valley Conference (GLVC) champions once again. Before last season, when Drury University took the crown from the Greyhounds, they had won the last three GLVC Championships. This season, on the backs of several high level performances, they made it back to the top of the podium, according to UIndy Athletics. Across the four day meet, the Hounds captured several school records and awards on their way to a score of 1643. Despite the challenges the team has faced this season, Interim Head Coach Brent Noble said a performance like that was expected.
"We expect to be able to put ourselves in a place to be the top team in the country, and I think on both for men and for women, we're at the very least within striking distance with a decisive win on the men's side, but a really close meet on the women's side," Noble said. "Drury was second for both men and for women last year. I think, competing with them the way that we did, I wouldn't say it encourages, because we're already pretty confident, but it's certainly a good affirmation that we are who we think we are, and we want to be."
The women's side of the team came just short of the title, finishing in second place to Drury University, according to UIndy Athletics. In the last days of the meet, the team fought back to make it very close, according to UIndy Athletics. Noble said this gave him more ammunition to push the team to the best of their ability. 
"It [the GLVC meet] was fun; I think they believed that they could win that meet, and they almost did. It was a pretty big point deficit and on paper, we shouldn't have been nearly as close as we were, and they out swam their seeds and they came really close," Noble said. "I think it shows that there's more yet in the tank. If we had swum that way, all four days we would have been better yet, and so I think we have a lot of people that have a lot still to show in three weeks at Nationals."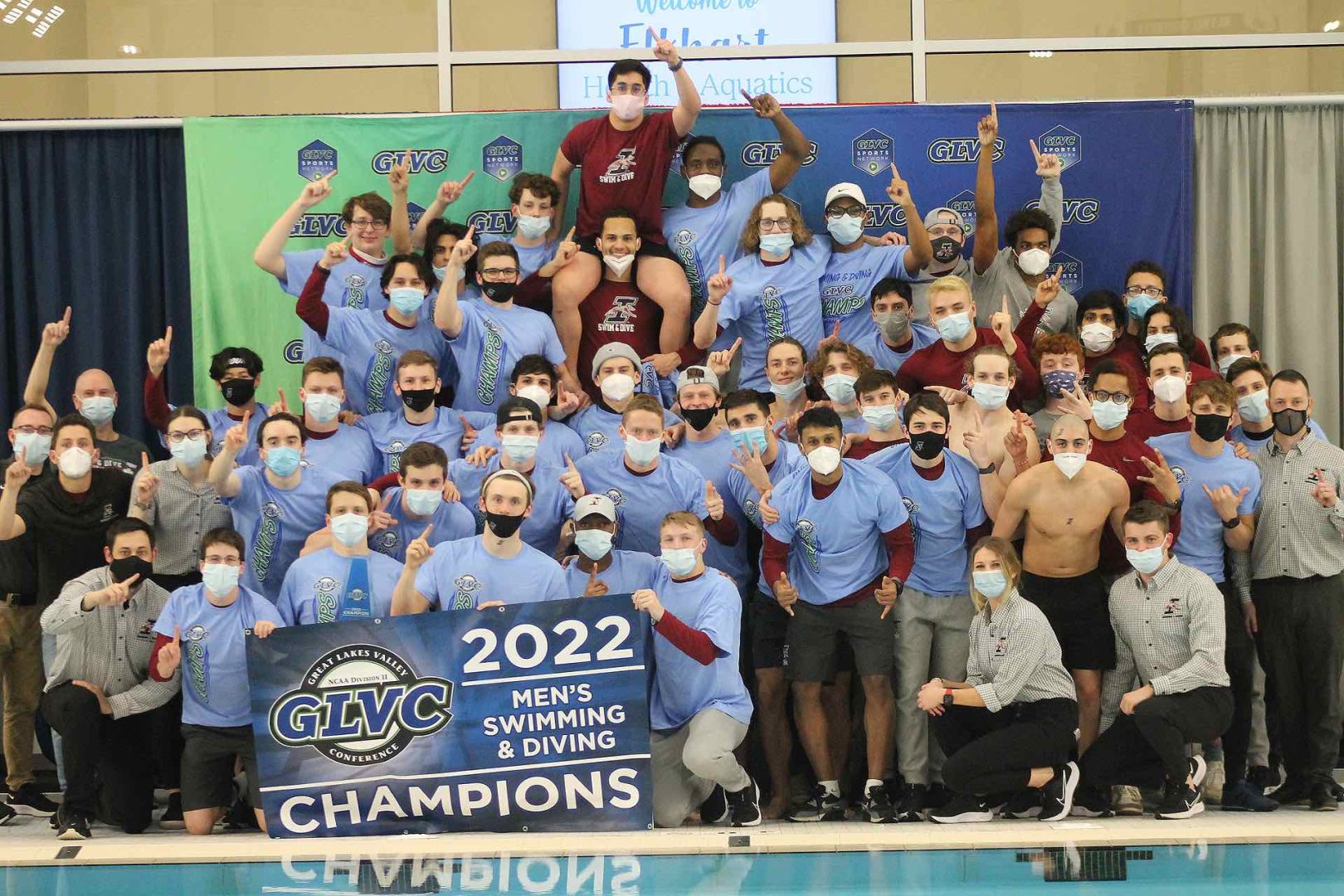 The Hounds in the championship meet walked away with a plethora of awards, two of the biggest going to freshman Cedric Buessing, according to UIndy Athletics. Buessing, in his first season with the Hounds, brought home both GLVC Swimmer of the Year and GLVC Freshman of the Year, the first of which he had no expectation of winning. 
"I come back from the first trophy Freshman of the Year, and I think it was Julio [Osuna] for Diver of the Year, and I stood there and then I heard my name and we're like 'What?'" Buessing said.
These awards come after Buessing captured four separate individual championships in the 1650 free, 500 free, 400 IM and 1000 Free, according to UIndy Athletics. A native of Grevenbroich, Germany, Buessing had already come off of high quality swimming before coming to UIndy, winning the European Junior Championships in the summer of 2021 for the 400 IM, Noble said. He said Buessing shares a trait that many top swimmers have: the ability to focus and turn on the switch when it's time to compete. Noble said even with the high level of competition the GLVC brings, Buessing never faltered due to the background he had. 
"Cedric is very process oriented. He knows what he needs to do when he comes in each day, he's really self motivated," Noble said. "You don't really ever have to tell Cedric what he has to do. He gets it and he comes in and he trains hard. When he races, we see an even different side of him because he's had so much practice at a high level, knowing how to draw that out."
Another top swimmer for the men's team at GLVC was fifth-year senior Liki Prema, who throughout the season bested his own record-breaking breaststroke mark time and time again, according to UIndy Athletics. Prema was another swimmer to come away with some hardware, being awarded the James R. Spalding Sportsmanship Award. On the final day of competition, Prema once again broke the 200 breaststroke record with a time of 1:55.63, but in the process also broke the GLVC meet record that stood for five years, according to UIndy Athletics. Noble said what makes the swimmers like Buessing and Prema different is that they are not racing to be the best in the NCAA, they are racing to represent their countries. 
"It's exciting, but with people like Liki [Prema] and Cedric, you also have to recalibrate what's exciting; these guys both want to be in Paris in 2024. If that's going to happen, we have to continue breaking records at a pretty quick rate because that's a big goal," Noble said. "I think when you have summers that are better than summers you've ever had before and breaking records and doing the things these guys are doing, it's really important to be proud of accomplishments, but never be satisfied."
This championship is not the end of the road for the men's team, with the NCAA Division II Championships in Greensboro, N.C., kicking off on March 9. Buessing said this championship win against a top team like Drury really gives the belief that they can go further on and compete against the best of the best in Division II as a team. Noble said, similarly, that this win puts them right where they want to be.
"I mean, one big one, they know they can beat Drury now. We didn't last year at Nationals. We didn't last year at conference, and so we've seen it happen now," Noble said. "We've got to make sure that we do that again and go knock off Queens. I think the men are encouraged that they are where they need to be."