University of Indianapolis theatre students performed "Drowning Ophelia," a story about dealing with trauma and abuse, during the 2020-21 Spring semester and were invited to perform it again at an upcoming competition. Students competed at a regional level in January and a national level in April, according to intercom.uindy.edu. Associate Professor of Theatre Penny Sornberger said the Kennedy Center American College Festival (KCACTF) is a way to support theatre students and what was being done with college theater.
"It's a national organization that was founded by the Kennedy Center that is meant to promote academic theater, specifically in colleges and universities, because it would be the springboard to people going into professions and working in different professional theaters," Sornberger said.
Associate Adjunct Faculty Grant Williams said "Drowning Ophelia" was performed at the Region III KCACTF, where many students were recognized. With this festival, students are able to showcase their work to more people at higher levels.
"It's so hard, especially at university level; you do the show, you get some applause, your mom and dad and some friends say you did well but it's hard to get more feedback outside of that," Williams said. "So with the KCACTF process, they send respondents out, who are professionals in academic professional theatre world, who critique the show and give feedback and nominate people who they think they feel are deserving. We had some respondents that really enjoyed the show, really responded to it, that's how we got sent towards being considered as a showcase production."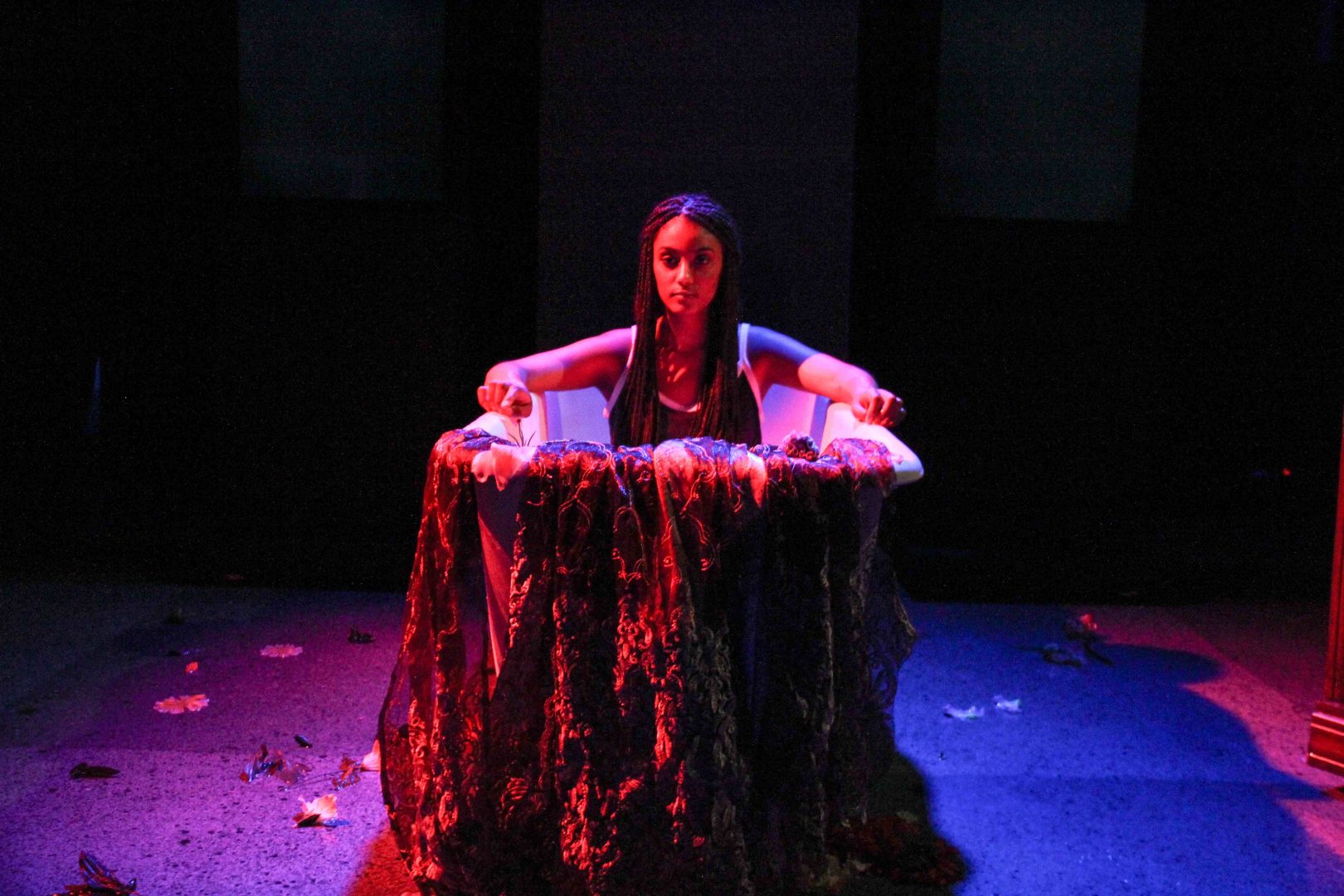 Nominations were given out to students who acted in the play, as well as merits for design and technology, dramaturgy and stage management and Williams said he received a merit for educational outreach. He said the student who received a merit for design and technology was senior theatre and communication major Kyle Jeanor, who received it for his projection and streaming.
Jeanor has participated in the KCACTF conference for three out of his four years at UIndy. He said that this year with "Drowning Ophelia" was the first time he attended the conference virtually. The online production work with this particular show has allowed Jeanor to gain more experience.
"I think for me, just in general, the best part of the entire experience was all the problem solving I got to do because one thing we would fix and it would be great, and then another thing would just kind of not work out and that's what it is in most things," Jeanor said. "But for this, it was just a lot of troubleshooting and I feel like I can solve a lot of technical problems regarding live streams or projections or anything like that now and in a digital world that's fantastic."
Virtual theater has become a challenge, Williams said, especially because performances through Zoom don't feel like real theater. Williams said he wanted to make a show that followed the COVID-19 guidelines to keep students safe, but still had the excitement of a show.
"Working within the confines that we were with COVID-19, I was seeing a lot of theater that was simply Zoom squares, people reading lines and it didn't feel like theater to me," Williams said. "I found this play, and I kind of fell into an idea that I thought could accommodate a presentation that works within the confines of COVID-19 while still honoring the presentation of theatre, or the expression of theatre."
Williams said he had the idea to give each student their own stage so that they could perform without a mask because showing those facial expressions are important in theater. Once they were on the stage and took their mask off, Williams said no one else was able to be up there with them. Giving each actor their own stage was a way to keep them safe while also symbolizing what the show was about.
"The play is about kind of the way we compartmentalize trauma, the way we compartmentalize different aspects of ourselves.… Everyone had their own separate space that they were confined in, and at the end we see the character, the main character, leave her designated space and come into a different one represented to make kind of a breaking out of that confinement and stepping forward and moving forward in life," Williams said.
Having separate stages was a new challenge for everyone, that they learned how to work with, according to Jeanor. He said that there were many aspects of it that could go wrong with using TVs, microphones and earbuds.
"I don't think that's something [having separate stages] that pretty much most other places have dealt with, and we took on that challenge because it was three cameras all having to send to the right TVs and then two cameras broadcasting it … It was without a doubt a challenge … it was like nothing I had ever done before."
The playwright of "Drowning Ophelia," Rachel Luann Strayers, was actually able to attend and watch the show, Williams said. He said it was nice to be able to get feedback from the actual playwright of the show because performers don't often get that.
"She [Strayers] was able to Zoom in and watch the show and really enjoyed the production," Williams said. [We were] able to garner a lot of good feedback from her; she was even really impressed and pleased by the artistic decisions we made, putting like Refik's [Dogruyol] character, for instance, in a TV. She really enjoyed the kind of interpretation of that character…. Getting one to one feedback from the playwright was really gratifying."
Williams said he did not have a lot of directing experience before this play, and that this show was something he was proud of. He said he even met with one of the student counselors to make sure he covered the topics in the show correctly. He said he wanted to make sure this show would speak to the concerns of students.
"What I would like to see are more shows like 'Drowning Ophelia' that have an impact outside of just entertainment," Williams said. "I would love to make sure that the theaters have an impactful statement towards the student community."