No matter who it is, if someone is working in the sports industry, they all share one thing: a passion for the game. Every year on Feb. 2, sports organizations across the United States and the world celebrate women who paved the way for countless others to showcase their passion. The women who work in athletics at the University of Indianapolis come from a variety of backgrounds, including playing, coaching, educating and administration, and they all share that same passion.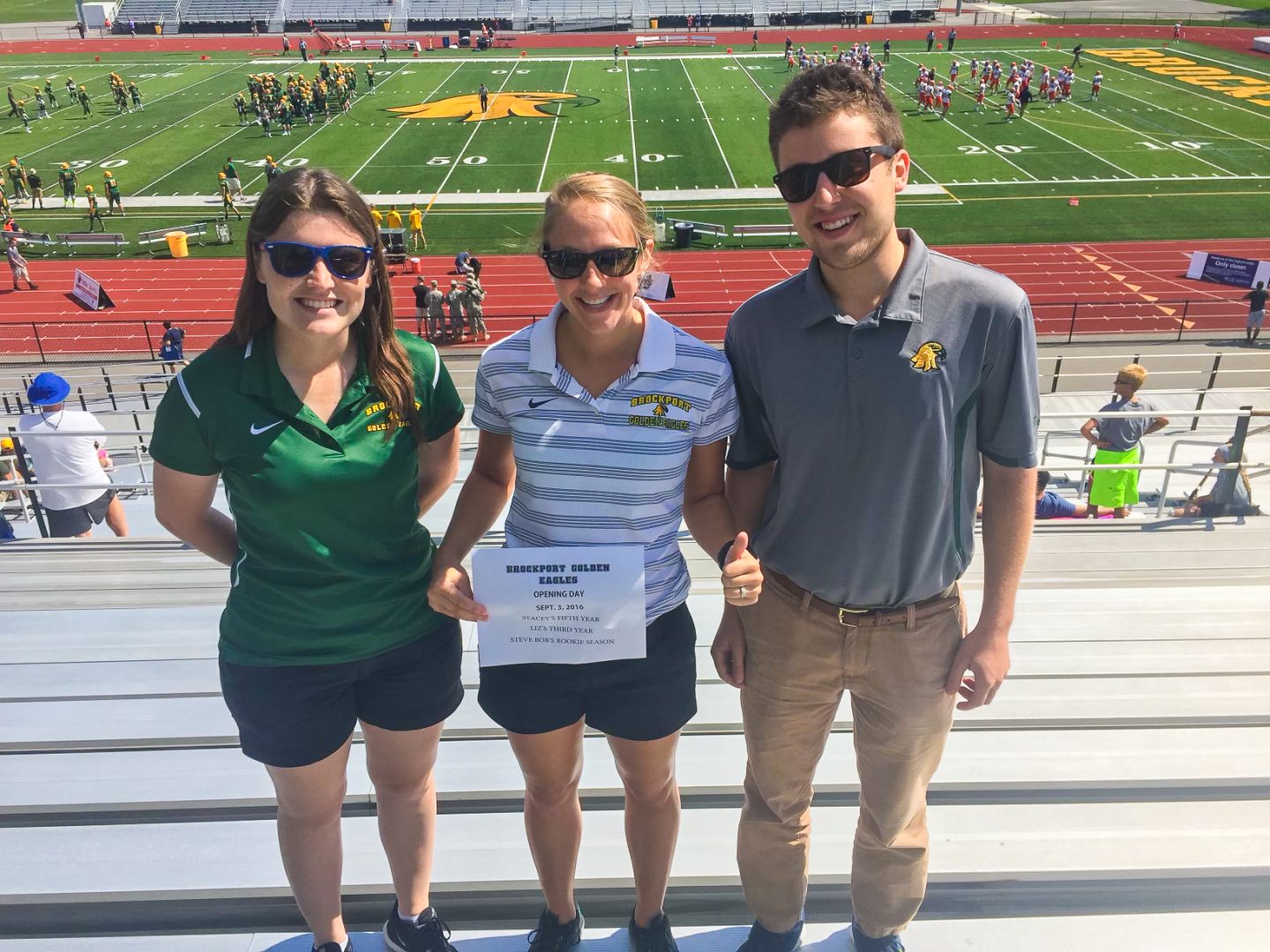 In March 2021, Sports Information Director Liz Wacienga was hired by UIndy Athletics. Wacienga said her love for sports began as a child, where she played baseball and then golf in high school. Wacienga said she knew that she wanted to combine sports and business and later went to pursue a degree in sports management at State University of New York College at Cortland, according to UIndy Athletics. Wacienga said during her freshman year, she was the scoreboard operator for the baseball team as part of classwork. But, when she met Cortland's sports information director, her career changed.
"I was totally enthralled with what he did, absolutely loved it, and I was like 'This is what I want to do for the rest of my life,'" Wacienga said. " …I got more involved with him. I was working all of our football games, hockey games, soccer and lacrosse … and hadn't I gone there [SUNY Cortland] and met him, I don't think I'd have this career path."
Wacienga said she loves the excitement and the atmosphere being a sports information director provides. She said her favorite part of her job is storytelling, and being able to showcase it with the UIndy community is something special.
"There are 716 athletes, we have 716 stories to tell," Wacienga said. "And how can I best do that? With all of our social media and our website, it's not just recaps and stats, they are people too."
Wacienga said she could not be happier hearing women breaking down barriers in the sports industry. She said hopefully it inspires women to pursue their dreams.
"There's a young girl sitting at home, elementary school, middle school. She's seeing them [women] on TV," Wacienga said. "And now she's saying 'Oh that's so cool. I can do that now.' Because before it's just been men and now with the women out there, young girls know that it is not impossible anymore—you can do it.
Wacienga previously worked at Kentucky Wesleyan College as the Director of Athletic Communications and Senior Woman Administrator, where she was the first female Athletic Communications professional in the Great Midwest Athletic Conference, according to UIndy Athletics. Wacienga said she views it as a humbling experience.
"I knew that I was the only female in the conference, but I didn't really think of it as anything special just because it was my job, and that's normal for me," Wacienga said. "But it was kind of humbling and kind of a wake-up moment too because it showed me that everything that I can do on a daily basis matters."
Wacienga believes that in ten years' time, women will continue to break down more barriers in the sports industry. Her advice to women is to not be afraid of speaking up because their voices and opinions matter.
"I think they're gonna continue to shatter the glass. I don't think that there's a ceiling anymore," Wacienga said. "We've proven over the last couple years, over the last couple of months, the glass ceiling doesn't exist. It can be shattered, it can be broken and we can do it … we're just going to continue to raise the bar."
Head Women's Basketball Coach Kristin Wodrich was brought in to turn around the basketball program after having multiple losing seasons. In her first couple of years, the Greyhounds made several GLVC tournament appearances compared to previous seasons, according to UIndy Athletics.
Similar to Wacienga, Wodrich's passion for sports started when she was young. Her father coached basketball for 40 years and her brother played college basketball. She played basketball for the University of Maryland Baltimore County, according to UIndy Athletics. Wodrich played a key role in leading the team to the America East title and an appearance in the NCAA Division I Tournament in 2007.
Wodrich said she decided to become a basketball coach because one of her purposes is impacting and encouraging women. She said she merged her passion for basketball with her desire to make a difference in the lives of young women. Although Wodrich said she has never faced any challenges specifically related to being a woman, she does encounter stereotypes. However, she said she uses it as motivation to improve her coaching method in all areas.
"They pigeonhole women, sometimes I think in different roles. And so I've always been driven to be an all-around coach being able to do lots of different things and in different facets," Wodrich said.
According to Wodrich, it is critical for men to help increase the prominence of women's sports. She said she praises ESPN for promoting women's sports and giving them more visibility.
"When you put them out there people will watch. And that was proven from the Final Four last year, the WNBA finals, when people are able to watch it, they're going to watch it because women have a lot to offer," Wodrich said.
Wodrich believes in order for women's sports to gain more of a following, women, especially younger girls, need to play more sports. She said having more participation in sports and women coaching, that representation is really important. Wodrich urges to keep working hard as long as it doesn't affect one's integrity, morals and values.
"Some people think 'I'm a woman, I should get this job just [because] they need a woman.' Well, no, you need to work and you need to know your craft, and you need to be good at it, "Wodrich said. "You need to put in the work first."
Jackie Paquette is the senior associate director of Athletics for student support and senior woman administrator in the athletics department and is now entering her 15th year with UIndy, according to UIndy Athletics. Her passion for sports began when she thought she was going to be a baseball writer, as she was responsible for baseball stats in middle school and high school. It was not until she attended college at Butler University, the sports information director told Paquette she needed to be in college athletics.
"I thought for the longest time I wanted to be a sports information director, and then learned that my passion truly lies within the student-athletes, and their experience and how we can make their experience at UIndy the best one that there is," Paquette said. "That's how I've moved into the role that I'm in now."
Alongside her other work, Paquette serves as the director of wrestling operations, according to UIndy Athletics. She said she faces challenges, such as people automatically discounting her ability because of her gender.
"That's the unfortunate part about the world of sport, is that women often just get discredited simply because they're women before people even know the ability that that woman has," Paquette said. "That's something that I've worked really hard to sort of work against in my career. I think that all women, unfortunately, have to work against [this] in their career no matter what sport they work in."
Paquette said seeing women in leadership positions will serve as a driving force for more younger women to pursue careers in sports as they see those positions as attainable. She said women need to be persistent and be willing to put in the work.
"That's what it's about is putting the work in, proving your competency and people are going to let you have those chances no matter what your gender is," Paquette said.