Teeing off in the Patriot All-America Invitational held at the Wigwam Golf Resort in Phoenix, in Dec. 2021, redshirt senior Keegan Bronnenberg competed in a tournament a majority of golfers do not get the opportunity to. At the invitational, Bronnenberg had the honor to represent a fallen soldier, Capt. Michael T. Fiscus of the Indiana National Guard, and their time serving for the United States. 
"They [Patriot All-America Invitational Organizers] have a ceremony that involves the Air Force Base there, Luke Air Force," Bronnenberg said. "They have a flyover and a big ceremony with the Thunderbirds and Folds of Honor, and we all get announced and who we are representing."
Honoring Fiscus, Bronnenberg carried a tag on his bag commemorating the late captain. Additionally, information about Fiscus was displayed on the card to highlight their duties to their country. 
"The Folds of Honor President made a really good point," Bronnenberg said. "We were like taking them on one last patrol … it's like the last thing they get to do for their service."
Additionally, the invitational composed a Folds of Honor event to pay tribute to the soldiers. During this event, the President of the Folds of Honor, Maj. Dan Rooney, spoke to the players, adding words that brought more intense meaning to the invitational. Likewise, Bronnenberg saw the event as an honor to play in given the message behind the event. Men's Golf Head Coach Brent Nicoson saw the invitational as a special opportunity for Bronnenberg.
"It's a cross divisional tournament that you have to earn your way to, and you're playing for something bigger than your school or yourself," Nicoson said. "You're playing for somebody that paid the ultimate sacrifice to allow us to continue to play golf."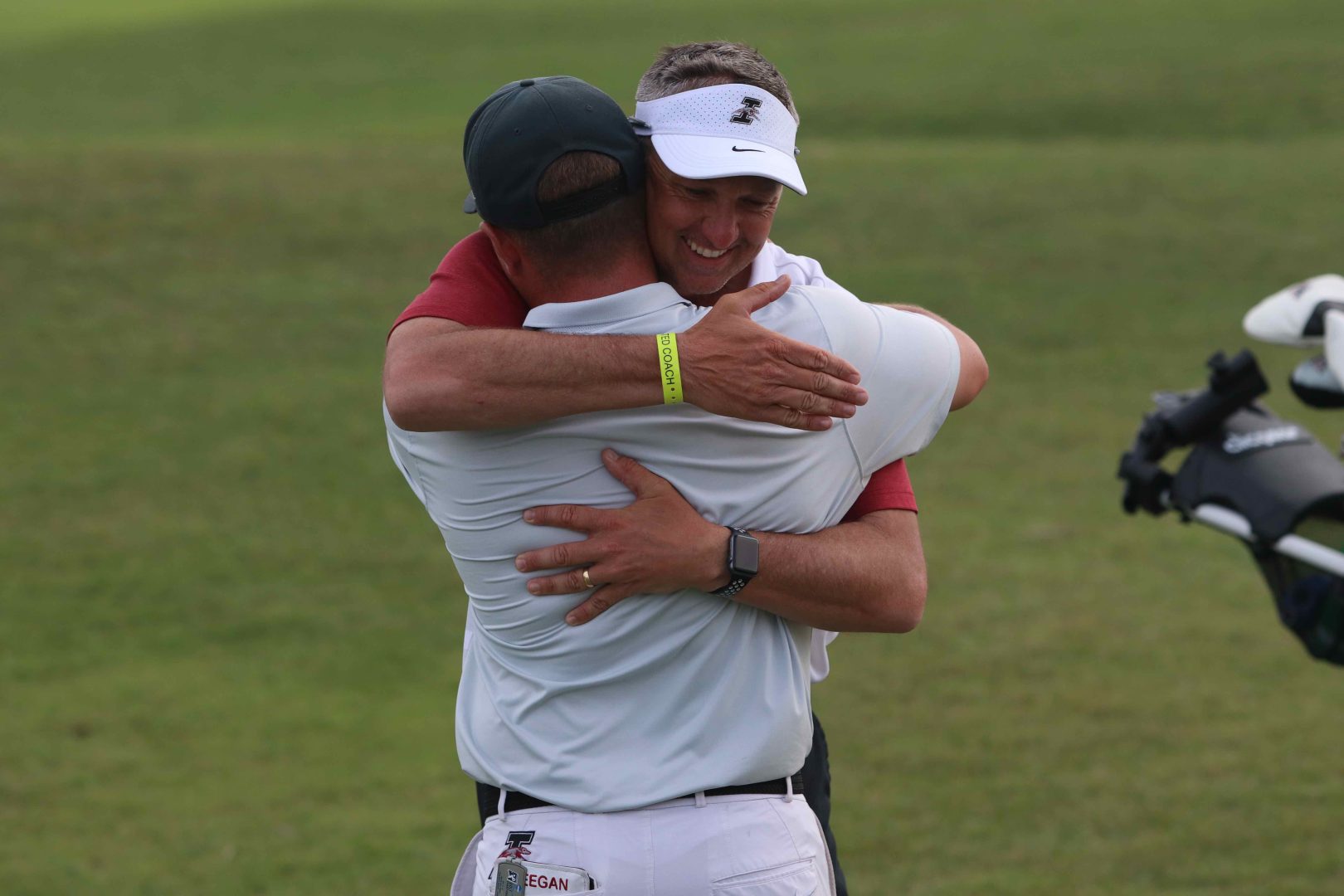 Before participating in the invitational, Bronnenberg had already made history at the University of Indianapolis by becoming the first men's golf player to win the 2021 Division II Individual National Championship held in Augusta, Ga. Focused on putting in his best performance on the course, Bronnenberg said he did not speak about the possibility of a championship until the golf ball fell into the hole.
"It never comes across your mind like, 'Oh … I gotta be the first UIndy player to do it,'" Bronnenberg said. "It didn't all set in that I was the first until after it really happened."
Bronnenberg said his interest in golf grew when he began playing at a young age with his great grandfather. Since starting at a young age, Bronnenberg developed his talents into the player he is today.
"When I was little, he [Bronnenberg's great grandfather] cut down clubs and took me out with him, so from the time [that] I could pretty much walk and go on the course," Bronnenberg said. "He would let me go out and practice with him and the older I got the more, I played with him."
Nicoson said the team focuses on going game by game when competing on the course. Therefore, the team does not look to discuss championships until that moment occurs.
"We make a point in the program not to discuss championships, not to discuss winning, not to discuss anything until it happens," Nicoson said.
Through this mentality, Bronnenberg developed a star-studded performance capturing the attention of the audience and his teammates in attendance. Teammate and redshirt senior Oliver Mast witnessed Bronnenberg's all-out display in Florida describing how incredible Bronnenberg's play was. Similarly, in the second round of the championship, Bronnenberg caught the attention of the head golf professional of the course following an impressive round.
"The head [golf] pro[fessional] ended up telling us there wouldn't have been ten PGA tour guys that would have beat that score [69] today," Mast said.
Since transferring from Ball State University, Bronnenberg emphasized the importance of a winning mentality that is rooted in the foundation of golf at UIndy. Similarly, winning is one of the main priorities in the men's golf program.
"It's [UIndy] really brought out the best of me, and I think it's my peers and teammates and coach as well," Bronnenberg said. "There's a winning attitude here at UIndy, and the program that coach [Nicoson] has built is simply built around winning."
After arriving at UIndy, Bronnenberg has laid out his talents by showcasing them in practices, tournaments and invitationals. Similarly, Nicoson described how the knowledge of the game of golf that Bronnenberg possesses has been passed on to his teammates. Throughout the last season, Bronnenberg looked to put his best effort forward if that was in practice or outside of scheduled events.
"If you are not working or getting better right now someone else is, and he [Bronnenberg] is that someone else," Mast said.