Editor's note: This story contains mentions of sexual assault that may be disturbing for some readers.
A small group gathered on the steps of the Indiana Statehouse on Jan. 29 to rally support for the passing of House Bill 1079, a bill that seeks to redefine rape and consent in Indiana. Those participating stood facing the street holding bright pink signs that called for passersby to encourage their senators to vote for the bill to pass through the Senate. Extra signs propped up on the base of the Oliver P. Morton statue. Leading the group was Stephanie Stewart, a resident of Carmel, Ind., who supported the bill as it went through the House of Representatives.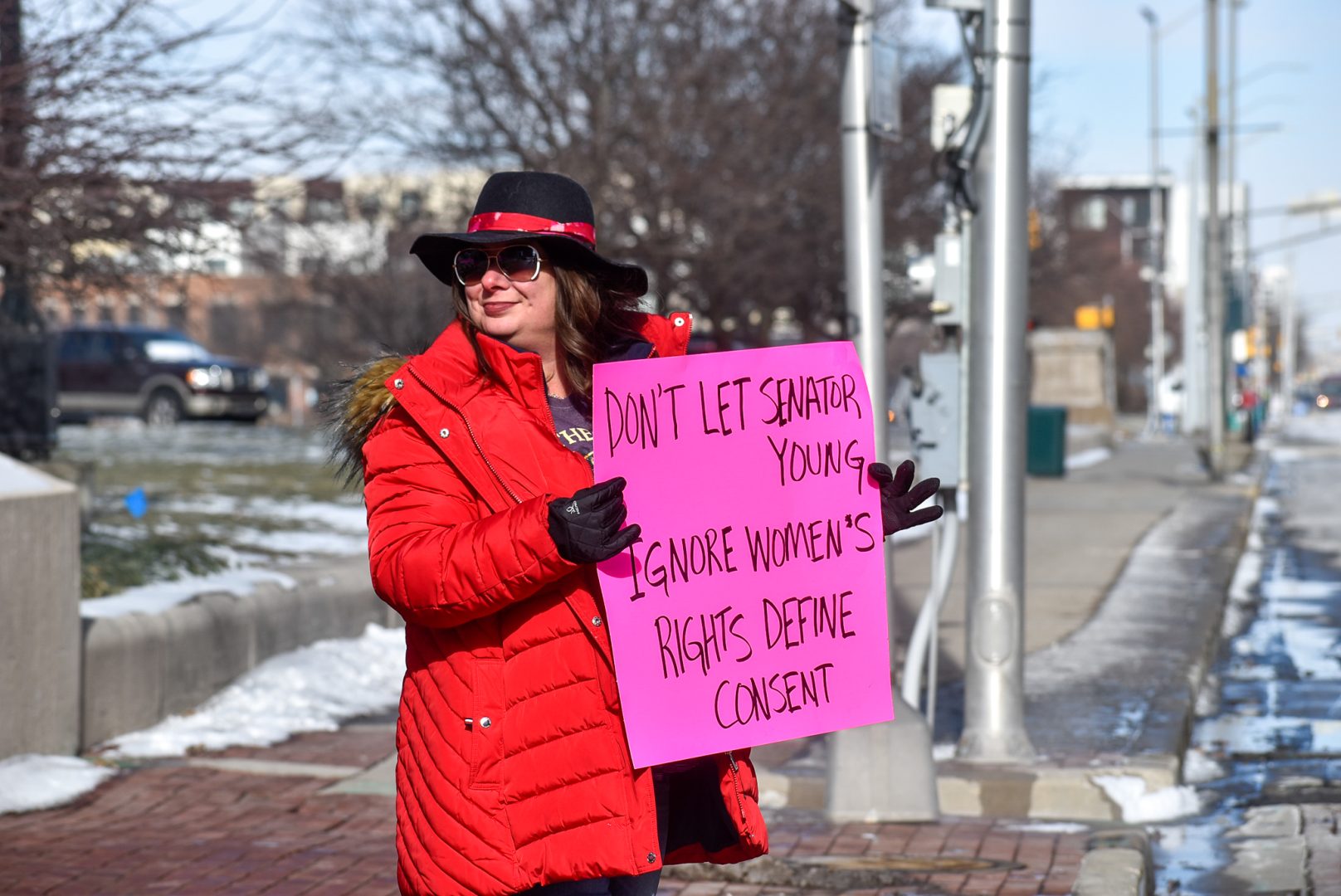 Stewart said that she has been meeting with State Reps. Wendy McNamara, Republican; Sharon Negele, Republican and author of the bill; and Donna Schaibley, Republican and co-author of the bill, to help ensure the bill passes and that she organized the rally because Indiana's current law failed her. Stewart said she was assaulted in 2019, and the prosecutor did not pursue charges in her case, despite overwhelming evidence.
"I had bruises all over my body [and] had to go to physical therapy for two months," Stewart said. "I was definitely assaulted. There's no question about it. My own doctor even said I was assaulted. So I am out here doing this because the law needs to change because the prosecutor specifically told me that they did not file charges because our consent laws are weak in the state of Indiana."
According to the Rape, Abuse and Incest National Network (RAINN), Indiana law's current definition of rape is intentionally having sexual intercourse with another person or intentionally causing another person to perform sexual conduct when the other person is either compelled by force or the imminent threat of force, unaware that sexual contact is occurring or mentally disabled or deficient to the point that the person cannot consent. HB 1079 will create a new definition, which says that a person commits rape in two scenarios: either (1) when the person engages in sexual activity with someone who submits under the belief that the person committing the act is someone else the victim knows and that belief is intentionally created by any artifice, pretense or concealment by the person or (2) the person engages in sexual activity with someone that has expressed a lack of consent to sexual conduct through words or actions, according to the bill. 
"I think the biggest thing is . . . this law as drafted covers both consent by words and by action, which means if someone's trying to put their clothes on, they're trying to crawl away, that counts as a lack of consent, because maybe they're too terrified to speak," Stewart said. "Or maybe they're gagged, I don't know, who knows, right? So you just don't know. You need to be able to either say stop, no. There has to be [that] if there's any kind of negative 'I don't want to do this,' and the man pursues intercourse, it's rape; and the law does not cover that right now."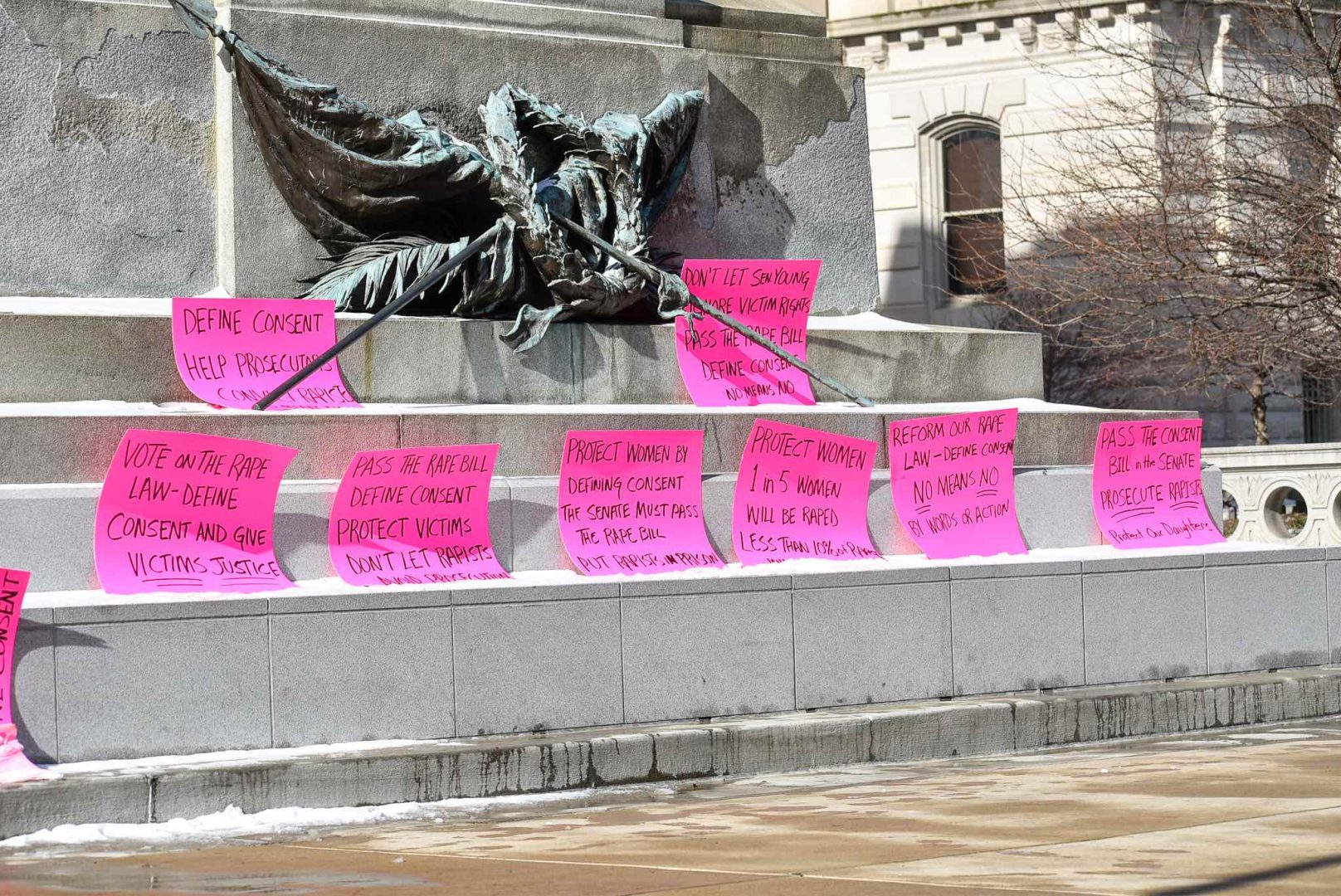 The bill was voted on by the House of Representatives on Jan. 20 and passed 86-3, with nine votes excused and two not voting. The bill will be voted on in the Senate next. Stewart said a similar bill stalled out in the Senate committee last spring, leaving her concerned that again this bill will not pass in the Senate.
Laura Davenport, Stewart's friend, was with her on the Statehouse steps. Davenport said she has been helping Stewart and, through her support, learning about the current law and what is not defined. Davenport said she wants laws established so her daughter and anyone else in the state would be protected in situations similar to Stewart's.
"This could impact anyone and everyone," Davenport said. "So our state needs to define what consent means. It's sad that it's not defined. And it's 2022. How is that not defined in our state? It's been in and out. It needs to be voted on and passed, because I think that needs just to be part of what our laws are. Consent needs to be defined so that our lawmakers and our justice system can have good tools to use when crimes are committed. And to protect people and give people a voice."
Carlos Garcia, also among the small group at the Statehouse, said that he has been a part of Stewart's moral support throughout this process and that she is a force to be reckoned with. He said he wants to change the law in Indiana to support changing the law in Indiana to define consent.
"It'll clearly define what it means to have consent," Garcia said. "And it'll also be able to, hopefully, get better prosecutions for those individuals that actually think it's OK to harm a woman. I think also there's this toxic mentality for some men that they can do anything they want to with women, and that's not how a man should behave."
The bill was referred to the Senate Committee on Corrections and Criminal Law on Feb. 1 for its first reading, according to the Indiana General Assembly website under Bill Actions. Stewart said she encourages everyone to email members of the committee to encourage support for the bill, because they need to step up and ensure the bill makes it out of committee and onto the Senate floor.
"This deserves to be voted on, especially when it passed the House almost unanimously now two times," Stewart said. "It has bipartisan support. There's no reason not to support the bill. It needs to get passed this time to protect our daughters. I have two little daughters, and I'm out here for them—and my friends and their daughters and my fellow Hoosier women …."