Another variant of the COVID-19 virus has been discovered, according to the Centers for Disease Control and Prevention (CDC), and has been classified as the Omicron variant by the World Health Organization (WHO) on Nov. 29. According to the WHO, the first confirmed infection was from a specimen collected on Nov. 9, and the CDC said specimens of this new variant were found on Nov. 11 in Botswana and then three days later on Nov. 14 in South Africa. Since then, it has spread around the globe with cases in the United States across 15 states. According to Professor and Director of the Public Health Program Heidi Hancher-Rauch, the main difference between Omicron and the previous iterations of the virus is its ability to reinfect people. 
"As of right now, they have discovered over 50 different mutations on the new version of the virus, over 30 of them seem to be on the spike protein, which is what allows it to infect us and basically attach and then infect the body," Hancher-Rauch said. "… Now, we are seeing some data out of South Africa, that shows that it does seem to be able to reinfect people who have already had COVID[-19], more easily than say the Delta variant or some of the others could. They're [WHO] saying this definitely is a reason that we should be really pushing people if you're not vaccinated to get vaccinated, even if you think you have what they call natural immunity because that doesn't seem to be working very well against this variant."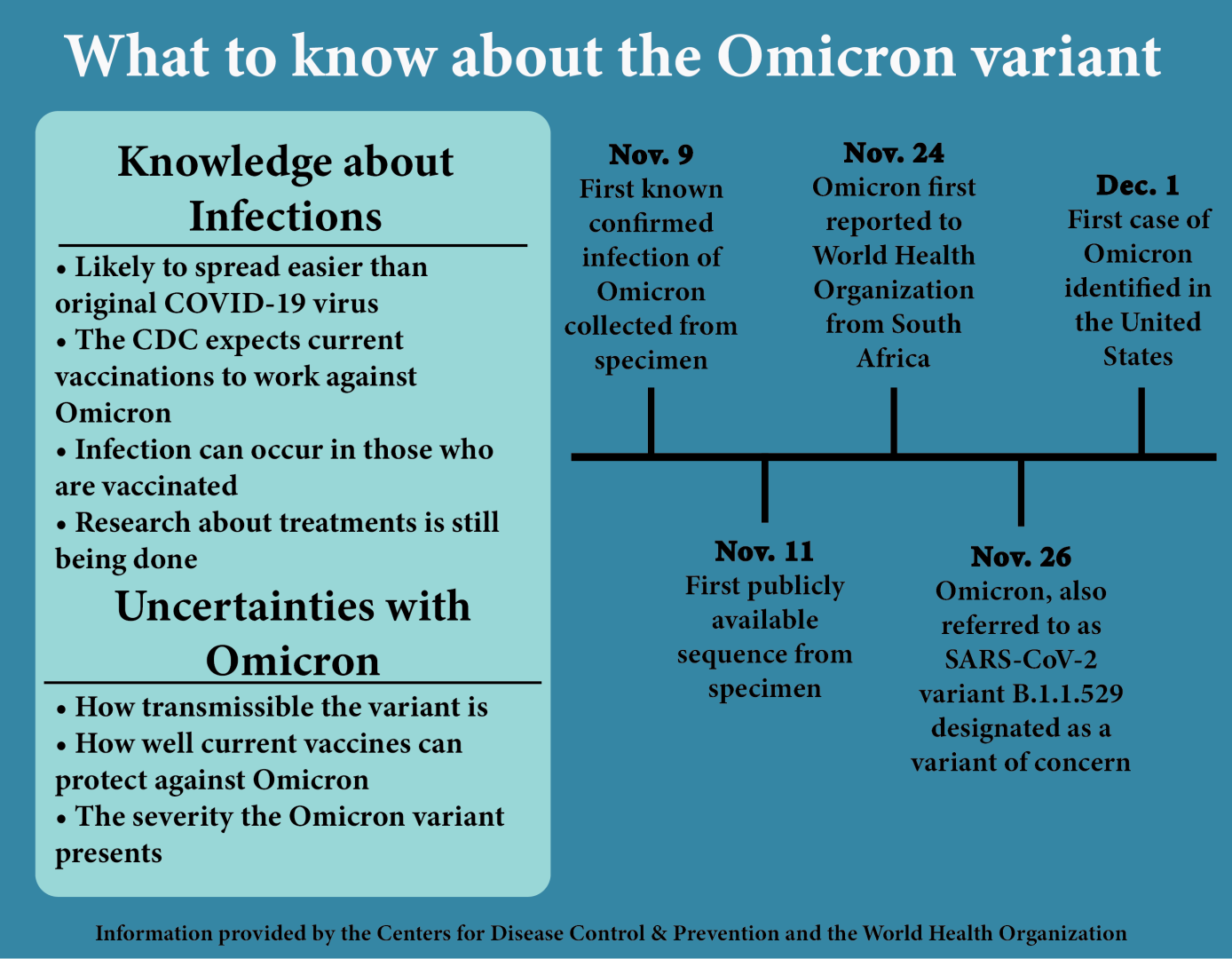 According to the CDC, there is still more data needed to answer questions regarding severity of illness for Omicron compared to other variants, but the current vaccines are still expected to work against Omicron. However, there may be a rise in breakthrough cases with the new variant. The CDC continues to encourage anyone over the age of 18 years or older to receive their booster shot at six months after their primary COVID-19 vaccination of Pfizer or Moderna and recommend two months after for those that received the Johnson & Johnson vaccine. 
For the University of Indianapolis campus, there has been a drop in cases overall, but with fall break and Thanksgiving break recently there has been a slight spike, but not comparable to the spike seen overall in Marion County, according to Lead Contact Tracer Kirsti Oswalt.
"I think with us having our vaccination policy, and then our mandatory testing for anyone that had an exemption, that has been helpful for us keeping those cases lower," Oswalt said. "In terms of just tracing in general, we've had a lot less exposures, more or less, we have the positives, and thankfully, they don't have any close contacts. So that's been good for us."
With a long break coming up this winter, Oswalt said there is a higher level of concern with the new variant and students returning back to campus for the spring semester. She said despite these concerns it will most likely be normal for the spring semester.
"We still plan on having courses as normal next semester. We still want to have everybody back on campus just like we did this semester and have those face to face classes and things like that," Oswalt said. "… We're going to essentially want them [returning students] to monitor those symptoms when they return. Keeping an eye on those exposures. Still following the guidelines the CDC states, if they're around people that are unvaccinated, making sure they're wearing their mask, keeping up socially distance, and that sort of thing is going to be very important for us as we kind of leave for winter break."
Hancher-Rauch said that the timeline is set so that when Omicron reaches Marion County and starts to spread, students, faculty and staff will be heading out for winter break. She said that as a campus, UIndy has done very well due to the high vaccination rates and continued efforts, such as masking indoors and other enclosed locations. She said that this may be the time for those unvaccinated to do so.
"We just need to get that messaging out that if you're still not vaccinated, maybe now's the time that you finally want to do that," Hancher-Rauch said. "I'm seeing in a number of epi[demiology] circles, people saying you still should be masking in public places, even if you're fully vaccinated, and you might want to get a KN95 [mask] now… the jury's still out on some of the specifics related to the new variant."
Another concern amid the holiday season and Omicron is travel restrictions internationally and domestically. So far, the Biden Administration has only restricted travel to those countries in South Africa where the variant was originally found, according to WKRN. Alongside that, all people traveling into the U.S. will have to show evidence of a negative COVID-19 test within one day of their flight. 
According to Hancher-Rauch, there is a larger risk of variants and further issues with COVID-19 if people do not take the pandemic seriously. She said she understands those who wish the pandemic would be over said that people need to take it seriously for it to end.
"What is really going to get us into trouble is if you know people just go about their daily lives and pretend like there is no COVID-19," Hancher-Rauch. "We truly need people to continue to take it seriously. And I know we're over the masks. I get it. But you know what, I'm still masking out in public. At my son's high school basketball games, I'll be wearing a mask tonight. I'll be one of the few who's there doing it."