From picking up litter, to tending to the plants on campus, the University of Indianapolis Groundskeeping Crew works all around campus. According to Director of Grounds and Groundskeeper Dusty Bodart, the groundskeeping team tries to make campus interesting.
"​​It adds a lot to the beauty of the campus. If you just have buildings with grass up to them, it's kind of boring," Bodart said. "We try to make everything as interesting to look at and pretty, and hopefully everybody thinks so."
The crew starts their day at 6 a.m. by driving around campus picking up litter and emptying trash cans outside of buildings, according to Bodart. Once there is more daylight, the crew begins to pull weeds, water flowers, prune shrubs and other jobs, Bodart said. The team's responsibilities are not limited to the grass and flowers, they are also in charge of signage around campus, as well as parking lots, the synthetic turf on sports fields and facilities vehicles, Bodart said. When it rains, Bodart said they also keep the storm drains clear.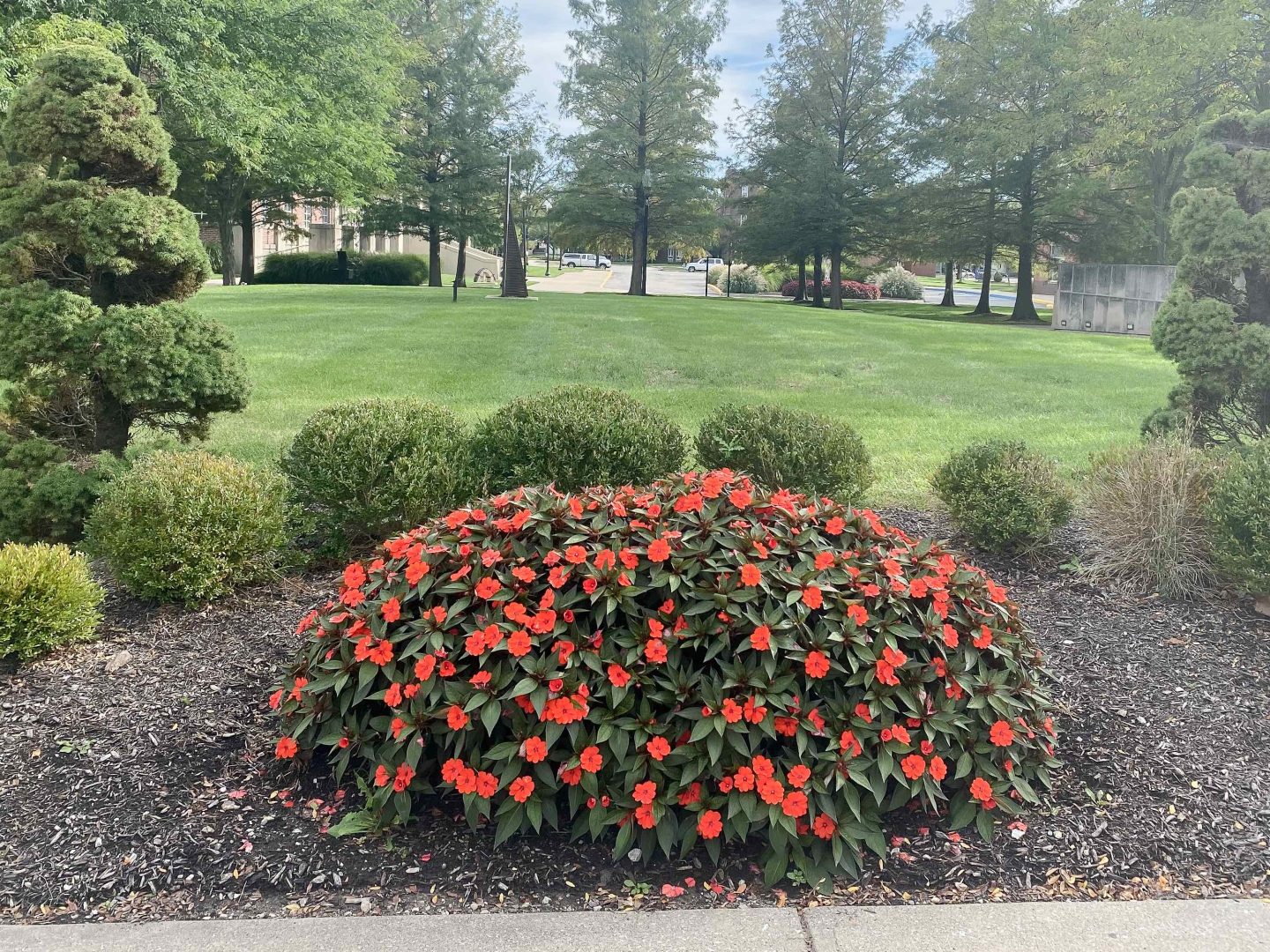 In addition to working on campus, Bodart said the crew also works on properties around campus. These include the UIndy Tennis Center on National Avenue and a four acre plot of land on Carson Avenue where some sports teams practice, Bodart said.
According to Bodart, the crew's schedule changes depending on the season. In the fall, the crew picks up leaves and cuts back flowers and ornamental grasses, according to Bodart. In the winter, Bodart said the team works to remove snow and ice. Bodart said that usually removing all snow and ice was done in house. However, with a smaller staff size this year, Bodart said his team will concentrate on sidewalks, steps and ramps while he will subcontract someone to take care of parking lots and other steps and landings.
Groundskeeper Madaline Hensley said that in the spring, the team prunes trees and shears shrubs. In the summer, Hensley says the crew mostly focuses on weed control and watering.
"A lot of our job is weather dependent," Hensley said. "… I couldn't give you a Monday through Friday. This is exactly what we do. It's a little bit… more of a feel and weather based and season based."
According to Hensley, one member of the crew also cleans the canal on Smith Mall. Hensley said that sediment can sometimes run into the canal when it rains, which creates a place for algae to grow.
"You have to scrape off the algae from the bottom," Hensley said. "And then he has a vacuum that will vacuum up the algae and dirt and debris and whatever. And it'll filter it through this pump vacuum, so it'll leave the water and then it'll just suck up and then he's got a little bucket and it just puts it all into a little bucket."
When designing and deciding what gets planted, Bodart said it is dependent on the site. He says to keep in mind certain matters, such as, if the site is shady or sunny or what type of soil is there. However, one important matter is to keep it as low maintenance as possible, Bodart said.
"Generally in commercial landscaping, it's try to make it as nice looking as you can, but limit the inputs you need to keep it looking good," Bodart said. "Like if you don't have to prune it all the time, you don't have to do stuff like that, we'll have time to keep everything else up. Cause if you're concentrated in one area, you're not somewhere else where you'll have to be taking care of other stuff. So it's generally, try to be as… lower maintenance… Everything needs maintenance, but you don't want it to require too much fertilizer or weed control."
Hensley said she works with the horticultural aspect of groundskeeping. She said when deciding what to plant, sun exposure and access to water are two major factors that decide that. Three common flowers seen on campus, she said, are daylilies, hostas and sedums.
"We would like to plant a bigger variety, but it's just a little impractical when you have such a small staff, we want to be able to take care of the [flowers]," Hensley said. "So those would be the biggest three [types of plants on campus]."
The current groundskeeping crew, according to Bodart, consists of four members, including himself and Hensley. If there is a full team, different members on the staff will concentrate on one area, but because of the small staff size, they cannot do this at the moment, Bodart said.
Some jobs on staff are done by contractors due to costs, Bodart said. These jobs include mowing lawns and picking up trees that have fallen in a storm.
"We just don't have the space or the money to," Bodart said. "It's easier and more affordable for the university to have somebody else do it because you need mechanics and a lot of mowers to mow all the grass."
Hensley believes that her job is an underrated profession and an underrated part of campus. She said it can get a bad reputation, but she enjoys the patience that comes with gardening.
"You garden for the future. You do things to a plant that you'll see the benefits of it in a season or in two seasons and you plant things and they may not bloom right away and you have to wait," Hensley said. "I've always really enjoyed the down the road, seeing what you've done and how you've transformed the space and how you can manipulate the environment. It's just an interesting field of study for me. That's really what I enjoy the most about it."