Graduate student and track and field distance runner Berenice Cleyet-Merle said she transferred to the University of Indianapolis to participate in indoor track, an experience not provided by California's temperatures, . Since her transfer, Cleyet-Merle has built up an impressive list of accomplishments, capped off by a National Championship her senior year, according to UIndy Athletics.
According to Cleyet-Merle, training alongside different experience levels and events within track and field has helped her improve athletically. In competitions, she said that she goes for the win.
"I have a competition mindset and I guess I'm perseverant … I really like running, just because I'm with a lot of people who are super cool," Cleyet-Merle said.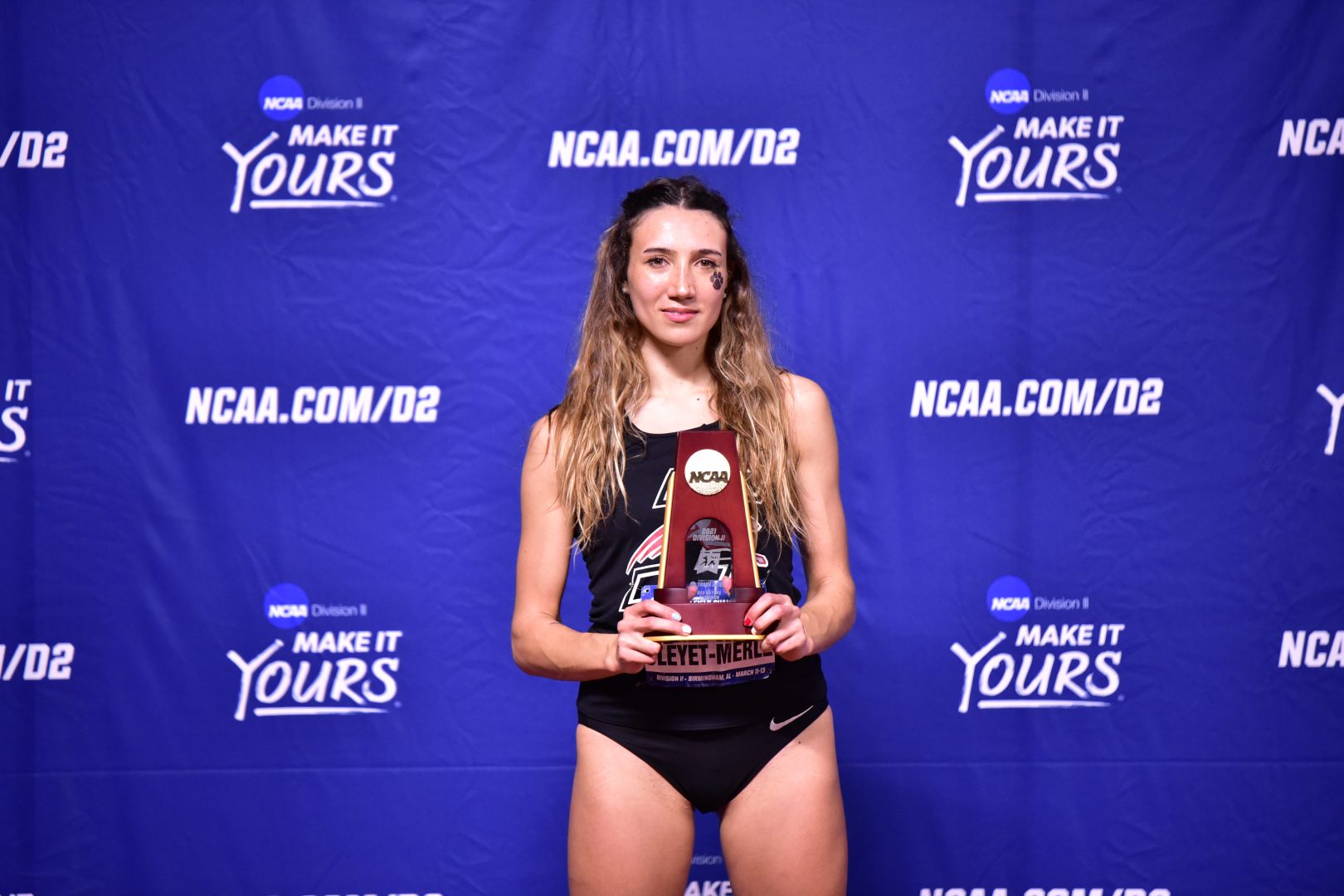 Though she had been an All-American four times, prior to UIndy, Cleyet-Merle said she had never accomplished her ultimate goal: a national championship. Head Cross Country Coach and Track and Field Assistant Coach Brad Robinson said Cleyet-Merle has been gung-ho about putting herself in the position to win an individual title. Combined with an incredibly high work ethic and competitive drive, Robinson said Cleyet-Merle brings a lot of positive energy and personality.
"… It's a very fun blend across the board," Robinson said. "But at the same time, making sure the emotions don't get too high, keeping things balanced so that she's within the moment, but at the same time, see the long term planning goal for not only the current season, but collegiately and her other goals that she has beyond just UIndy track and field here as well."
Robinson said Cleyet-Merle is mature in the sense that she is both a graduate student and an international student. Given that she has more experience with world travel compared to other people, she is more independent, according to Robinson. He said Cleyet-Merle is a manageable, calculated risk taker in both everyday life and on the track.
"Even if she's a little stressed out, she's very coachable," Robinson said. "She'll listen and reflect to put herself in position to be as successful as possible and take the risk when necessary to win a race."
According to Robinson, UIndy Track and Field has taken the feedback of Cleyet-Merle's previous coaches from both France and California Baptist. He said they have tried to blend both coaching models under which Cleyet-Merle had trained.
"We didn't overrun her, but we didn't under run her," Robinson said. "We kind of took a middle ground approach with her mileage. So it still gave her plenty of strength but then didn't kill her every day with the constant workout that she might have gotten at certain programs at the same time. So [we are] trying to keep her healthier longer, on a more frequent basis and allow her to really capitalize on the big meets we had."
Robinson said Cleyet-Merle's legacy is that of a true competitor. He said she is not afraid and has high standards for herself and her team. According to Robinson, Cleyet-Merle's presence straightened out some of her team members that needed it.
"Ever since Bérénice came in she has raised the intensity and commitment level of what it takes to just be good, to be great," Robinson said. "Her presence, pretty much from immediately when she walked into our program through the doors here, was an elevated bar for everybody. And a good way, not an intimidation factor. She just walked in with the intensity of 'if you want to run [Cleyet-Merle] in practice, you better get serious and you're not going to waste time and fool around.'"
Unlike Cleyet-Merle, Robinson said many UIndy student-athletes are local. Most teams have students with different backgrounds such as larger schools or smaller schools, and they only know that to which they have been exposed, according to Robinson. He said that having Cleyet-Merle's teammates exposed to her level of athleticism has been priceless for the program.
"So again, what [student athletes are] exposed to, a lot of it's just statewide competition. You may see things on the internet, nationally [and] internationally. But to have somebody [Cleyet-Merle] truly walk in that is at that elite level, where they carry themselves, the way they talked [and] the way they prepare for warm-ups, competitions [and] practice, it changes [student athletes'] demeanor[s] on what [they] need to do to take things seriously and elevate [themselves] to the next level," Robinson said.