After four years on the mound, University of Indianapolis senior softball pitcher Hallie Waters is graduating and moving on from her role with the UIndy Softball Team. Since her debut for the team in 2018, she has been a steady force, according to Head Softball Coach Melissa Frost.
"She's always been good for us in the circle, but I think definitely, this year she's elevated her game to a whole new level," Frost said. "And I think that's just a huge contributor to Hallie's work ethic, the work she did in the off-season, she spent a lot of time during quarantine working on her own game and I think that's awesome. Certainly, the work that she has put in is coming out right now, tenfold."
This season so far has been Waters' best statistical season, sitting with an ERA of under 1.0, on over 100 innings pitched according to UIndy Athletics. She sits at 16-1 this year, with 115 strikeouts recorded and only 28 walks. Frost said that Waters is not only a great player but a great person. She said that Waters wants to see the team succeed and win. In addition, Frost said Waters interacts with the rest of the team well.
"I think she's one of the most genuine people I've ever met in my life. And, just an all-around great person," Frost said. "She's a great person, great student, great athlete. I think she just brings so much to the team of just love and kindness. And like I said, she's just a great individual."
During her career, Waters has racked up numerous accomplishments including two no-hitters, two Academic All-American honoree awards and a 2020 GLVC Scholar-Athlete of the Year according to UIndy Athletics. However, Waters said that one of her first accomplishments on the softball team was when she was a freshman, which came in the form of finding her comfort on the mound.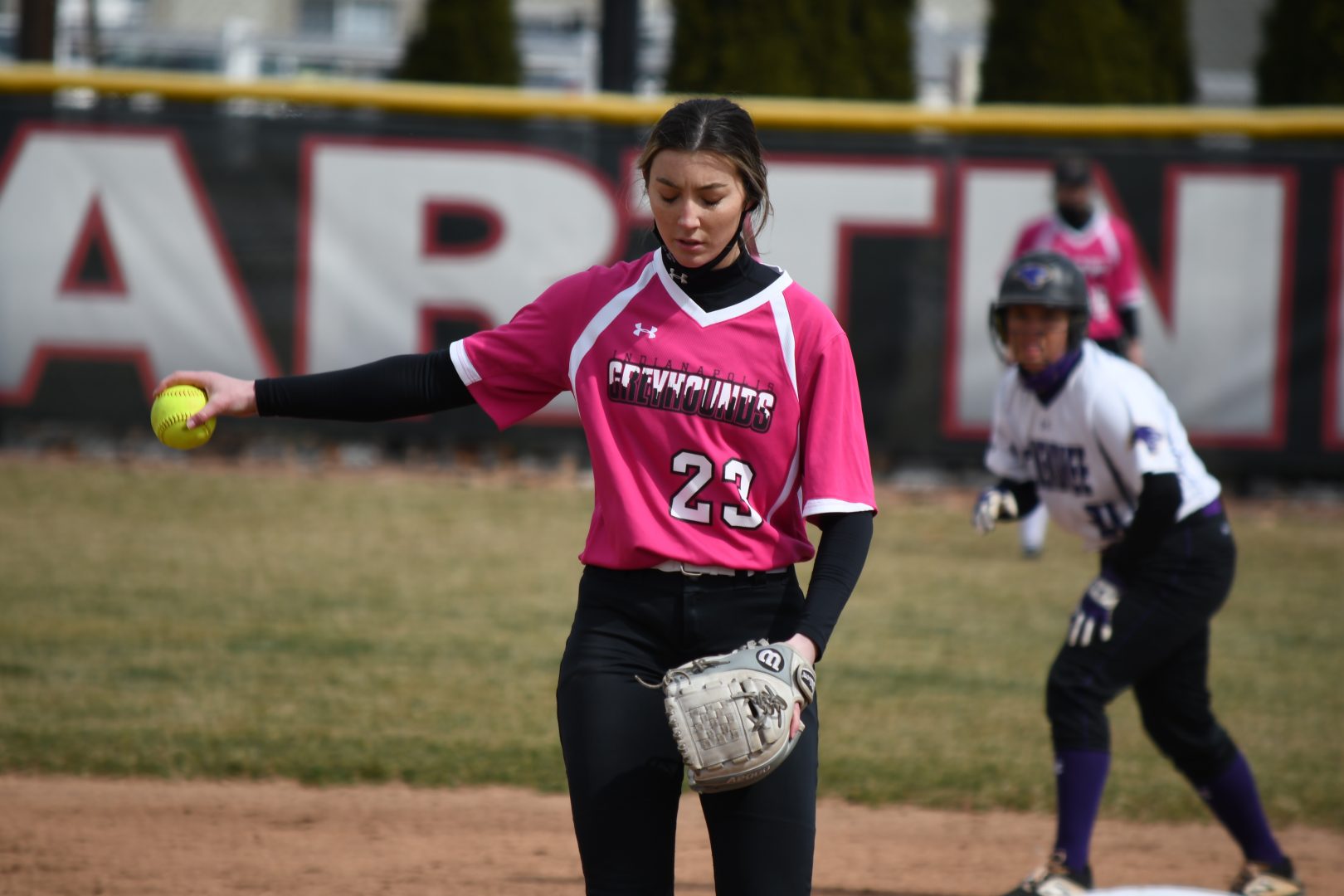 "It was kind of a rocky start, but just finding my comfort on the mound, being able to contribute to the team in some way, I would say that's my very first accomplishment because that's my only job, to get on the mound and do my part to help the team win," Waters said. "So I think the very first time that I was able to do that is probably my first accomplishment."
One of Waters's favorite moments on the team took place during her sophomore year where the team won the regional tournament, she said. Another one of her favorite moments happened recently, she said, where the team made history for how many home runs hit in a game. In that game, the Hounds would send 10 home runs over the wall against Truman State University.
"I think just being a part of that game and then just the energy we had after the game and how much fun we were having together, I think that's my new favorite memory," Waters said. "Hopefully that makes them more this year."
Waters said that she does not want to leave an individual legacy behind when she leaves UIndy. She believes that UIndy focuses a lot on legacy and its past teams, so she wants to leave behind a legacy of her fitting into the softball program.
"I don't really want it to be individualized, I kind of just want to leave a legacy of fitting in with this program and buying into the program and just being the standard of our program," Waters said. "I just want to be remembered as one of the people that bought in, met the standard and raised the standard and left giving it their all."
According to Waters, the coaches at UIndy have impacted her and helped her become a better person. Waters said that the coaching staff at UIndy focuses a lot on mental health, something that she said is rare to find in college athletics. Along with the coaches impacting her, she said that UIndy Softball in general has impacted her life.
"I feel like [UIndy Softball] just taught me so many life skills. I couldn't even begin to start a list of it because there's so many like just time management and how to be respectful and how to present yourself and how to carry yourself and be confident in yourself and how to deal with failures," Waters said. "I think there's just too many things to name that UIndy softball has impacted me. Just in general, it's made me feel like I belong, you know, I have a family here in the softball team and everyone that's involved with athletics at this school. So I think it's just made me feel very loved and very welcomed, and also just taught me so many life lessons that I'm going to carry on, outside of softball too."
Waters said her next step in life is to attend medical school. She said that she will be attending Indiana University School of Medicine in the fall to study to be a pediatrician.
"I was fortunate enough. I got into medical school, so I'm going to finish out this season," Waters said. "Unfortunately, I don't get to come back and finish my fifth year, which makes me sad, but I decided that I got into medical school and I'm going to start at IU School of Medicine in the fall."