Bouquets of flowers, candles and photos lined the steps of Monument Circle in Downtown Indianapolis on April 18 as friends, family and members of the community gathered to remember the eight people who died in the FedEx facility shooting on April 15.
Several family members and friends spoke about their loved ones who lost their lives and some even called for gun legislation. Moms Demand Action, an advocacy group, spoke at the vigil and offered free gun locks, encouraging gun owners to have a lock for firearms in their homes.
Tyshara Loynes and Taylor Hall organized the vigil. Originally, they planned to hold one for Daunte Wright, a 20-year-old man shot by police in Brooklyn Center, a suburb of Minneapolis on April 11, according to The Associated Press. Loynes said that after the shooting on Friday, she and Hall called each other and talked about planning a vigil for the shooting at FedEx.
"We just figured out really fast like the space and tried to get in contact with the victims' families and just allow them a space to speak," Loynes said. "We just wanted them to have a space to grieve and to speak and we just wanted to support them, honestly."
Hall said that it was nice seeing people come together for the vigil and said she thought the families felt comforted and that they did not feel alone in this.
"I, myself knew one of the victims so it was hard for me today waking up and thinking of what I was going to say because I was still hurting and having a hard time processing," Hall said. "But to see all these people come together from all different cultures, all different nationalities just felt like a family orientation, I felt comforted and I could see that the victims' families also felt together for this event."
Hall wrote and performed a song at the vigil. Hall began working on the song after hearing about Asian hate crimes and a combination of other things that were going on, she said. Hall and Loynes have been protesting and organizing since last May for the Black Lives Matter movement.
"It's just one thing after another," Hall said. "I cope with my emotions with music, so it was nice to be able to write about being overwhelmed and with everything simultaneously going on I felt it fit the occasion of what was going on."
Loynes said people of color face the same struggles and being able to stand with all the victims of the shooting and with the Sikh community felt very important.
"Again, not trying to speak for anyone, but just allowing space for their voices to be heard with everything going on still with the Derek Chauvin trial and people being murdered every day by the police and all the shootings that have been happening in Indy, it's really crazy but it's really important for us to find a place to just grieve, like grieve and feeling what we feel and be sad, like that's what we need sometimes," Loynes said. "So, that's just the space we wanted to create and I'm so happy to be able to stand with just the victims' families and these different communities and to be working with Taylor."
Hall said she was happy they were able to come together for something peaceful.
"I hate the occasion, but I'm happy that we came together in solidarity for it and we're going to continue the work throughout the week," Hall said. "It's funny because we're talking and we're calling each other. She's [Loynes] at the Statehouse, I'm working with the federal government and it's just like we're trying every day. So, it's like a slap in the face when you see things continuously happening in your community when you're trying, countlessly trying so it's nice to see us actually come together for this one thing. It gives me hope."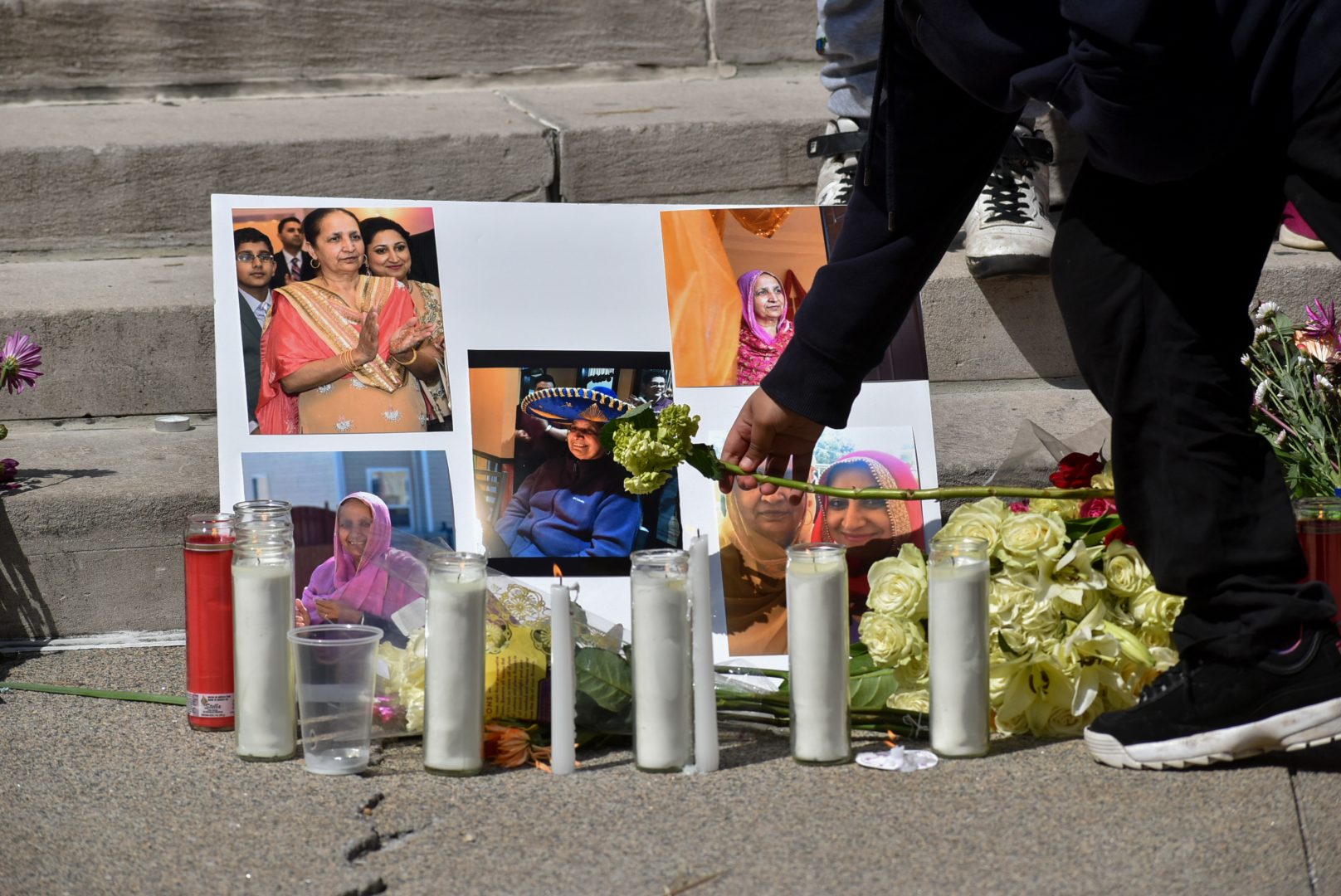 Photos by Kiara Conley