The decision on where to continue their athletic career is something that goes through the head of many high school student-athletes. They do internet searches into schools, programs and cities. However, for Liam Price, University of Indianapolis freshman swimmer and Special Olympics Youth Ambassador, the initial spark that led to him coming to UIndy was the result of a chance encounter at a Mexican restaurant.
On a Thursday night a few years ago, Price ran into Head Swimming and Diving Coach Jason Hite at a Qdoba restaurant. Hite said that at the time, UIndy used to host Marion County Special Olympics Swimming, and he was on his way home from one of their events when he and his family decided to stop at Qdoba.
"I was on my way home and my wife didn't want to cook dinner, so we — myself, my wife and my three boys — met at Qdoba and right there … behind us was Liam and his dad," Hite said. "I noticed that Liam had a Special Olympics swimmer shirt on, and so I asked him where he did it, just to make conversation. I had a UIndy something on, and we just started talking between him and his parents."
According to Hite, his son and Price began talking during the encounter. One of Hite's sons, a senior at Center Grove High School, was in the same weight-lifting class as Price, Hite said.
"My son was like, 'Hey, Liam. I know you. How are you doing?' Then he [Liam] ended up applying to come to school here and then being a part of the team," Hite said. "So [a] pretty cool little deal there, and I don't know if he ever would have been here if we wouldn't have met right there in the line at Qdoba."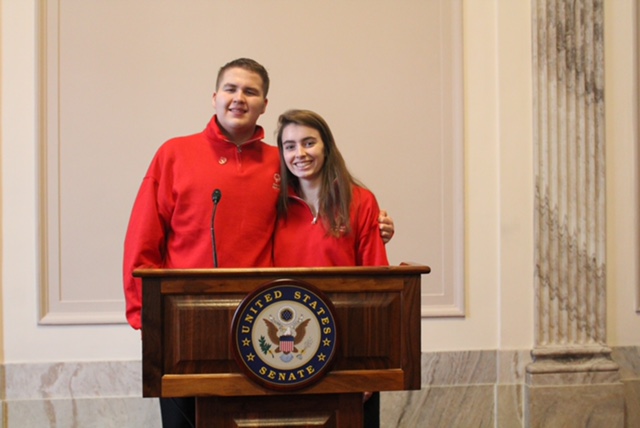 This encounter is just one aspect of Price's unique life experiences. Price, a 2020 Center Grove graduate, is not the typical collegiate swimmer. He is also a Special Olympics Youth Ambassador and even testified before the U.S. Congress for the Special Olympics.
Price, who was diagnosed with Autism and Tourette Syndrome, was first involved with the Special Olympics through developmental swimming when he was around four to five years old. He eventually decided that he wanted to make an impact, and began to advocate for the Special Olympics.
"I felt like I had enough energy and breadth to make an impact because I was coming away from some times where I was struggling and now I'm on it," Price said. "I'm thankful that I was given the opportunity to do things which brought me to where I'm at now [with] being a swimmer."
Being an advocate for the Special Olympics is a lot of work, Price said. At the same time, however, it is helping to make an impact and is helping to create a brighter future for people with disabilities, he said.
Price was asked to testify before Congress to advocate for the Special Olympics and those with special needs in 2019. Price said the goal was to get Congress to advocate, explain and help promote laws that can help those with special needs in the future.
"It was a big deal … because I was talking to authority figures and people around the country and they can help," Price said. "…. It made me excited, and at the same time, it made everybody excited."
Price said that testifying before Congress was one of his favorite moments while involved with the Special Olympics. He said to speak to legislators and have a sense of authority was nice.
Associate Head Swimming and Diving Coach Brent Noble said that Price is doing a great job at making his experience as good as it can be, while also supporting what he believes in. Price is a good example of someone who has benefited from the Special Olympics and is willing to give back and represent that opportunity, he said.
Noble said that UIndy Swimming and Diving thinks it is important to expose their team to different perspectives, including Price's. He said Price is a unique individual who brings something to the table that no one else on the team does. Price works really hard to be his best, which is what they ask from everyone on the team, Noble said.
"He has a full schedule. He swims with us. He does some weightlifting with us, but also some weight lifting on the side," Noble said. "He's a busy, busy, busy guy, so having that wrapped up in a part of, of all of our swimmers, it's not only an experience for him, it's an experience for everybody. So he's somebody that we want these people to know, and we're really grateful that he is part of what we're doing."
Price said that he hopes his story will give people more opportunities to go down a similar road as him, including looking into being a youth ambassador. He hopes he is able to take that experience to the next level so that others can follow in his footsteps, and so he can follow those before him.
Until then, Price has one other thing on his mind.
"Go Hounds!"