Traveling to Charlotte, North Carolina to face off against the No. 5 Queens University Royals has been the highlight of the University of Indianapolis Women's Lacrosse season so far, senior attacker Abigail Lagos said. She was one of the driving forces in that 15-5 win over Queens, with her having seven goals in the top 10 match-up. The team has never beaten someone that highly ranked, so the win felt great, Lagos said. That victory will not be stopping the Hounds from pushing during practice; Lagos said they will not be complacent with success.
"One thing that Coach [James Delaney] reminds us is 'How bad do you want it on just a random Tuesday, because you're gonna want it really bad in May," Lagos said. "So I think, especially with this whole year, you never know when it's going to be taken from you. I think that little piece is always in the back of all of our minds when we're going out to practice, or maybe it's bad weather out or we have some hard drills. When we went home on March 13 last year, that's all we wanted to do was to go out and do hard drills. We wanted to be doing sprints with each other."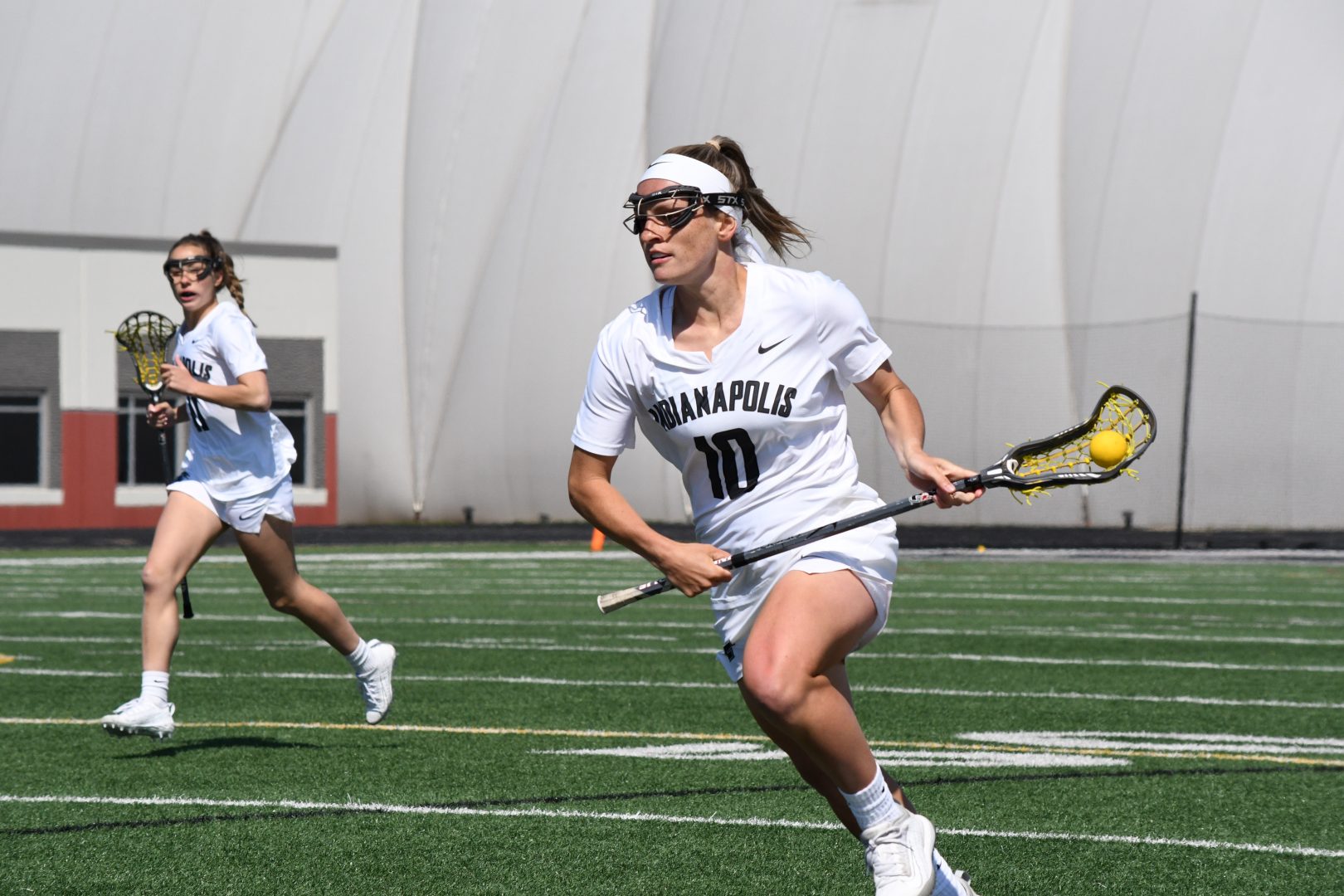 Keeping that same motivation up throughout the season can be hard, but with the big win against Queens and having good practices back to back the team are finding themselves in a groove, according to Lagos. Lagos was not alone in the goals column with senior attacker Grace Gunneson having three goals and senior attacker Lauryn Hardoy scoring three goals as well. Since that early-season win over Queens, the Hounds have come up with big win after big win with a victory over No. 10 Grand Valley State University 9-7 and then that next week a win over No. 25 Colorado Mesa University 18-7. Now the Hounds are sitting at No. 1 in the Intercollegiate Women's Lacrosse Coaches Association poll, according to UIndy Athletics, and midfielder/draw specialist Peyton Roming, Lagos and King have all won awards for their performances so far. Lagos said she can see the team as a whole and many individuals winning awards by the end of the season. Even the freshmen are continuing to give their all, according to Lagos, for a spot in a starting position and playing time.
The team does not have worries so far in the season. Lagos said the dynamic around the team is solid. She said it is because of the solid recruiting on Head Coach James Delaney's part, and that all they have to do now is work on perfecting their game at this point in the season. With five games left in the season, there is only one top 25 team in the forecast for the Hounds, a match-up with former No. 1 and currently No. 2 Lindenwood.
King said that every day Delany is pushing the team to be as good as they possibly can be and that at times when the team is not playing for each other, they are playing for him. The upper and underclassmen are getting along great, King said, and there are girls stepping up to help others, which also improves their game at the same time.
"I think that this year is the year to have a championship team," King said. "We have a good, experienced team and girls who would do anything to win."