Editor's Note: This article includes references to suicide. If you or someone you know is experiencing depression or suicidal thoughts, there are resources available to help. The University of Indianapolis' Student Counseling Center has help and resources for anyone who needs it. To set up an appointment, call 317-788-5015.
In an emergency, you can contact the Crisis Text Line 24/7 by texting HOME to 741741. You can also contact the National Suicide Prevention Lifeline at 1-800-273-8255, 24/7.
University of Indianapolis registered student organizations Healing Hounds and Social Work Association will host an "Out of the Darkness" walk and fundraiser on May 1 to raise awareness for suicide prevention. The event is part of the American Foundation for Suicide Prevention's campus walk series and will be held virtually, according to senior social work major and president of Healing Hounds David Carpenter. Healing Hounds is an RSO that provides a peer support network to students struggling with mental health and/or addiction issues, according to its description on UIndy's RSO page. The Social Work Association aims to bring together social work majors to maintain a presence in the university and surrounding community, according to its description.
Anyone can register for the walk free of charge by visiting the AFSP campus walk webpage for UIndy and following the onscreen directions. Participants can then walk or perform some other form of physical activity for 100 minutes that can be uploaded to the page and count for the event, Carpenter said. Activities can be logged as soon as the participant is registered and can be recorded all the way up to the May 1 event date. Carpenter also said the activity does not have to be performed all at once and can be broken up into smaller amounts of time. However, donations will be accepted until June 30.
The walk will be put on by the Healing Hounds and Social Work Association RSO's, Carpenter said. Many communities and universities, such as Indiana University-Purdue University Indianapolis, Butler and UIndy, host walks like these throughout the year to spread suicide awareness, Carpenter said.
"The whole idea behind the walk is to raise awareness about suicide prevention and to educate the community about how suicide affects especially college-aged students," Carpenter said.
UIndy has put on these walks for several years now, according to Carpenter. He said they are normally held in a traditional format but COVID-19 protocols forced them to creatively plan out this year's event. To create more of a community feel, Carpenter said he and others involved in planning the walk prerecorded an opening ceremony to greet all registered walkers.
"[Another] great thing about this whole online aspect is people are becoming more acquainted with social media, so they're sharing more about the walk and getting their families and friends to register and donate," Carpenter said.
Madeline Abramson, a junior social work major and president of the SWA, said the walk is a great opportunity for people who have been personally affected by suicide to come together as a community. She said she also will be speaking about how suicide has affected her family in the opening ceremony video.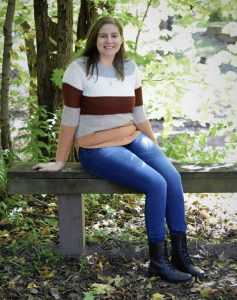 "I truly just want to get the word out that there's always someone who can help you, even though you don't see it … there's always someone there for you," Abramson said.According to Abramson, despite the difficulties COVID-19 has posed, the walk has already surpassed their goal of $5,000. They subsequently increased their goal to $8,000, which according to their fundraising page, they have already met. Anyone interested in donating or participating in the walk can find more information at www.afsp.org/uindy.