A little over one year ago, the University of Indianapolis Men's and Women's Tennis teams were 1,172.2 miles away from Indy in San Antonio, Texas when they found out their season was going to be cut short. Now, as we approach another March, they have finally returned to playing matches in the UIndy Tennis Center.
The men's team is off to a 3-0 start after defeating both Grand Valley State University and Grace College on Feb. 6. Then they broke Butler University's heart on Valentine's Day, winning 5-2 in a match where the Hounds swept the Bulldogs in doubles. The men's team is currently ranked tenth in the nation in the latest Intercollegiate Tennis Association (ITA) poll. Sophomore tennis player Nikolaj Talimaa said that the team, led by ninth-year Head Tennis Coach Malik Tabet, did not waste much time getting back into a rhythm.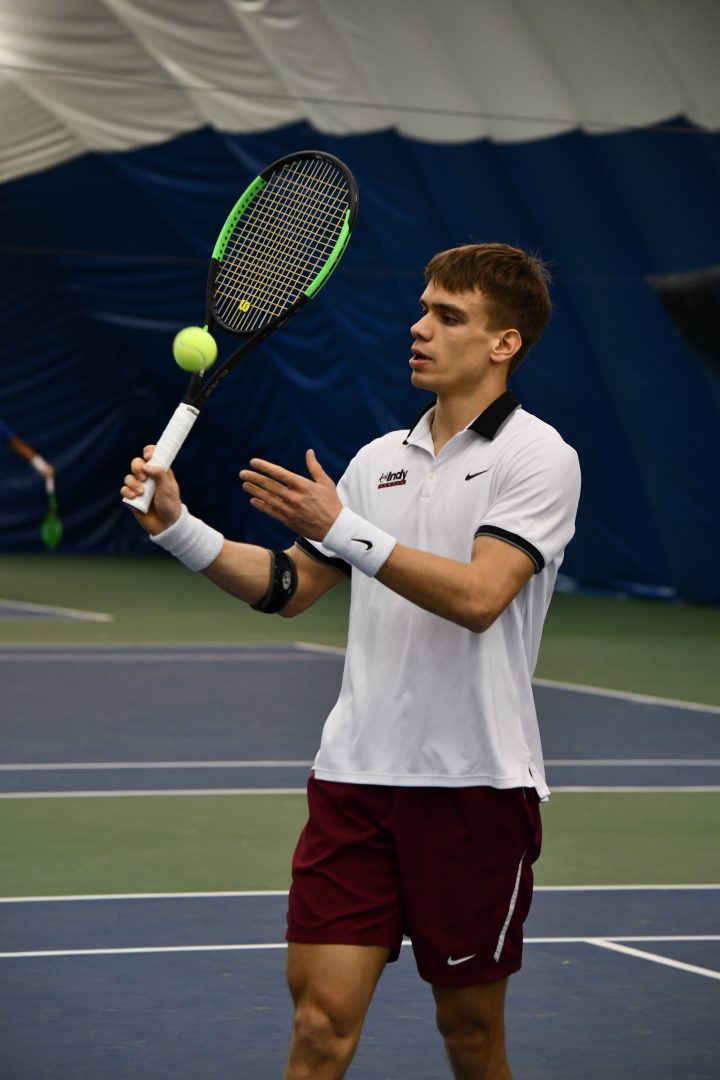 "Every team member was really motivated," Talimaa said. "You could see the fire in everybody when we were playing. We also had a good team chemistry … In the second match, we were louder, we were pushing more, we were screaming more, there were more positive vibes and emotions in the air."
The women's team, which is currently ranked fourth in the latest ITA poll, is also off to a strong start. They downed Indiana University-Purdue University Indianapolis 6-1 on Feb. 5 and then followed that up the next day by blowing out No. 19 Grand Valley State 7-0. They also knocked off Butler in a similar fashion to the men in a 5-2 win.
"Obviously our goal is to be the best team in the country," Tabet said. "We've been very fortunate to recruit very strong student-athletes … Kids who know how to balance their education and their sport."
Last March was when the sports world went dark and tournaments all around the country were canceled. At the time, both tennis teams were preparing to compete in the San Antonio Intercollegiate Championships. According to Tabet, the gravity of the situation started to kick in when he heard that one team en route to the tournament had turned around.
"When we heard that, we knew something was very strange," Tabet said. "You condition yourself about what's going to transpire during the season, and then everything is gone. It took me a while to digest the fact that we were dealing with a virus that was threatening our everyday lives."
Tabet said that hearing that the season was going to be canceled was a tough pill to swallow, especially with both teams off to a tremendous start. According to UIndy Athletics, the men's team was undefeated at 6-0 and the women's team was 9-1 going into San Antonio. Both teams had their remaining matches cancelled.
"We were really sad because that's why we were there [and] why we're here, to compete," Talimaa said. "We were playing well last year. That's why we're happy to compete right now. You never know with COVID."
Last season may have been cut short, but according to Tabet, the ending to last season has provided a new lens for viewing the opportunities that this current season bestows.
"We realize that we can't take tennis, our favorite sport, our passion, we can't take it for granted," Tabet said. "Make the best out of [this season], make every moment a great memory, and if we finish a season, then we just checked all of the boxes."
Now, with the season just getting underway, two of those boxes both teams hope to check off are national titles. The ITA Division II Indoor Championships are scheduled for Feb. 26-28 in Oklahoma City, while the NCAA DII Championships will be held on May 19-22 in Surprise, Arizona. Tennis is finally back, and for Tabet and his two teams, that is all that matters.
"We missed this feeling of competition, and now that we have some matches, and it just felt wonderful," Talimaa said.