University of Indianapolis Wrestling continues to roll despite facing all of the challenges presented by a global pandemic. Led by twelfth-year Head Wrestling Coach Jason Warthan, the team is ranked No. 10 in the nation in Division II, according to the InterMat rankings. They are also currently 7-2 in dual matches for the season.
According to Director of Wrestling Operations Jackie Paquette, it is the hottest start for the wrestling team since the 1980-81 season. In a regular season that has already been cut short, the Hounds were able to find their stride right from the get-go. Warthan said that the team was able to get a lot of practicing in the first semester.
"These guys are getting lots of practice, and they're able to work on stuff that we normally would work on," Warthan said. "We are in midseason form right now and that's good because we are in the middle of the season."
Getting a lot of practice during the first semester has not been the only factor contributing to their success. According to the Indiana State Department of Health's COVID-19 dashboard, Indiana has over 639,000 confirmed COVID-19 cases, as of Feb. 7. During these uncertain times, the coaches know that keeping the mood light inside the Velez/Wetherald Wrestling Room is just as important as putting in the necessary work to be successful.
"We keep it pretty light-hearted and we listen to music at practice," Warthan said. "Guys will dance. Our assistant coach, Nick Foster, he's a dancer. I'll shimmy a little bit. Assistant Coach Bob [Brubeck] will cut up a little bit. Anything to keep it light."
Redshirt sophomore Dawson Combest is currently ranked No. 2 in the 157 lb. weight class on InterMat, and while the atmosphere has been light at times, he said he knows this is a serious group of guys.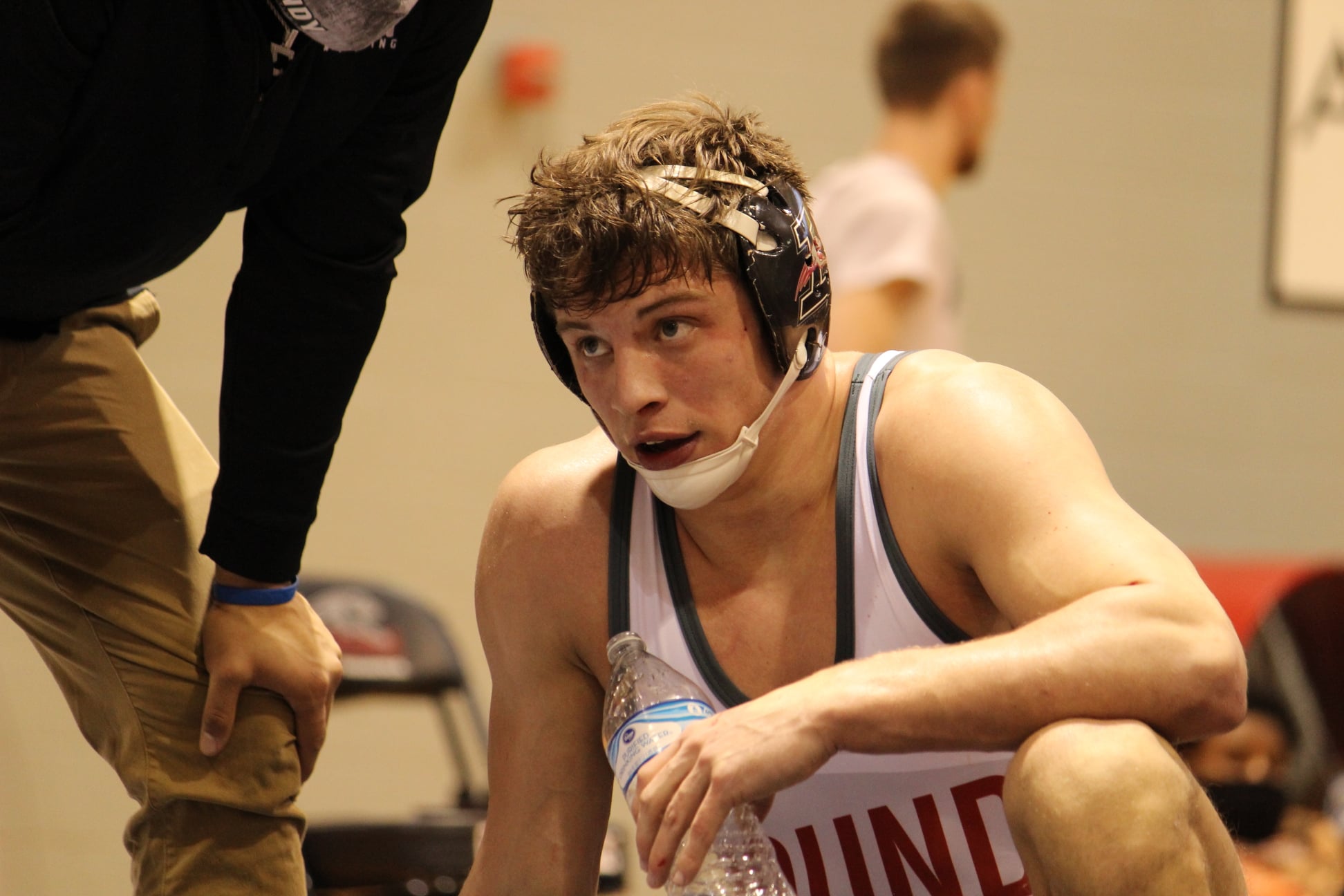 "We believe we've got a championship-caliber squad here and we've all bought into that," Combest said. "We've got guys that are freshmen that are coming in here [and] putting it on me some days, getting the best of me, and that really motivates me to keep getting better every day."
Combest may not be known for cutting it up at practice, but his fancy footwork on the mat has him as one of the team's three ranked wrestlers. Redshirt sophomore Jack Eiteljorge is No. 6 at 165 lbs., and redshirt junior Andrew Sams is No. 3 at 174 lbs.
"I think it really just displays the work that we have put in individually and as a group," Combest said. "I think that rankings are cool, but at the end of the day, they are just somebody's opinion."
UIndy closed out its regular season on Feb. 6 in St. Louis with dual matches against No. 24 Maryville and No. 4 Lindenwood. The team has already downed four ranked opponents this season, including No. 9 Ashland at the Storm Duals on Jan. 30. Now, with the NCAA Regionals approaching, they've got the pedal to the metal and they are not looking back.
"I just hope people keep sleeping on us," Combest said. "You haven't seen the best of us yet."