Not every professor will run nearly 160 miles across the state of Indiana to raise money for a scholarship fund. But that is exactly what ultra-marathoner Laura Santurri, University of Indianapolis assistant professor, director of the Doctor of Health Science program and chair of the Interprofessional Health & Aging Studies department did for students in her department. An ultra-marathoner or ultra-runner is someone who runs distances longer than the standard marathon distance of 26.2 miles.
According to Santurri, she ran 155.4 miles in four days and five hours. Her run began on Oct. 19 and concluded Oct. 23. She said she originally planned to run east from Terre Haute, Indiana to UIndy for the first half of her run and then run west from Richmond, Indiana to finish the second leg of her journey on UIndy's campus. But after running from Terre Haute to Indianapolis, she said she developed some foot pain that made her reconsider her original plan. Santurri said she decided to complete the rest of the run around her home and on the treadmill so she could successfully complete all of the mileage.
"[It was a] tough decision to make but I wanted to do a little of the mileage on the treadmill to help save my foot, as I was a little worried about getting a stress fracture, and I was also just really tired of being passed by semi-trucks," Santurri said.
Despite the change in plans, Santurri said she felt good about the effort and the way she held up mentally and physically. This was also the longest run she has ever attempted, she said.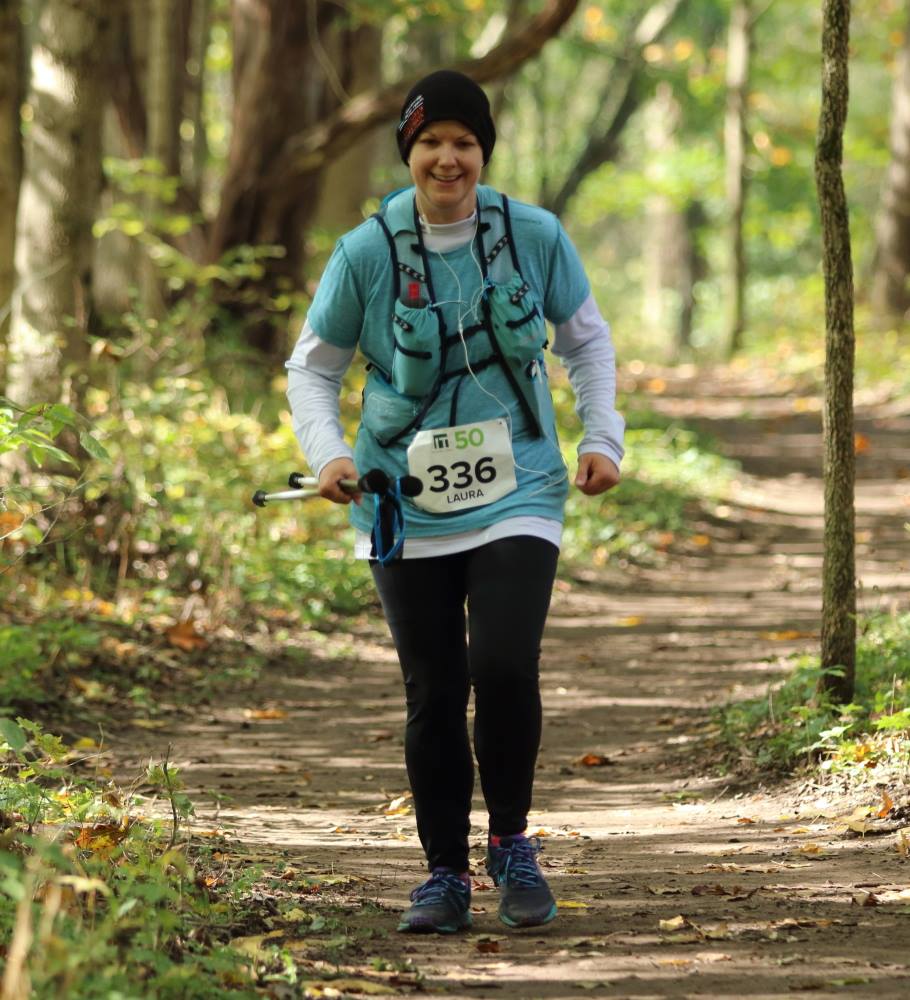 "It just required a little bit of flexibility and paying attention to my body, making sure I wasn't risking injury," Santurri said. "If I was going to do it again, I would say that, one, I'd like to do it not in a pandemic and two, I'd like to drive the whole route ahead of time."
Santurri said she was also motivated to complete the run by dedicating it to raising funds for her students. She has raised funds for several of her past ultra-marathons, but she said this was the first one she did for a UIndy cause. She said running for a cause bigger than herself helps her persevere through the tough moments.
"It feels good for me. When I'm attempting something really challenging and it gets harder … it's nice to know that I'm doing this for an even bigger reason," Santurri said. "It's not just to push myself, I'm doing something to give back to the community. It helps motivate you and inspire you when you're struggling."
Santurri is coached by Nick Tranbarger of the Indianapolis based TS2 Coaching. Tranbarger, a USA Triathlon Level IIE Certified Triathlon Coach, has trained Santurri for a few years now. Santurri said Tranbarger has made all the difference in her preparation for these kinds of events, as they are quite different from shorter distances in terms of nutrition, hydration and training. Another key aspect is the mental training, according to Tranbarger.
"There's a lot of physical training that goes into being able to pursue these types of endeavors, but the mental training is equally as important," Tranbarger said.
Some of these struggles can come in the form of self-doubt. According to Santurri, before she started ultra-running, she never identified as an athlete.
"I am not a natural runner," Santurri said. "I didn't do cross country or track in high school or college …. I never in a million years would have considered myself an athlete."
Even when she had several ultra-marathons under her belt, she said she still didn't consider herself an athlete. However, after conversations with Tranbarger about the importance she placed on pursuing her limits, she said this self-perception began to change.
According to Tranbarger, Santurri's doubts were never big enough to impede her next step, however. She was even able to get her training volume up to 100 miles per week, something Tranbarger said was due to her mental fortitude.
"There was a quiet strength that maybe she didn't even know she had, which I feel like in the last few years she has really uncovered," Tranbarger said.
Santurri's perseverance ended up paying off, as she said she managed to raise several thousand dollars for students in the Department of Interprofessional Health & Aging Studies. This money will be enough to cover the tuition for several courses and any student in the department is allowed to apply, according to Santurri. But Santurri's determination and experience ultra-running have taught her many things that go beyond the sport or the classroom.
"For me, ultra events are like life condensed because over the period of that race you're going to have some incredibly painful moments and you're going to have some incredibly amazing, beautiful moments, too," Santurri said. "You can go from feeling amazing to feeling really cruddy … and the only thing that is inevitable is the oscillation between those moments."