Every so often, the University of Indianapolis selects a recipient to receive an honorary degree at commencement. This process is done with the help of a selection committee who goes through an extensive list of potential people, according to University President Robert Manuel. After much consideration, the university announced that world-renowned ecologist Nalini Nadkarni would be presented with an honorary degree during the December commencement ceremonies.
Nadkarni is a professor of ecology at the University of Utah and has been there for over nine years. She is best known for the ecology research she pioneered on tree canopies while she was in grad school.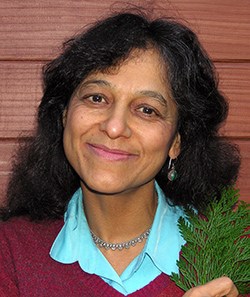 "At that time, in terms of regular … forest ecology, people didn't really look into the forest canopy …. But I and various other people got curious about what's going on in the treetops," Nadkarni said. "So that's when we began sort of inventing different ways of getting to the forest canopy with hot air balloons and construction cranes and mountain climbing techniques. We've been able to document and understand the plants and animals that live up in these treetops and forest canopy."
Nadkarni, who is an emeritus professor at The Evergreen State College in Olympia, Washington, has innovated bringing science education, conservation projects and nature imagery to the incarcerated, according to a UIndy press release. She co-created the Sustainability in Prison Program in Washington state in 2003, and created the Initiative to bring Science Programs to the Incarcerated, or INSPIRE, program in 2011, according to the press release.
In 1994, Nadkarni co-founded the International Canopy Network, which is a nonprofit organization that promotes communication among researchers, educators, and conservationists concerned with forest canopies, according to the press release. Nadkarni's work has been featured in numerous media outlets, she has given two TED talks, and has given more than 25 endowed lectures, according to the press release.
She has also authored two books: "Between the Earth and Sky" in 2002 and "Kingfisher Voyages: Rain Forest" in 2006.
According to Nadkarni, this will be her second honorary degree she has received. She received her first in 2014, which was an Honorary PhD from her alma mater Brown University. She attended Brown University for her undergraduate degree in 1976 and went on to immediately pursue her PhD at the University of Washington in 1983.
"When you get something like this as a surprise it makes you think 'Wow. What did I do that was worthwhile?" Nadkarni said.
Nadkarni has received numerous awards and honors for her work, including the John Simon Guggenheim Fellowship in 2001, the J. Sterling Morton Award from the National Arbor Day Foundation, the Grace Hopper Lifetime Achievement Award, the Public Service Award from the National Science Board in 2010, and the AAAS Public Engagement With Science Award in 2011, according to the press release.
She has also received Time Magazine's Best Inventions of 2014 award, Washington State University's William Julius Wilson Award for the Advancement of Social Justice in 2015, WINGS WorldQuest's Women of Discovery Award in 2018 and Union of Concerned Scientists' Inspiring Scientist honor in 2019, among others, according to the press release.
She said that it is always surprising to receive awards for her research because she did not realize people would hear about the work that she does. For a long time scientists did not share their work with people outside of other scientists, according to Nadkarni.
"I think that with that work, with that privilege comes a responsibility of saying 'Hey, do you guys want to hear about my research or can I make my research practical or can I make it be meaningful to people outside of my little world of science,'" Nadkarni said.
Nadkarni said that she thought her willingness to share her work with the masses and to make it where anyone can get involved and learn more about ecology, as well as conservation efforts, played a part in UIndy's decision to choose her as this year's recipient.
"I have been working with incarcerated men and women and youth .… I've worked with artists and rap singers, pretty much anybody that would like to work with me," Nadkarni said. "I think that's maybe why the University of Indianapolis chose me because I'm a little bit different from your standard scientist."
In a press release, Manuel said that Nadkarni had demonstrated a remarkable commitment continuing her research on rainforest ecology while connecting her academic expertise to broader audiences.
"The impact of her work is immeasurable," Manuel said in the press release. "The University of Indianapolis is deeply proud to recognize her career with an honorary degree and to highlight her shining example of our university mission, 'education for service.'"
She has not been to UIndy but said she plans to do so as soon as she is able. Although never seeing the school, she expresses her want to get acquainted with the school as it seems like a really wonderful place.
"I'm excited for the class of 2020 and I'm interested in knowing all the different kinds of things that the students are going to be doing as they leave the university … I just wish every one of them well," Nadkarni said. "I hope everyone does really super well when they get out there."