Music students voiced that their talents give a sense of belonging, along with an escape from the events concerning the COVID-19 pandemic according to senior music major Luis Rivera. Despite the pandemic, they are still preparing for this semester's unwanted occurrences.
Elisabeth Hoegberg, associate professor of music, interim theatre department chair and music department chair, has found that there are benefits to online learning as well as disadvantages. Online learning creates more flexibility for students with busy schedules and addresses unique learning styles, Hoegberg said. It can also allow the students to do their work at the rate they chose without being coerced in the class and help obtain structure, but it's different for every student.
However, one difficulty professors are facing is disconnection, Hoegberg said. According to Hoegberg, so much of what happens in music needs to be live and interactive, so having that disconnection makes music difficult.
According to Hoegberg, there are classes and rehearsals taking place in-person this semester in both the music and theatre departments. Classes, such as the instrumental methods classes in the Music Department and the directing class in the Theatre Department, are taking place in-person, along with almost all of the ensembles, Hoegberg said.
"But it's much, much different than it would have been in a normal semester in terms of the extra social distancing and the use of masks," Hoegberg said.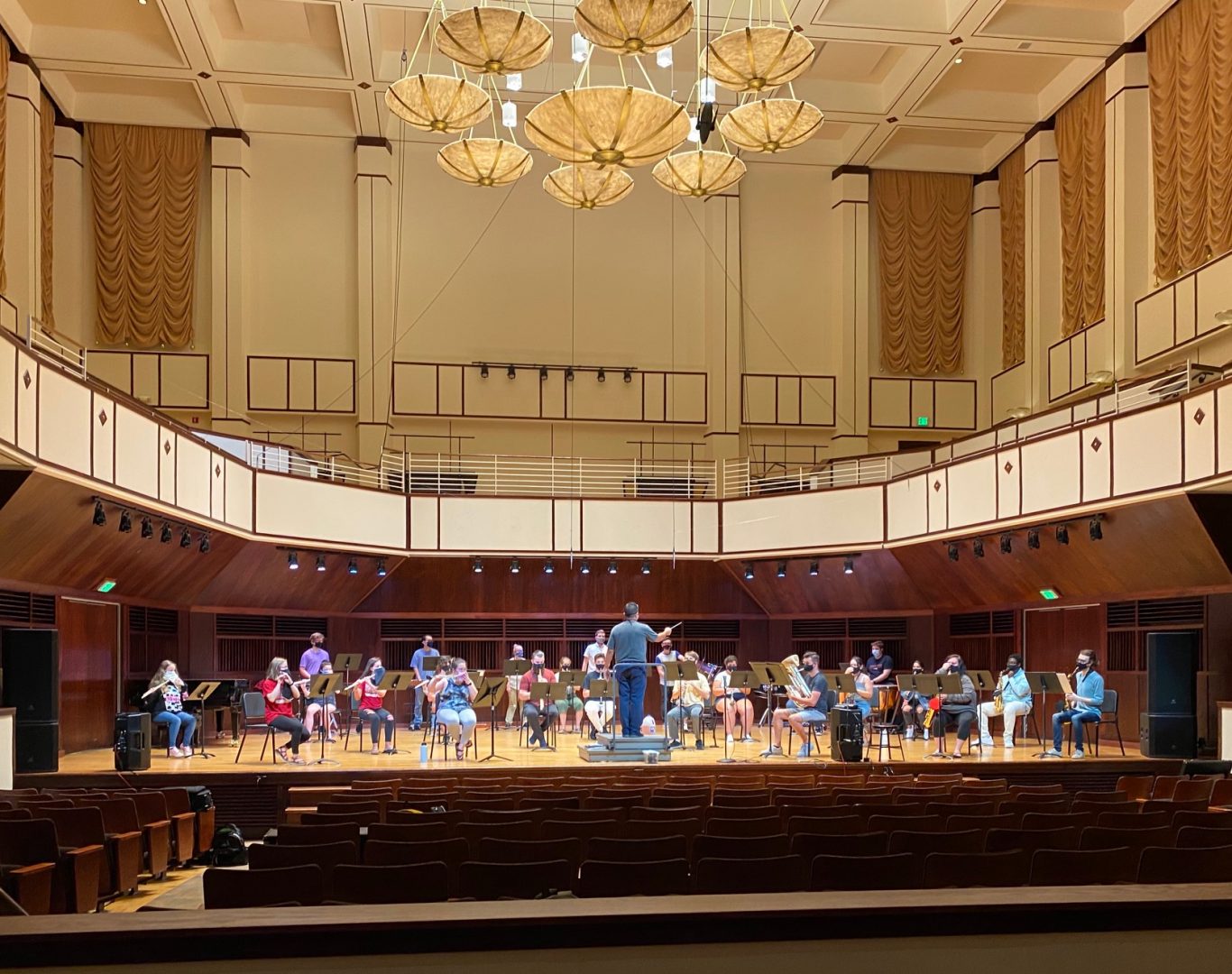 Assistant Dean of Shaheen Arts and Sciences Brenda Clark said that singing students have to wear a shield with a draping. Clark said that this contains all of the aerosols that may be projected as students sing or talk. In addition, students are socially distancing as well, Clark said.
Students who play string instruments wear a mask while they play, Clark said. For band instruments, Clark said that over the summer, students were directed to create a covering for the bell, or hole, of their instrument. Clark said this keeps aerosols contained.
"All of the students followed that directive and came to school prepared. They've got their little cloth covering over their bells and… it's really much, much safer than one would think," Clark said. "So if you were to visit one of their ensemble rehearsals you would see those coverings on their instruments."
In addition, some music classes are taking place outside, Clark said. These classes meet on the west side of the Christel DeHaan Fine Arts Center or other available spaces across campus, Clark said.
Performances are also being held differently, according to Clark. For example, the ensembles are preparing a repertoire and they have chosen to present this as a recorded livestream, Clark said.
According to senior music major Luis Rivera, it can be difficult to be in online classes. Virtual learning has been something that the music students have been introduced to this semester Rivera said. He sees it as a disadvantage.
"For me, as a commuter, it's a little rougher because I don't have a general area to do my online classes," Rivera said.
One class could be in an actual classroom setting, and for the next class he might have to go someplace else. "As a vocalist, it's a bit more irritating and stressful," Rivera said.
Voice lessons are being held asynchronously and are more difficult while trying to establish how the class will be run, Rivera said. Even though there are safety precautions, wearing a mask can help contain how the virus spreads, Rivera said.
For any music students needing support during this time, both Clark and Hoegberg said that students stay in close contact with professors and seek out help across campus. According to Clark, there are people to help at the Center for Advising and Student Achievement, and music students also have individual advisors within the department to look to for guidance, Clark said.
"One of the really difficult things about this is losing that close contact that we're used to having as musicians and feeling isolated and not being sure about what to do or how to get help and just to remember that we're all here to help each other and there's no such thing as a stupid question, and the more questions you ask, the more answers you get," Hoegberg said.