Students and faculty were greeted by soft music and smiling faces on the second floor of the campus library as they sat down for Krannert Memorial Library's first Open Mic Night.
University of Indianapolis students had the chance to showcase their artistic talents in a safe and welcoming environment organized by Associate Professor of English and Etchings Literary and Fine Arts Magazine Advisor Liz Whitacre and Director of University Library Marisa Albrecht, according to a Sept. 25 email sent by UIndy Student Affairs.
The event came to be through Whiteacre talking with her students in class about the idea of an open mic night, according to Albrecht. When Whiteacre and Albrecht grabbed coffee together one day over the summer, the topic was mentioned through conversation, and it was agreed that a partnership with the library would be a great idea, Whiteacre said. They said the event grew from there.
There is no limit to what can be performed, according to Albrecht, as long as it stays within the two-minute limit.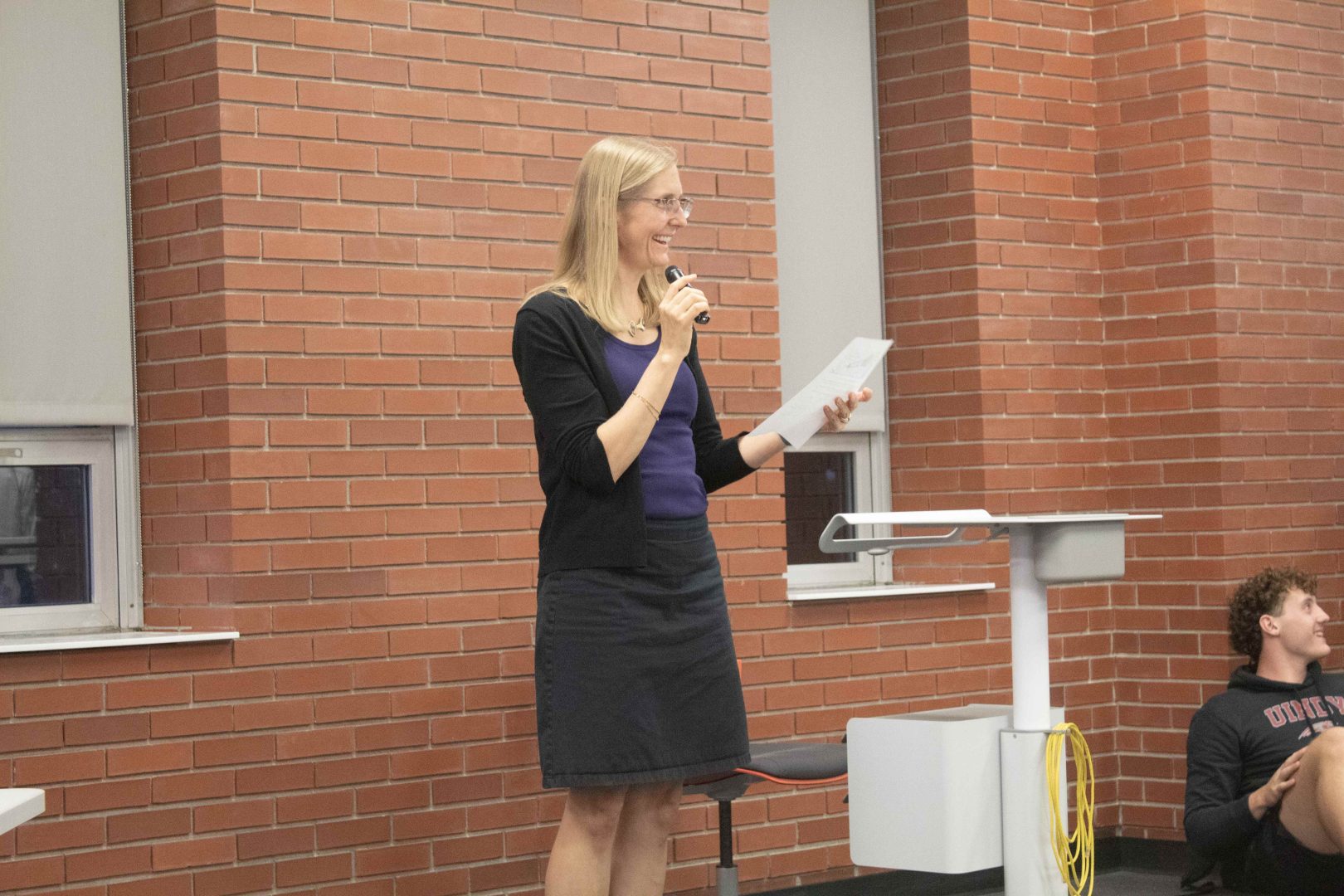 "An open mic series gives people who are creating work an opportunity to engage with an audience that can appreciate what they've created," said Whiteacre. "… This is another avenue for people to share work that they've polished in a very supportive environment."
The series, however, is not only beneficial for the performers, but also the audience, according to Whiteacre. She said the exposure to the arts leads the audience to appreciate all of the work that goes into creating something such as a TV show, a book or poem. The feeling is two-fold between performers and spectators, according to Whiteacre.
"And then for the audience … I think is another group that benefits from this new series," said Whiteacre. "Having the opportunity to watch performances by emerging writers, musicians, poets, comedians, filmmakers, the list could go on and on. It introduces us to a diversity of perspectives and voices and styles."
Albrecht anticipates that this event is the first partnership of many that will happen with Krannert Memorial Library. She said she wants to encourage students to take ownership of that. Albrecht hopes Open Mic Night can grow into being a safe place for other events that students want to put on. She says any student with ideas is welcome to come to her to discuss any potential plans.
"The library's for students," said Albrecht. "I want them to come to me with ideas of what they'd like to see us be able to provide. We provide the resources, but what else can we do? … What [other] events would they like to see here?"
Open Mic Night is scheduled for nearly every month until the end of the school year, with the goal of having a different student group hosting each one. Etchings Literary and Fine Arts Magazine was the first group that worked with the event. Senior English Professional Writing major and Managing Editor of Etchings Alex Phillips-Hedge helped announce performers and organize the event.
Phillips-Hedge said he found creative arts to be therapeutic at a time when he needed it most, and says it is something wonderful that every student should embrace. The series's goal is to better the campus, according to Phillips-Hedge. It is open to anyone and everyone who wants to perform.
"I think everybody should be somewhat involved in the arts," Phillips-Hedge said. "Not only for that therapeutic element, [but] because it helps with so much self-discovery."
The event also serves as a way for students to release stress and express themselves, according to Albrecht. From the stress that comes from everything to classwork all the way to the news, she said how important it is to have a break and hopes that Open Mic Night can be an outlet for students. Every student is encouraged to share any work they may have, or even simply come out and observe the performers, according to Albrecht. She said everyone can gain something out of the experience.
"[College is] more than just learning from your class or course material," said Albrecht. "It's learning about other people, and how to interact and engage with other people. That's a skill that you need to develop […] just being exposed to other people, creativity, their culture, their ideas, I think that there can't be anything bad that comes out of that. It's a growing experience for everybody."
The Open Mic Night series is eligible for L/P credit for students. The next event will be on Oct. 26 in KML 209.