University of Indianapolis President Tanuja Singh started her tenure July 1, according to a press release from UIndy 360. With having a little over two months of experience as president, Singh shared her thoughts about being on UIndy's campus.
"I absolutely love it," Singh said. "It's a beautiful campus, but it's also a very efficient campus—a walkable campus."
Singh said that while she was a candidate for the presidency, she was impressed by how UIndy strives to introduce students to multiple facets of life beyond college. She said UIndy connects students to not only basic skills needed for a career, but fundamental life skills that contribute to a life-long-learner mindset.
"[Students] are very engaged," Singh said. "They seem like they are the kinds of students who are going to school and really wanting to make an impact… They care about the world."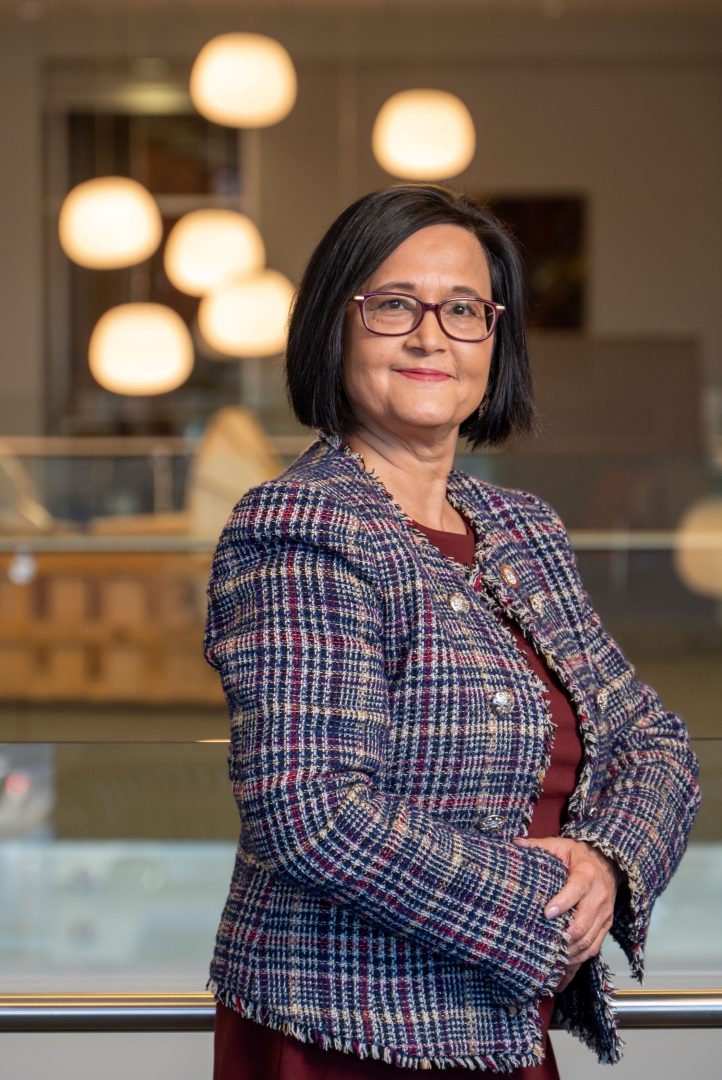 Singh shared goals that she wants to accomplish during her time here, and that dialogue has already been started across campus to get the ball rolling. Singh said she aims to strengthen enrollment and retention. She also said she wants to bring a more diverse student body to UIndy by expanding where the university recruits from.
"… My ultimate goal would be that, if you come to UIndy, irrespective of your major, if you are a music major or a history major or a business major or a nursing major, you've had at least one experiential learning opportunity," Singh said. "Whether you've done an internship or that you've worked on a project, and it could be in your major or it could be in an area that interests you. So I might be, you know, a business major, but I might have an interest in music."
Singh said that one of the biggest challenges in higher education is a shrinking undergraduate population. According to Chalkbeat Indiana, a nonprofit news organization that focuses on coverage of education, data shows that about 53% of graduating Indiana high school students went to college in 2021. This data includes high school students who went to some form of college directly after graduating. This number is very close to what was recorded for the state in 2020 (53.4%), according to Chalkbeat Indiana. However, in 2015, it was 65% according to WFYI, and this year it is currently at the lowest in a generation.
"So for the undergraduate population, the idea is to expand beyond just our immediate markets in the country, and then also make the offerings at UIndy more attractive to international students," Singh said. "At the graduate level, there is growth, we need to capture that growth."
Singh also said how higher education has changed significantly since she was a student. She said she wants UIndy to be more current, relevant, connected and accountable going forward.
"[College] used to be the only place to go to, right? People went to a university, got their degree and generally you graduated and your skill sets remained stable for many years," Singh said. "If you look at the reports that are coming out from the World Economic Forum and other publications, just the skill sets are changing every few years. So learning has become lifelong learning."
Singh said that while a lot of what she hopes to accomplish cannot happen within one academic year, she is starting dialogues across campus now. Despite this, Singh said she is most looking forward to seeing students back on campus this fall and that she is excited to engage with the student body.
"We are on a path to progress. We are really looking forward to growing the university, you know, making the university really well known for the kinds of things that I talked about earlier," Singh said. "So [I am] very excited to be here. Just delighted. Love the city. Love everything about the university and I'm very excited to lead it along with my great group of people."