Freshman Addison Mosley started her braiding business during her freshman year of high school, and she has now brought it to the University of Indianapolis. She said she started this business to style hair and help those who need it. She runs her business in the common area of Crowe Hall, Mosley said.
Mosley said because UIndy is a predominantly white institution, there is a lack of resources for minorities and people of color, so she wants to help and bring proper hair care for minorities who attend UIndy.
"I know it's hard to keep your hair done," Mosley said. "Sometimes, you just have those days. Sometimes just making sure your hair is better can help your mental health, it can make you feel better about yourself."
Mosley said that she has learned time management while starting this business. According to Mosley, doing someone's hair can take up to eight hours, and if clients do not schedule time properly, both her and the client's time could be wasted.
"I definitely learned time management. Time is definitely key. If you don't manage your time while doing hair or schedule stuff around it, you'll have a whole day wasted or be up until four o'clock in the morning doing somebody's hair," Mosley said. "I am in the process of learning how to talk to people a little bit more and stand[ing] my ground and setting up boundaries… so people can respect me and I can respect them."
Mosley said part of learning time management was that she is a student first and class work is the priority, but she also makes time for friends. She said she is part of a Living and Learning Community, a learning experience on campus that brings students together to help them become leaders and she considers them her family. During the days or nights they spend time together and bond.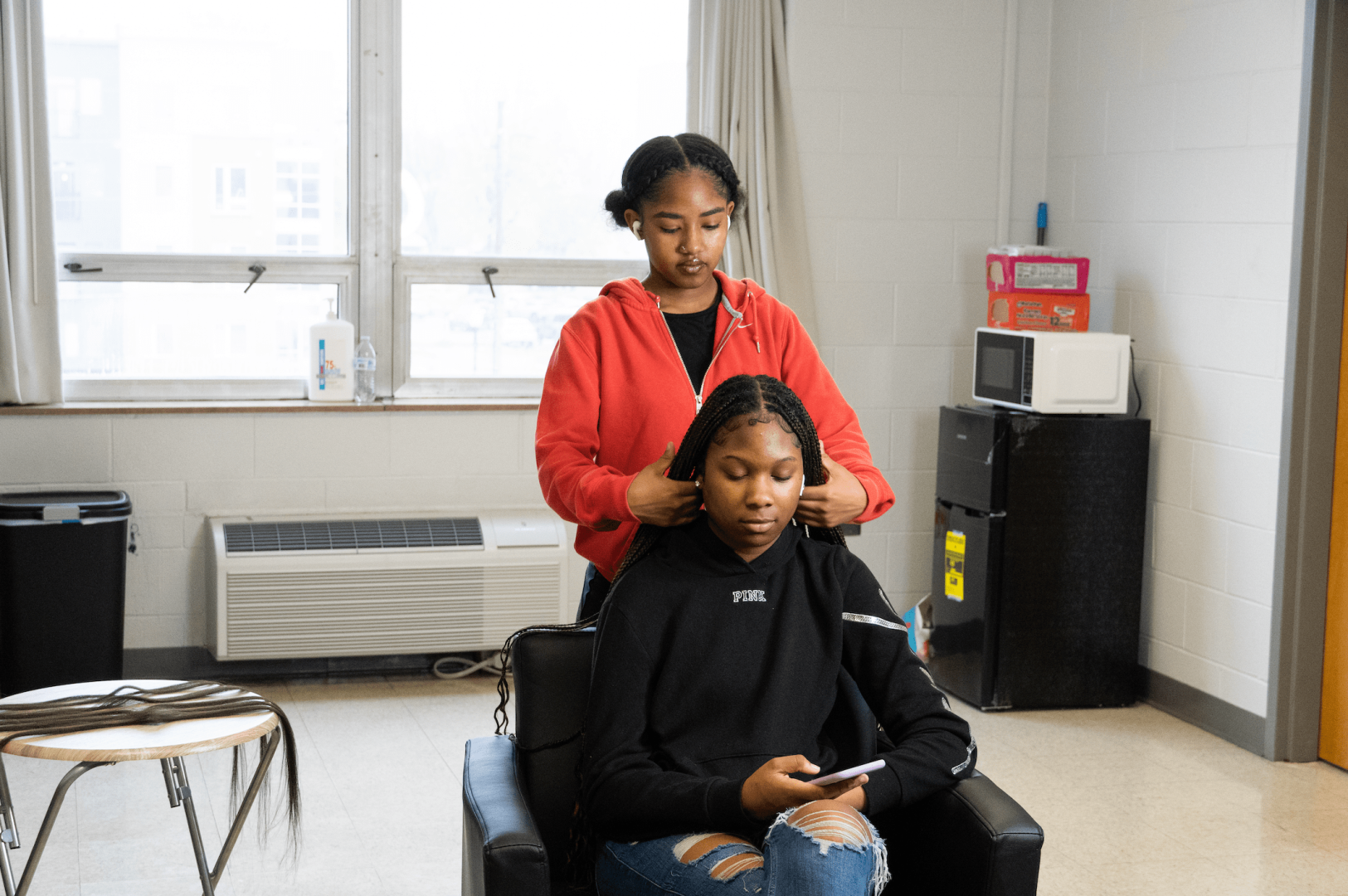 Her appointments are on Tuesdays and Thursdays, due to those being her free days, Mosley said. In addition to braiding, she installs sew-in, wigs/tracks, natural hair styles and styles with extensions. In the future, she wants to work towards silk presses, ponytails and having more consistent clients. She said she tries to keep her prices affordable and convenient, but prices range and start at $75.
Sophomore Kayla Stephenson, a chemistry pre-med major and Resident Assistant, went to Mosley to get her hair done. She said Mosley was trying to find new things to do on campus and mentioned she was a hairstylist.
"I felt that she was trustworthy and it was also more convenient because it would just be easier for me to go to her because she's right down the hall, versus having to go off [of] campus somewhere to get my hair done," Stephenson said.
Stephenson said that Mosley is efficient and finishes what she started. She said if clients do not like the way their hair turned out, Mosley will let the customer come back for her to fix it.
To any student planning on starting their own business, Mosley said to promote yourself, talk about your work and have your friends promote it. She said to put yourself out there and do not be afraid to talk to people, ask questions or say "I do not know what to do."
Stephenson said that it is a great thing for students to start their own businesses on campus. She said that it can be hard for students to manage their course load and a job at the same time.
"I support anyone that decides they want to start a business on campus… you can keep some money in your pocket because college can be expensive," Stephenson said.