A year of training paid off for University of Indianapolis junior communication student Liam Price when he won gold in the 50 swimming backstroke in the Special Olympics USA Games over the summer. As the Indiana representative for the Special Olympics, Price said he is proud of his win.
"I feel like it wasn't just given to me, I felt like I worked hard for it and I trained all year long to try and get that, to get the best place I could in there," Price said. "Gold was the biggest accomplishment I've made so far at [the] USA Games and… it's also given me hope to continue to show them that I could be a USA swimmer for Special Olympics."
The experiences Price had at the Special Olympics were great but also fast paced. He said that while there, he met lots of new swimmers who he had never swam against, and some celebrities like former National Football League player Peyton Manning.
"First celebrity I ran into, when I got off the plane, was Peyton Manning and… it took me at least a good minute to recognize his face," Price said. "I was starstruck."
Price said he was also interviewed by former NFL player Tim Tebow, where they discussed topics such as his experiences at UIndy and his future goals. He said that Tebow's encouragement was also part of his success in winning gold.
Price joined the Special Olympics in 2016. He said that he went through health issues when he was younger, but he wanted to be in sports. UIndy Head Coach of Swimming and Diving Brent Noble said that Price also played basketball, baseball and football before narrowing down his sport to swimming.
In addition to swimming at the Special Olympics, Price also swims for UIndy Swimming and Diving. He said he joined the team after running into former UIndy Head Swim Coach Jason Hite at a restaurant. After seeing his Special Olympics swimming t-shirt, Hite asked him to watch a swim meet.
"He wanted me to just come and practice with someone," Price said. "He wanted me to get experience [of] what it's like to practice with the team and then eventually [he invited] me to be a full fledged swimmer."
Noble said Price's training is individualized like the other swimmers on the team. He asks Price how he is feeling each day before he begins training.
"We want him to believe in it. We want him to feel good about what he is doing. Liam [Price] likes to sprint, he likes to come in and warm up and go fast," Noble said. "It's important to have a good time and enjoy what you're doing, especially for him. He swims most of his workouts alone. So there's a lot of hooting and hollering and he gets into that and we have a good time together. He typically comes in and gets some sprinting in. He doesn't like aerobic swimming as much, but he's recognizing more and more how important it is."
Price also volunteered with different sporting events and was also a U.S. Youth Ambassador when he was in high school. He said he went around the country and talked to different schools about Unified Champion Schools and servant leadership. In addition to volunteering for Special Olympics, Price has also volunteered at police stations and fire stations, Noble said.
According to Noble, Price's win in the Special Olympics was exciting and was a credit to his work. He said Price has had a positive impact on the swim team both at UIndy and at the Special Olympics.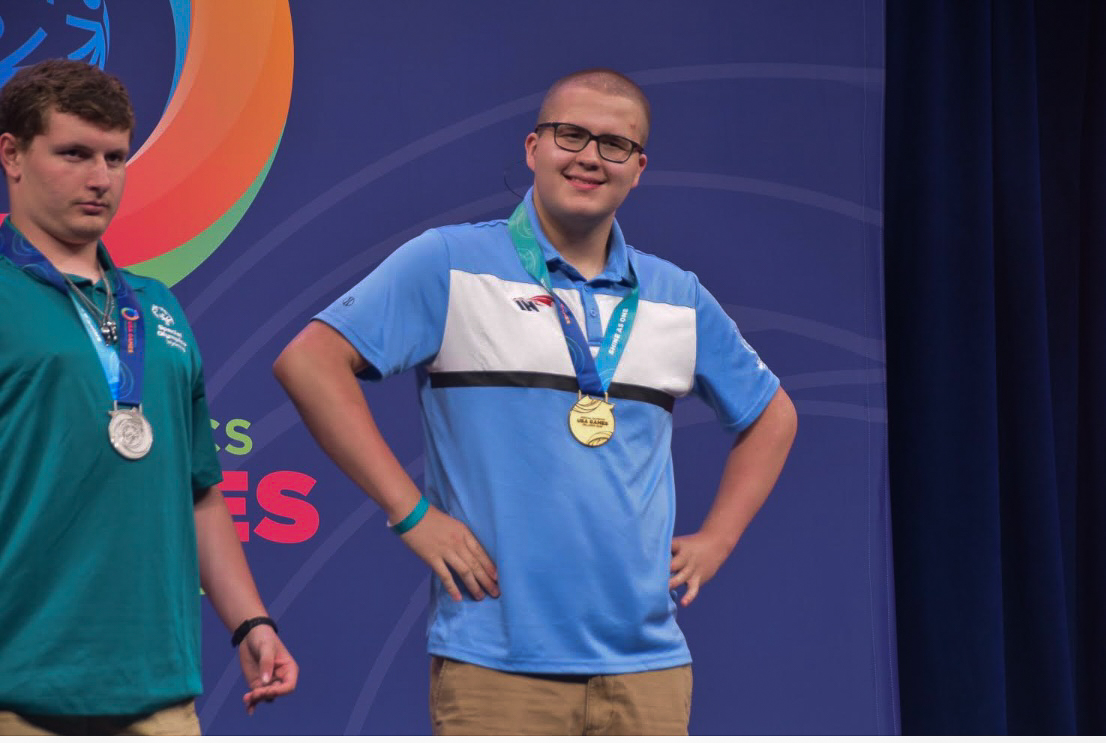 "… Most importantly, and the goal that I'm most excited about, is we want to have a positive influence… The way I say it to recruits is we want to win and people to be happy for us that we won," Noble said. "… And I think Liam [Price] is one hundred percent that; nobody is ever wishing ill of Liam [Price]. They see him work hard, they interact with him and they know what kind of guy he is. And so for him to have won, I think that brings a lot to our team because it shows that he very much is one of us and that's the kind of success that we expect."
This semester, Price said he wants to improve on his swimming and to show his teammates that he can help them in meets. His goals for the future include representing Team USA. In addition, Price said that his name is in the hat to compete in Special Olympics Worlds 2023 in Berlin, Germany. Noble thinks Price has many opportunities ahead of him for the future.
"He's gonna do whatever he wants to do. I think there's probably a pretty good chance he ends up being really heavily involved in Special Olympics Indiana or Special Olympics USA. He opens a lot of doors for himself," Noble said. "I imagine he'll keep swimming for a while. He has two more years of eligibility here, but he'll swim here through graduation, but he'll probably go on and continue to represent and stay within the sport, within the Special Olympics scene."