The University of Indianapolis has its very own pageant titleholder: junior communication major Madeline Fisher. For the past seven years, Fisher had watched her hometown's pageant, Miss Harvest Homecoming, from backstage working as a stagehand. All of that changed after some of her friends urged her to become a contestant.
"… [I] always kind of disregarded myself and was like, 'This isn't for you. You're not made to do this kind of stuff. You're not good enough to do this kind of stuff,'" Fisher said. "But… last year, around this time I decided you know what, let's see what happens."
Fisher had participated in three different local pageants before becoming an official title holder. She said that before winning her title, it was a little discouraging to find herself on top one day and the next having to go home without placing. But she knew that she had to trust the process.
"You get to learn a lot about the other girls, and I think pageant day is more fun than it is stressful," Fisher said. "It's just a lot of connecting with people and sharing your stories and stuff like that. Before I was crowned, it was a little stressful trying to find local [pageants] that I could compete in and worrying about how I would do but… it's always been just a very fun day."
According to Fisher, the day of the pageant was long, lasting from 7 a.m. until 9:30 p.m. The day included walking patterns and interviews. Although Fisher is a communication major, she has roots in the world of theatre and dance, which she gets to implement when it is her time to get on the stage. As a fan of big dramatic songs, she sang 'Happy Days are Here Again' by Barbara Streisand at her most recent performance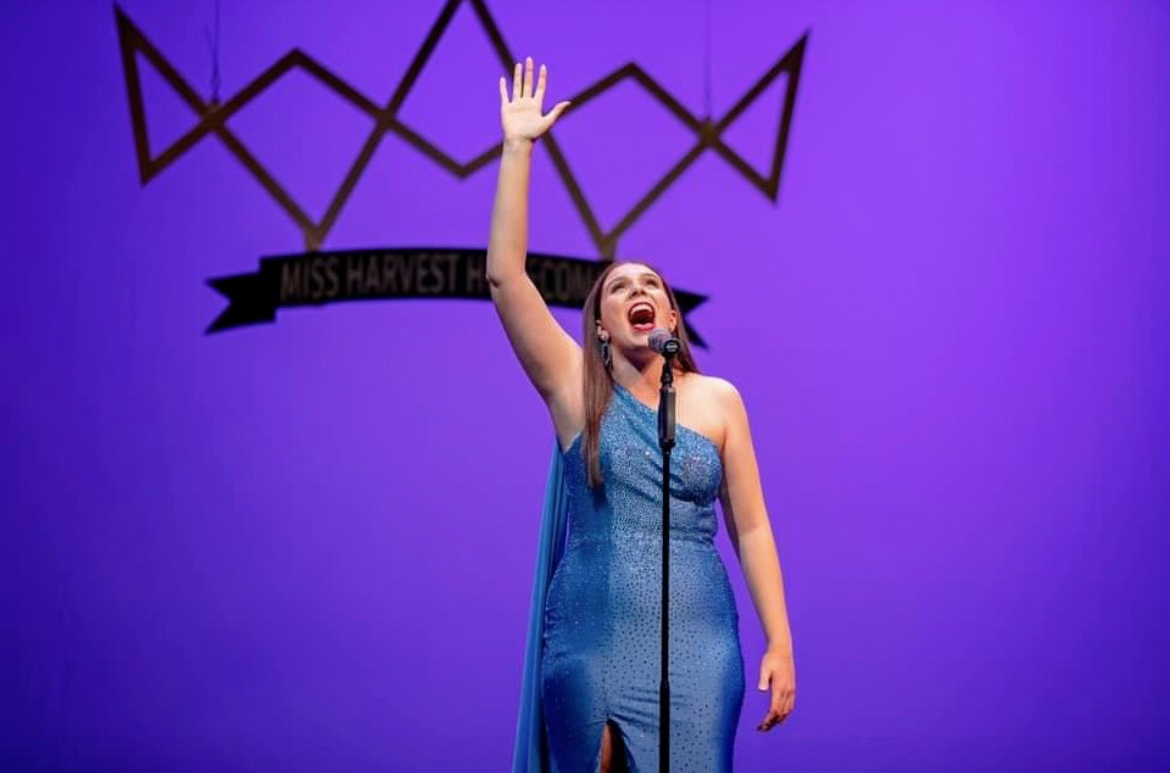 Fisher said that her first title, Miss Spirit Indiana, which she won in February of 2022, will always hold a special place in her heart. But in August, Fisher competed at Miss Harvest Homecoming, the place where it all started for her.
"It was the [competition] that I had watched for so long. So actually winning, it was a moment that still, almost a week later, I don't have words to fully describe." Fisher said. "Anytime you win something like that, you're a little emotional, but for me to win the title that I had poured so much of my life and my time into was absolutely incredible. And I'm still just so, so grateful. I still have my trophies on the table and all my flowers out … It just felt so amazing and it felt like a coming home kind of moment."
There is a lot more that goes into pageants than just going on stage dressed in a pretty dress, Fisher said, and Miss America is about needing to be more than a pretty face. She said that in order to compete, participants need something that they're deeply passionate about and want to change within their community.
"We all have social impact initiatives and mine is called YOUsical theater," Fisher said. "It's about advocating for the arts in schools and also in communities, making sure that they get the support and the funding that they need and that the educational and social and emotional benefits that it can have on both students and adults are well elaborated upon and that they're common knowledge."
Fisher said the General Manager of WICR-FM and communication instructor Scott Uecker has supported her in all of her endeavors. He has known Fisher for a year and is one of her instructors. According to Uecker, having Fisher in class is an enjoyable experience as she is engaged and does the best she can.
"She's a high achiever. She's very driven. She is incredibly talented," Uecker said. "She has a very solid work ethic and I think [that] may be the thing that endears her most to me is that she has a vision for her future and is willing to put in the work. However, she is also willing to change."
According to Uecker, it's very easy to see why Fisher's winning titles. He said even though Fisher makes school and pagenting look easy, there has been a lot of work put in for her to get to where she is now.
"She finds a way to say 'yes' to opportunities. Too many students don't get the success they deserve because they just don't put themselves out there. It's hard to put yourself out there, but she does," Uecker said. "… If you look at what she does to get what she's gotten, it's well deserved on her part. I couldn't be happier for her."
As far as what is next for Fisher, she will be participating in the Miss Indiana pageant next June. For the rest of this year, Fisher plans on dedicating her time to growing her social impact initiative, which entails community service and going out into the community.
"I love UIndy; they have been super, super supportive of all my pageant endeavors … [I] love the support that I've received from the Communication Department, from the professors through social media," Fisher said. "I'm just very grateful for my UIndy community in general because even though Spirit of Indiana and now Harvest Homecoming are not centered around the university, the university has really embraced this new wave of Miss America and pageantry. And I love that… they've been really invested and I'm really, really appreciative of that."