It was announced on Dec. 17, via an email from Vice President for Intercollegiate Athletics Scott Young to the University of Indianapolis Swimming and Diving team that long-time head coach of the team, Jason Hite, was terminated from the university. With that news, the tenure of Interim Head Coach Brent Noble began. Now with four more individual national championships, 63 All-Americans and 31 All-American honorable mentions, his interim title was replaced with Young announcing on April 5 that Noble was staying as full-time head coach of the Greyhounds. According to Young, having the luxury to hire within was valuable as they decided who was going to lead the program into the future. 
"I was able to go down to Greensboro [N.C.} and spend the week with them [the team] on the pool deck, and was just very pleased with the teams, not only performance, but with their mentality, their culture and things," Young said. "In that situation, I just felt like he was the right fit for the program, taking it forward."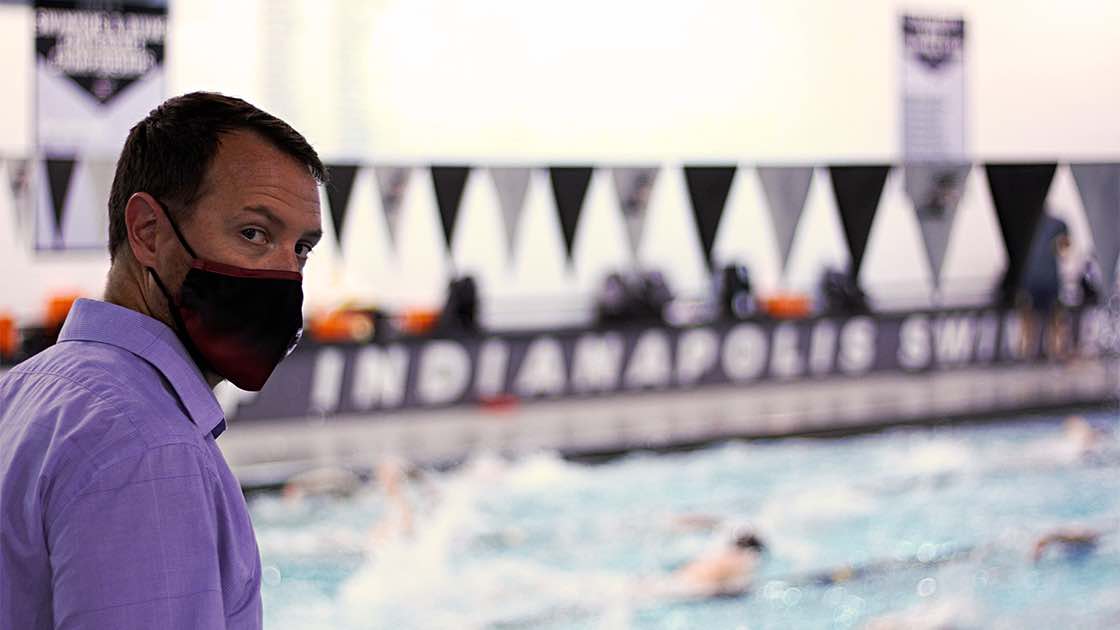 This year was a historic one for the Greyhounds overall, with the women's team finishing second at the NCAA Championships, the highest finish in program history, and the men finishing third at the national meet, tying the program's best finish, according to UIndy Athletics. Noble said he is happy to be back with the program long term, but the promotion was not incredibly important to him. 
"The interim tag, the position, the title, none of that is important to me, the idea is putting our team in the best position to be who we can be, and making sure that we have the leverage and the opportunity to keep progressing and keep providing the best experience that we're able to," Noble said. "I'm happy to be here, I'm happy to be representing UIndy, I'm happy to be working with the people I'm working with. I'm happy that things are clear and what our future is, and that's all really exciting."
Noble said what he has done was never for the purpose of becoming head coach, but instead to do the most good within the program and for the swimmers. He said during the transition of head coaches, his goal was to make it as seamless and smooth as possible. Young said hiring for sports like swim and dive, track and field, wrestling and other individually focused sports is always a challenge and coaching those sports is equally as challenging.
"It's challenging because you can be in the same events in the same race, have someone that's had the best swim of their life, and then someone else had their worst swim at the National Championships, and he's got to be able to celebrate the success with one individual and then motivate the one that had a bad day to turn around and have more success the next day," Young said. "Think about it from an individual sport standpoint, any of our individual sports, that's a challenge to be able to interact with those two individuals in the same event at the same time almost."
Young said when looking at the candidates and Noble specifically, he checked all the boxes. He said he fits well within the department, communicates and works well with other coaches well and is easy for the administration to work with. The fit was especially important to Young, as he said coaches need to have the ability to relate and pick each other up when necessary.
"I think that they have successes and failures as well. And when they're willing to work together, they're able to go to another head coach and say, 'Hey, I'm working through this, have you had a similar situation, have you managed [this]?' Coaches in this department do a great job of picking each other up when they're going through a tough spell. They've lost a couple of tough games in a row, coaches will just pop in their office," Young said. "It's just like being good teammates, but they're a family, they work well together, and the next person in any position needs to fit into that."
Prior to UIndy, Noble had a wealth of experience working within swimming for the past seven years, according to UIndy Athletics. Noble said with his experiences, he has been able to see the good situations and the bad and understands how good of a situation he is in at UIndy. He said the program is taken care of very well from an administrative standpoint and that he is grateful for what the program has been given. Noble said he is ready for more with UIndy Swim and Dive.
"I don't think it's any secret that we want to win. We are inching closer, we scored more points than we ever had this year. Our women finally were second but we want to win and I think we can," Noble said.