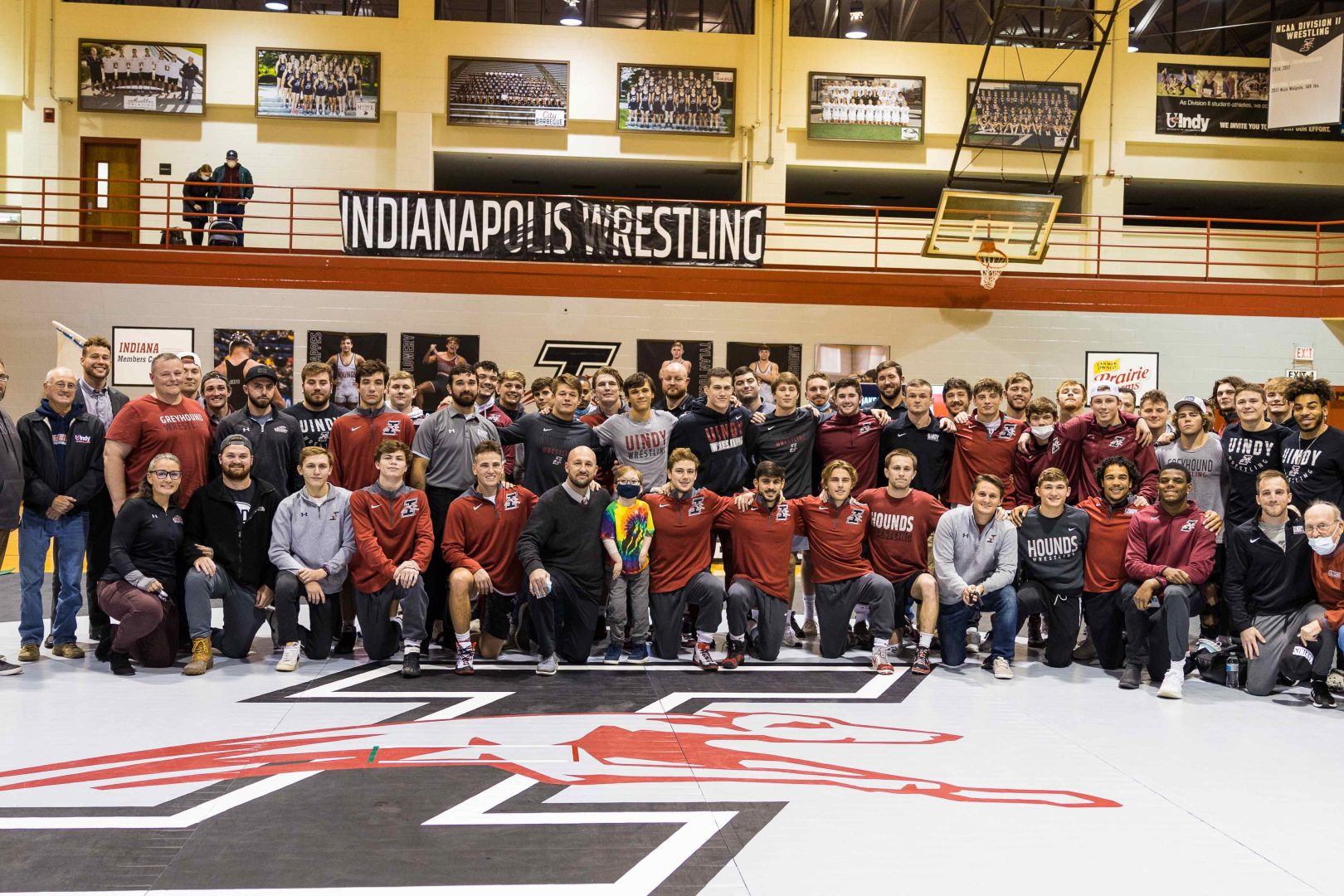 The 2021-22 University of Indianapolis wrestling team opened the year as the 13th-ranked team in the country, as announced in the preseason edition of the National Wrestling Coaches Association (NWCA) Division II  Coaches Rankings, according to UIndy Athletics. The Greyhounds began their season with a 57-0 win against Defiance College on Nov. 2 in the Ruth Lilly Fitness Center, according to UIndy Athletics. This was the 100th victory of Head Wrestling Coach Jason Warthan's career.
"It's something that's next to my name, an achievement that they're going to put on me, but it really isn't," Warthan said. "It's a lot of hard work for a lot of people, so I have to thank all those people that sat in the corner with me and all those people that strapped up and put that UIndy singlet on."
Warthan heads into his 13th year leading the UIndy wrestling program for this season. Warthan, the 2014 and 2017 NCAA Super Region No.2 Coach of the Year, said rankings are a reflection of what the team did last year. 
Warthan said the team had two All Americans last year out of four National Qualifiers. Warthan said sophomore Logan Bailey has looked really solid to start the year and does not believe that a sophomore slump is in the GLVC Freshman of the Year's future. Bailey pinned his opponent in just 43 seconds, according to UIndy Athletics.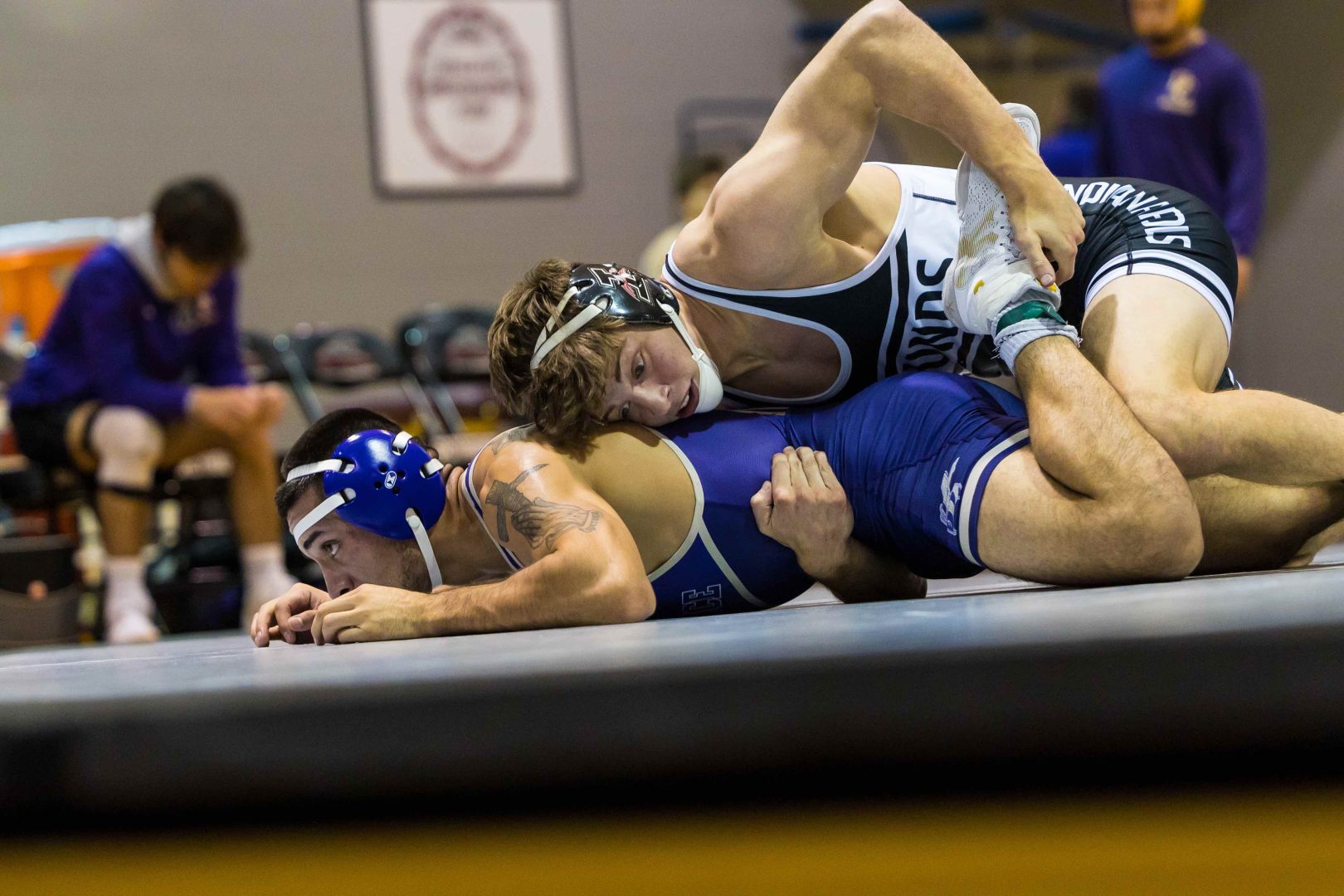 Other key wrestlers include senior Gleason Mappes,  who won by technical fall, 20-1 in 4:12 according to UIndy Athletics. Mappes was a National Qualifier last year, and according  to Warthan, the senior wrestler moved up a weight class from the previous year. Another vital part of this team is an All-American from two years ago, redshirt sophomore Jack Eiteljorge. 
Eiteljorge is entering his 4th year with the Greyhounds. Eiteljorge won by pinning his opponent in 5:48, according to UIndy Athletics Eiteljorge was First Team All-GLVC and finished 4th at the NCAA DII Super Region 3 tournament last year, according to UIndy Athletics. Eiteljorge said he wants to get back to the National Tournament, win a trophy and to be an All-American. 
"It makes us feel good that we're being recognized a little bit, but it's not where we want to be at the end," Eiteljorge said. "I would say it's kind of motivation for us because we know we can do better than that."
Warthan led the program to its first National Championship back in 2011, according to UIndy Athletics. Warthan said that this year's roster is a good team from top to bottom. 
"We're ranked 13th, I think we're better than that to be honest," Warthan said. "It's nice to be recognized, it doesn't mean that much, and I think that the goal is not to finish 13th."
According to Warthan, his expectations and goals for his team is to be the best version of themselves. The group has as much potential as any group they have ever had, Warthan said. 
"We've won Regional titles in the past as a team, we've been just outside of getting a team trophy in the past," Warthan said. "I think we can compete with the best there is in Division II. The expectations are high, but we have to get better, we can't just talk about it."
According to Eiteljorge, he put in extra focus on scrambling and wrestling on the mat this offseason. Eiteljorge went 8-2 on the season as the UIndy starter at 165lbs during the 2020-2021 campaign according to UIndy Athletics.
"[There is] a lot of expectations for me," Eiteljorge said. "I like to hold us to a higher standard because I know how talented we are and how good we can be." 
According to Warthan, his philosophy has changed and developed over those 13 years of coaching at UIndy. One of the things that needs to be a focus is that it is hard to keep everybody healthy, Warthan said. He said that the veteran guys have bought into this philosophy. According to Warthan, the teams that win the National Title are going to be the teams that are the healthiest, not necessarily the teams that are the best at wrestling.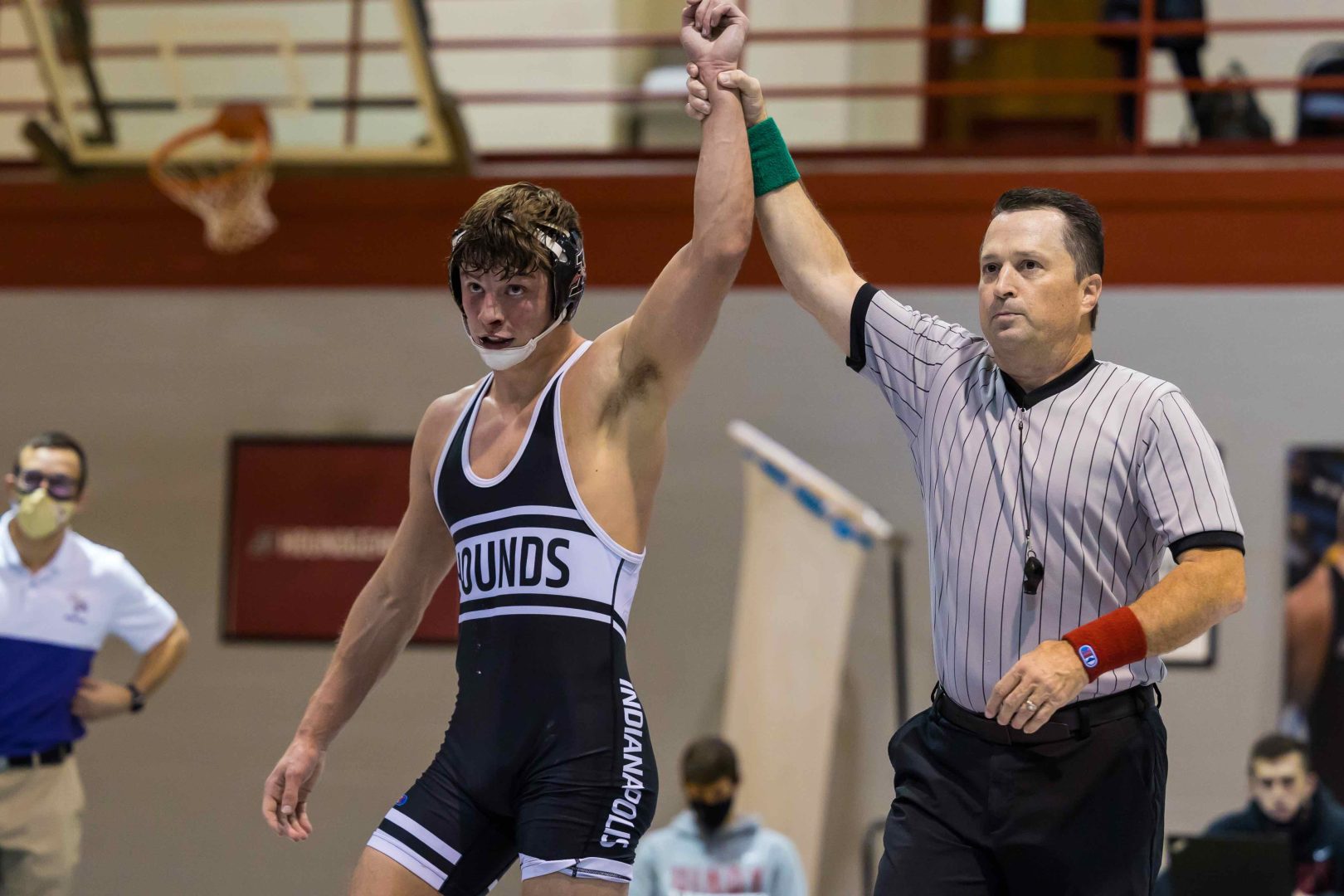 "Sometimes in your training and the grind of the season and overtraining or getting too many matches, the end of the year almost becomes who the healthiest team is, not who the best team is," Warthan said. "I already said how much potential we have, but at the end of the year those guys need to be healthy." 
Eiteljorge said that the length of the season is a challenge because it goes from November to March. According to Eiteljorge, the team has to stay motivated during this time and not lose track of their goals. 
"I'm looking forward to seeing what we can do at Nationals this year," Eiteljorge said. "I feel like we've been so close in the past, and we're due to make a big splash this year, so that's what I'm most excited for."
Warthan said his wrestlers have been beating up on each other for months. According to Warthan, it's good to see the wrestlers compete and execute the things they have been working on in practice.
"That's the region we're in now with Maryville, Mckendree and Lindenwood, they'll all have their squads there, so it'll be a test for sure," Warthan said.