From local to international service-learning opportunities, the University of Indianapolis Center for Service-Learning & Community Engagement extends experiential learning to every student. According to the Center's website, the Center coordinates with existing partners to offer development workshops, promote social responsibility and create opportunities for community connections.
According to Director for the Center for Service-Learning & Community Engagement Marianna Foulkrod, the mission of the Center is to educate people by building a foundation for them to become civically engaged and caring citizens. Foulkrod said that her job is to bring in resources to the faculty to help support their teaching endeavors at the UIndy, while also developing relationships with students and community partners.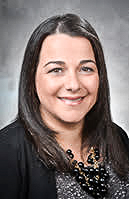 "There [are three] main audiences that we help support through the Center for Service-Learning & Community Engagement. One of them is our students," Foulkrod said. "Our job is to provide the best, most enhanced experiences through service and service-learning initiatives through their courses."
Alexis Cooper, senior sociology major and Center for Service-Learning and Community Engagement undergraduate assistant, is one of the many students that has engaged with the Center. Cooper said she got involved through her roommate, and after learning more about the work that the Center does, she applied for the first open position available. According to Cooper, her interaction with the Center was through taking a course called Sociology 104 social problems. The course included a service-learning lab that she opted to take where she worked with Pink Ribbon, an organization that spreads awareness about breast cancer and is a partner that works with the Center.
"… You get to work with so many different people, and you get to help so many different communities," Cooper said. "Now I'm doing a practicum for my major and concentration, and I am working with the Hoosier Environmental Council."
Cooper said being on staff at the Center gives her access to a lot of connections with community partners. After working with Pink Ribbon, Cooper said that her experience helped her learn about what non-profit organizations do. That experience, paired with Cooper's role in the Center, solidified her passion for working with nonprofits in the future, according to Cooper.
"Being here on staff, you get to make a lot of connections with partners and it can help you find exactly what you're interested in and what you want to do in the future," Cooper said. "So it opens up a lot of different opportunities and you can take it in so many different ways."
Growing up, Cooper said she always knew that she wanted to help people in any way she could. Even though she is not directly in the field right now, she gets to place students and make partnerships in communities that are making an impact, according to Cooper. Some of Cooper's responsibilities on staff include placing students with organizations, drafting a monthly newsletter and working with Hounds Connect, UIndy's new hub for connecting students to service-learning opportunities, according to Cooper.
In order to be able to place students in these experiences, the Center has to prepare the faculty with the necessary resources, tools and support to be able to teach using service-learning as a teaching methodology, according to Foulkrod. The Center supports faculty through various endeavors throughout their time at UIndy, Foulkrod said.
"The Center typically supports training and cohorts and we support our faculty when they apply for funding to support their projects, in their scholarship, in their promotion and tenure process," Foulkrod said. "We also have a few committees that we oversee, including the Service-Learning Council, that kind of helps us move the work of the faculty forward."
The final facet of Foulkrod's role is to prepare the community to engage with UIndy faculty and students in different ways, according to Foulkrod. She said that this is done through building up collaborations with community partners so that they are agencies that are prepared to co-lead and co-teach the students that are taking the service-learning course.
"If we fail at one of these, then the experience fails," Foulkrod said. "My job is to really look at the big picture of how UIndy as an institution helps prepare the grounds for effective, reciprocal, sustainable… or curricular service-[learning] experiences."
Through the efforts of the Center, UIndy is currently in its second year as a Carnegie classified institution for community engagement and civic leadership, according to Foulkrod. According to a UIndy 360 article, this classification is an elective designation that indicates institutional commitment to community engagement. UIndy is also a member institution of the Indiana Campus Compact, which is an organization for higher education institutions that are teaching using the service-learning methodology, Foulkrod said.
The Center supports any efforts of UIndy faculty, staff and students that engage in service and service learning, Foulkrod said. The Center has been able to develop partnerships with international organizations reaching as far as Belize, Cyprus and Greece, but their home base remains in the southside of Indianapolis, according to Foulkrod.
"When I look at some [partnerships] like Hornet Park Community Center, or the Burmese American Community Institute, or SENSE Charter School, [or] College Mentors for Kids, all of those agencies are agencies that when we look at the depth of the partnership, it's truly amazing the things that we've been able to do, because we engage with them in multiple multi-disciplinary ways," Foulkrod said.