It has been 325 days since University of Indianapolis Track and Field has been able to compete. Before this season, their last meet was the GLVC Indoor Championships on Feb. 29, 2020 and March 1, 2020. They have finally returned to competition, starting their season at the Greyhound Invitational held at UIndy's ARC. Last season, the men's team finished as the runner-up for the indoor championship, while the women placed in third. Senior thrower Katrinia Hopkins said that even with the changes made to the season, such as the cancellation of the GLVC Championships, the team is gunning for that top spot in the conference. 
"We just want everyone to know that despite the current circumstances that we still have winning as our mentality, and we're going to do whatever it takes to get there," Hopkins said. "We're going to try like hell to make sure that Lewis [University], or whatever team, doesn't beat us in the one conference meet that we get this season. We're going to try like hell to win at this time. Get that ring."
Hopkins, alongside junior pole vaulter Brittney Clark, was able to shake off the rust of a 10 month long off-season and hit the provisional mark in the Hounds' first meet back. Hopkins won the weight throw event with a throw of 17.38 meters allowing her to meet the provisional marks for the national meet. Clark also won her event, the women's pole vault, with a vault of 3.66 meters that launched her to the provisional mark as well. According to Director of Track & Field/Cross Country Scott Fangman, it was wonderful to see the Hounds competing again. He said that sadly he and a lot of the fellow coaches did not get to focus on the athletes as much as they would have desired. 
"We [the coaches] were so involved and engaged in meet management that sometimes we missed, literally not only the performances of our kids, but the joy or the quality in the performance," Fangman said. "And because you're always thinking when we were out there, both Coach [Brad] Robinson and myself… we're running 50 in our head, 50, only 50 people out there, only 50 people out there. So you're constantly trying to keep that in order, so that was a unique feeling for me and I think for Coach Robinson."
According to Hopkins, she hit the provisional mark on her first throw of the day. However, she said going into the meet she had a different mindset for weight throw since her coach was not at practice for the week leading up to the meet.
"So [for] weight [throw] I was like, 'You know what? This is shaking off the rust. We're just gonna see what happens.' And I ended up having a good throw," Hopkins said. "And then shot put, I definitely was feeling the 'every throw matters,' and I got a little in my head. So that is something I felt where at this point last year you were already two, maybe three meets in. So you had gotten back into that routine of just relax, you know what you're doing and just let your body take over. So it's definitely been a transition, to say the least."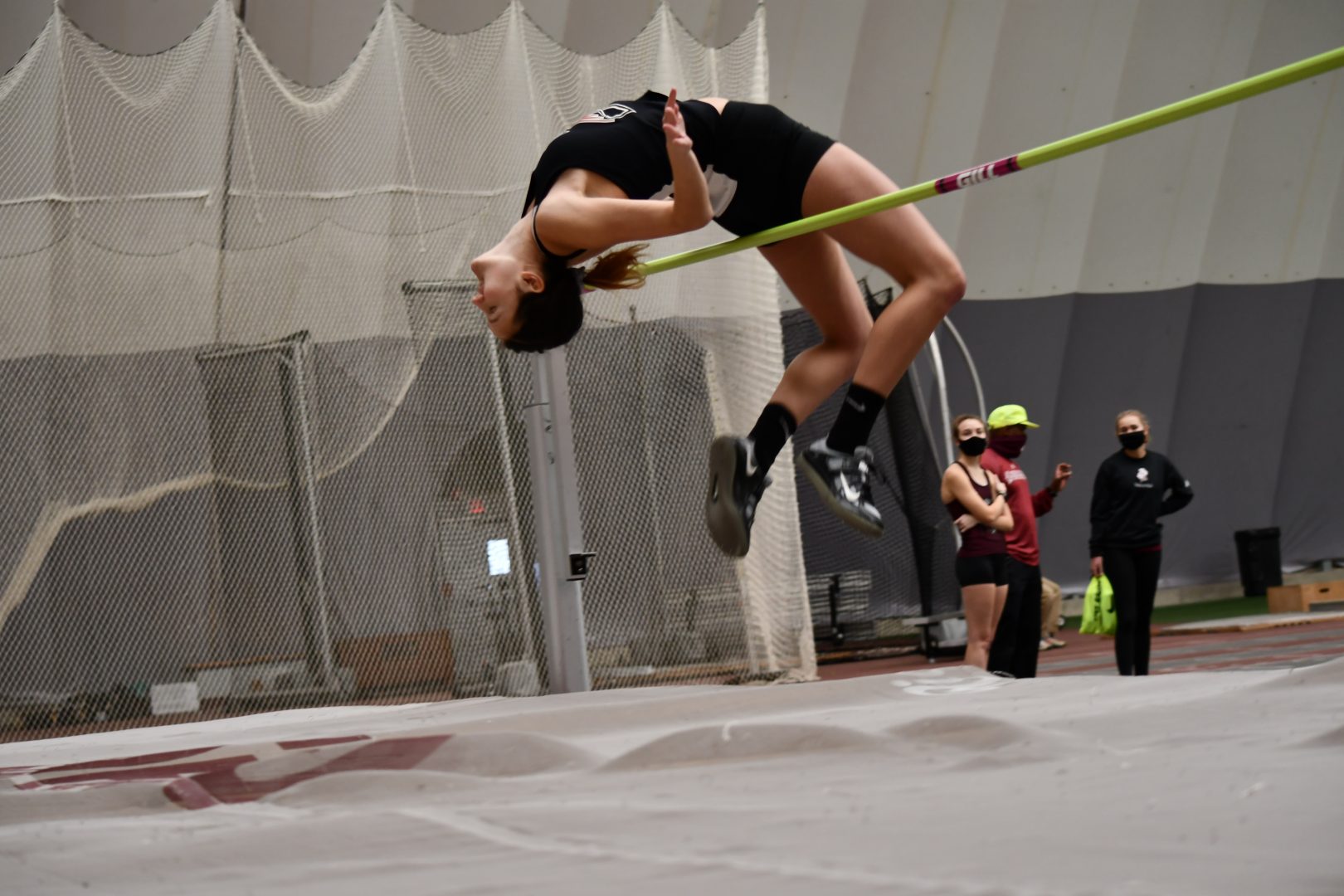 The atmosphere at the meet was extremely different compared to the meets in the ARC in the past, Hopkins said. She said that in the past everyone cheers each other on and the men's throwers are there to support the women, but for the Greyhound Invite, they were only allowed to have 50 athletes and staff inside the arc so once an athlete finished their event they had to leave.
"It was definitely weird. Like I had to ask on Monday [Jan. 23], 'Hey, how'd everyone on Saturday [Jan. 23] do?' [be]cause I couldn't even go in, so that was definitely weird," Hopkins said. "It's nice at home meets to look over and be like, 'Oh, Taylor [Strnad] is jumping, let's cheer Taylor on. Oh, Chandler [Martin] is going. Oh, Mary [Costello] is over there in pole vault. Oh, I see she cleared it.' [It's nice] because you can see it, and just being able to see others do well and seeing your teammates succeed is just motivational … It's [the restrictions] definitely going to be — with the upcoming home meets — something to get used to, but, you know, we're just grateful to be here and thankful to have a season."
Student-athletes' motivation was questioned going into a large amount of the sports this year, but according to Fangman, he and the other coaches had no struggles getting the team geared up and ready to compete. He said that due to there not being a conference championship, the focus of the season for a lot of the athletes changed.
"I'll be honest. I did nothing. I don't think even the rest of the coaching staff did anything. And the reason being was, is because these guys and gals had already done it," Fangman said. "Those guys last week were so ready to go. There wasn't a whole lot [that] we needed to say other than, 'Hey, if you need anything, let us know, but here's the schedule.' Everybody was flat just ready. Nobody got caught in a compromising state or a position by not fully understanding what it is that we have to get done here."
---
CORRECTIONS: Feb. 11, 2021 at 10:54 p.m.
A previous version of this article misspelled senior thrower Katrinia Hopkins' and junior pole vaulter Brittney Clark's first names. The article has since been updated with the correct spellings.