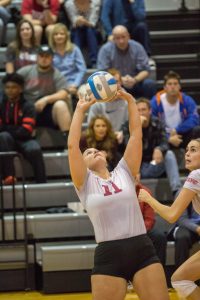 The No. 3 Lewis University Flyers defeated the University of Indianapolis volleyball team in the first round of the GLVC tournament on Nov. 17, ending their season with a record of 13-19.
Prior to the match, Head Volleyball Coach Jason Reed said that the last month of practices have been really good for the team, and the most important thing to do is make that carry over into the game. Reed and sophomore outside hitter Rachel Irbe agreed that playing loose and having fun would be the most beneficial way to play the high ranking team.
"I talked to them before the match about playing loose. Going into it we know that we are the underdogs," Irbe said. "We don't need to shy away from the fact that they [Lewis] just won the conference and they are nationally ranked. So it kind of just freed us up and let us play our game."
The Flyers defeated the Hounds in three sets with scores of 25-12, 25-16 and 25-19.
Despite the loss, sophomore outside hitter Anna Fehribach surpassed 300 kills this season, with five in this game.
Prior to the conference game, the team had the opportunity to play Lewis the week before, but fell 3-1. Despite the loss, Reed said that the women played well and he was proud of their performance. With Lewis being a nationally ranked team, Reed said that their performance really showed that they can compete with these high level teams.
"We know we have a really talented team," Reed said. "We haven't really had the record to demonstrate that, but we know we can compete with these teams. So having a good performance this past weekend was really good for our mental game. Knowing that we get to see them again and knowing the result could be different next time."
Multiple women tallied high scoring nights. Irbe recorded her eighth double-double of the season with 15 kills and 15 digs. Fehribach followed closely behind with 13 kills, and ended the season leading the team in kills with 298.
The team achieved a regular season record of 13-18. Earlier in the season the team had set a goal to win 20 matches, according to Reed. Despite missing this goal, he said there were a lot of accomplishments this season.
"We've had some pretty incredible individual performances both in our wins and our losses, but we've kind of strung together multiple players doing that on a given night,  as much as we need to," Reed said. "So that's kind of the next step for our group. So kind of instead of having one or two players having a career nights, we need everyone to kind of have that consistency."
After spending her freshman year at Eastern Michigan University, Irbe transferred to play at UIndy.  The program welcomed a number of other transfer students to the program this year as well. According to Irbe, the multitude of new players made it more difficult to gel as a team.
"I think that middle patch [of losses] was kind of us not knowing each other very well. And I was new in the spring so I think it helped me more knowing some people on the team, but the new girls that came in, we had to get to know five or six new playing personalities. And that's kind of hard to do. You have to do that every year, but you usually get to play with the same core majority of people," Irbe said. "So I think that middle of the season was us kind of not knowing each other's capabilities, and how to communicate with each other and that kind of stuff."
Irbe was one of many transfer students added to the program this season. She said she feels more at home at UIndy and has made better connections to the people she's playing with, as well as people on the academic side.
"The smaller school makes a big difference. I feel like I connect better with the professors and even the coaches too, Irbe said. "When I went into Eastern Michigan, I was expecting something completely different than what happened, but here I just said that I was going to leave my expectations out in the open and try not to expect anything. It ended up exceeding  it, and I was like 'wow this is so much better' I just love it here a lot more and I knew some girls coming in here so it just helped me connect with the team a lot more."