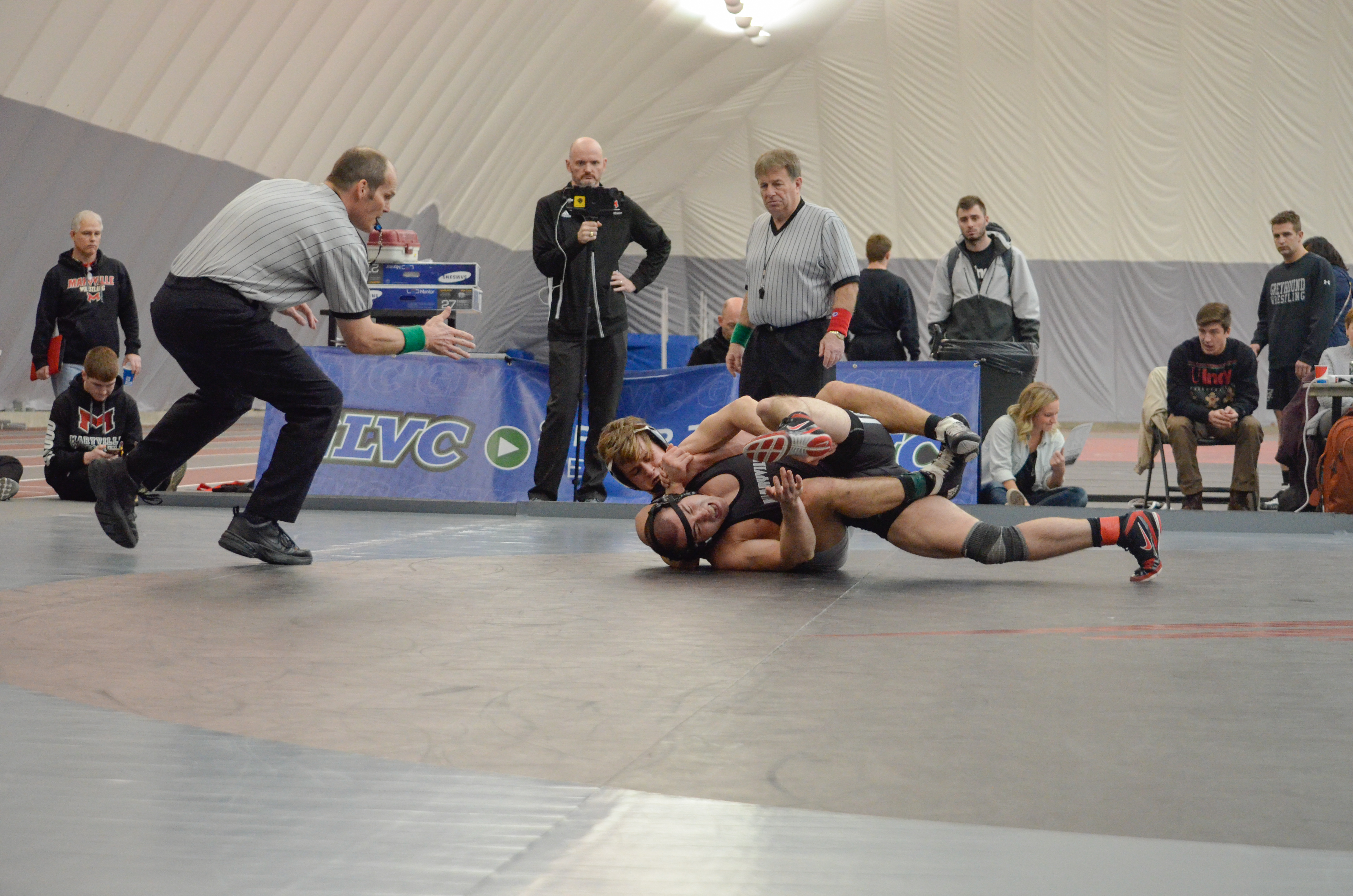 Head Wrestling Coach Jason Warthan  prepared the wrestlers for their meet against the No. 4 Maryville University Saints and No. 6 McKendree University Bearcats, but the University of Indianapolis wrestling team fell short to both opponents on Feb. 4.
Despite wins from redshirt junior Nick Crume, redshirt sophomore D.J. Smith and redshirt sophomore Brendon Kelley, the team was unable to secure a win over either of the top ranked teams.
Prior to the meet, Warthan said that this meet was one the team had been looking toward since earlier in the season.
"We've been preparing for this match up for awhile now. Part of the deal with sitting guys last week was to be gearing up for this weekend, so the plan is to have our best lineup out there for Saturday."
Prior to the weekend matchups at home, the Greyhounds traveled to Louisville to take on Bellarmine University and No. 3 University of  Wisconsin-Parkside, splitting the day 1-1.
UIndy fell to the Rangers 31-7.  Crume grabbed the first win at 141 with an 18-5 major decision, and redshirt junior Neal Molloy claimed a 6-3 decision at 149. Those were the only two wins in UIndy's favor.
The team went on to defeat Bellarmine 37-12. Crume and Molloy pinned their opponents in the opening minutes of their matches. Senior Barry McGinley claimed a 10-2 major decision at 165, and redshirt junior Luke Kriech followed in his footsteps with a 13-6 decision at 174. Redshirt sophomore Dylan Faulkenberg wrapped up the day with another pin for the Greyhounds, winning at 285 in 1:48.
Warthan said the team was "a little banged up" going into the duals but said the team has been fortunate enough to make adjustments in the lineups. The Greyhounds have competed with a different lineup in each of their GLVC duals.
"We had to bump up [senior] Andrew Frey two weight classes. We forfeited two weight classes against Parkside, and it is very difficult to win a dual when you forfeit two matches," Warthan said. "You've got to make sure you're preparing for the end of season, so we're sitting guys and resting them who might be a little banged up. The silver lining is that we have so much depth that we've been able to throw out those different lineups and have been able to compete with these guys."
Before traveling to Louisville, Faulkenberg received his first GLVC Wrestler of the Week honor, with redshirt sophomore Heath Lange attaining the honor the week before.  Currently ranked No. 11 with a record of 23-7, Faulkenberg did not want to focus too much on the title.
"It just feels good to put in the work and see results come out from it," he said.
With two more weeks left before the NCAA Super Region Two Tournament, Warthan said it's "kind of a formula" when it comes to preparation. The team needs some rest, but several men must cut weight.
"You want to peak at this time, so you start cutting practices down a bit, making them a little more intense and focused. The guys do more little things on their own, like biking and other cardio at the gym to burn those calories that way," he said.
Faulkenberg said he and the rest of his teammates are continuing to build the momentum in the last few weeks of the regular season to head into the tournament.
"We just keep working harder and harder in practice and working on the small things. It's always the small things that make you better," he said. "My biggest challenge is learning how to not just go through the motions, learning to go practice by practice and not look too far in front of me."
Currently ranked No. 18 in the NCAA Division II Coaches Association Poll, the Greyhounds have high expectations for their postseason appearances, stemming from dominant regular season results. The biggest of these happened on Jan. 14 when the team beat not only Cloud State University, but also Parkside.
"That was a huge win for the program, and huge for families, alumni, recruits," Warthan said. "To us, it wasn't such a surprise. I think we've been competitive in every dual we've had."
Statistically, the Greyhounds have also been constant in every dual. In their St. Cloud and Parkside victories, the team won five of the 10 match-ups in both.  In their dual against then No. 2 Notre Dame College (OH), the Hounds won four of the 10 matches and claimed five of the 10 matches against No. 6 Mercyhurst University. Those two duals resulted in losses for the program.
"We are literally right there competing and being consistent in every dual we have had. Some have gone our way, and some we've lost," Warthan said. "It's been somewhat of a special season…We all kind of look towards the end so it's hard for us to hang our hats on those wins. We've certainly grown more confident within those wins, but we're just trying to keep things in perspective and keep getting better."
With two more seasons ahead of him, Faulkenberg said he is proud of what the team has accomplished so far and believes it will continue to develop.
"I see all of this season as a success," he said. "We've all put in the work, starting in the off-season. Everyone is dedicated to doing everything the right way, and I think we deserve the recognition we receive. Everything's all coming together, and I believe it will be even better next year."
The Greyhounds will travel to St. Louis on Feb. 12 for their last regular season duals against Ouachita Baptist University and Notre Dame. The first match is set to begin at 1 p.m.